Sebastian Vettel brought everyone back to 2011 during the Formula One Korean Grand Prix: back to the days when every race started with the Red Bull driver opening a huge lead on the first lap and ended with the 25-year-old German hoisting a trophy on the podium.
Vettel started second, but made an amazing start, took the lead in the first corner, and never surrendered it as he drove to his fourth Grand Prix victory of the season—the only driver to win four. Vettel also took the lead in the drivers' championship and gave Red Bull the lead in the constructors' championship.
Team mate Mark Webber, not wanting to be outdone, brought his RB-8 home second, the first 1–2 finish for a team in 2012.
Red Bull's designer Adrian Newey seems to have found the old magic; once again the Red Bull looks like the best chassis on the grid by a large margin.
Despite three wins in a row, Vettel wasn't taking anything for granted. "It's difficult to predict the next couple of races," he told the post-race press conference on formula1.com. "The first 1-2 this year, I think it shows how difficult the season has been for everyone.
"Ferrari was extremely competitive today, probably more competitive than everyone expected in the race. We know their car works in all circumstances, so we have to stay on top of our game, focus on ourselves and do what we can."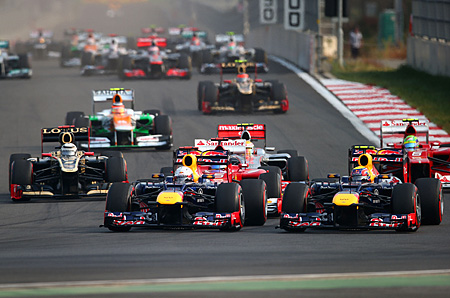 Webber started from the pole, Vettel from the  supposedly "dirty" side of the track, but Vettel got the better launch. He beat Webber into Turn One, but his teammate was not done; Webber came back hard into Turn Three but couldn't quite slow the car enough and overshot. From then on, all Vettel had to worry about was tire degradation.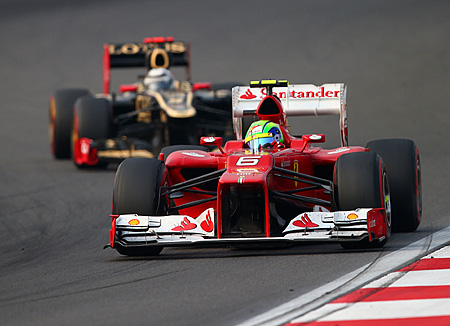 Throughout the final stint Vettel's radio crackled with messages from his team to slow down, save the tires, particularly the right front. Hard though it was Vettel finally eased off in the final ten laps.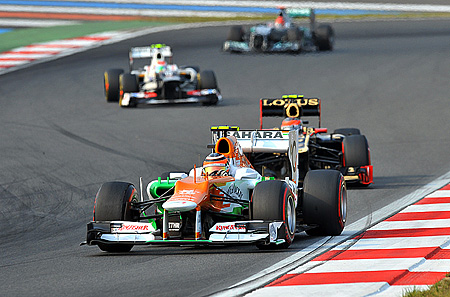 Fernando Alonso and Felipe Massa earned a 1–2 of sorts for Ferrari, finishing in third and fourth places. Massa, driving to secure a year's contract extension at Ferrari, had to be told by the team not to pass Alonso. We will never know if Massa might have caught Webber.
McLaren had a perfectly rotten day. After dominating for five races, the team has apparently forgotten how to set up a car. Button didn't make the last round of qualifying and Hamilton was off the pace all day.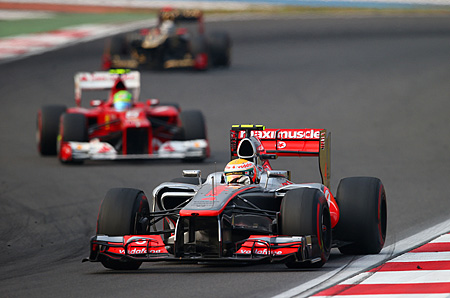 The dramatic tire wear all teams experienced didn't help Hamilton's spirited driving style; he wore to a set of tires, tried switching to super-softs and still couldn't get ahead, and pitted yet again but couldn't make a pass. The McLaren driver finished tenth, behind both Toro Rossos.
Jenson Button never finished a lap. Kamui Kobayashi made a kamikaze start, bouncing of Button into Merdcedes' Nico Rosberg and back into Button to end all three drivers' days.
Kimi Raikkönen turned in his usual quietly quick performance, finishing fifth and moving to third on the points. Drive of the day went to Nico Hulkenberg who took sixth in the underfunded Force India
With four races left, six drivers have a mathematical chance to win the title: Vettel, Alonso, Raikkönen, Hamilton, Webber, and Button. Realistically the McLarens are out of it unless the team can immediately figure out how to bring the cars up to the pace of the other front-runners.
Webber is too far back; with 100 points left, he would have to win three races while Vettel and Alonso didn't score.
Raikkönen, trailing by 48, also needs the leaders to fail if he is to succeed. Finishing third behind Ferrari and Red Bull will keep him third.
The fight is down to Vettel and Alonso, both two-time champs looking for their third. But the real battle is between Red Bull and Ferrari.
Both teams started with less than excellent cars (the F2012 was horrible) and have improved them steadily. Now that McLaren has lost the handle, these are the best cars on the grid.
Ferrari lacks one key ingredient: Adrian Newey, who can take a pen and paper and design advantages that no number of engineers at computers can conceive. The RB-8 is just too good. Newey has found the key and once more his cars do everything better than everyone else's.
Three in a row for Mr. Vettel; that's the prediction. Three in a row for Red Bull. They are just too good.
2012 World Driver's Championship Points

 

driver

team

points

diff

gap

1

215

 

 

2

209

6

6

3

167

48

42

4

153

62

14

5

152

63

1

6

131

84

21
2012 Formula One Korean Grand Prix

 

#

driver

team

laps

time/retired

grid

pts

1

1

55

1:36:28.651

2

25

2

2

55

+8.2 secs

1

18

3

5

55

+13.9 secs

4

15

4

6

55

+20.1 secs

6

12

5

9

55

+36.7 secs

5

10

6

12

55

+45.3 secs

8

8

7

10

55

+54.8 secs

7

6

8

17

55

+69.5 secs

16

4

9

16

55

+71.7 secs

21

2

10

4

55

+79.6 secs

3

1

11

15

55

+80.0 secs

12

 

12

11

55

+84.4 secs

14

 

13

7

55

+89.2 secs

10

 

14

18

55

+94.9 secs

15

 

15

19

55

+96.9 secs

17

 

16

21

54

+1 Lap

18

 

17

20

54

+1 Lap

19

 

18

24

54

+1 Lap

20

 

19

25

53

+2 Laps

24

 

20

23

53

+2 Laps

23

 

Ret

22

16

Throttle

22

 

Ret

14

16

Accident damage

13

 

Ret

8

1

Accident

9

 

Ret

3

1

Accident

11