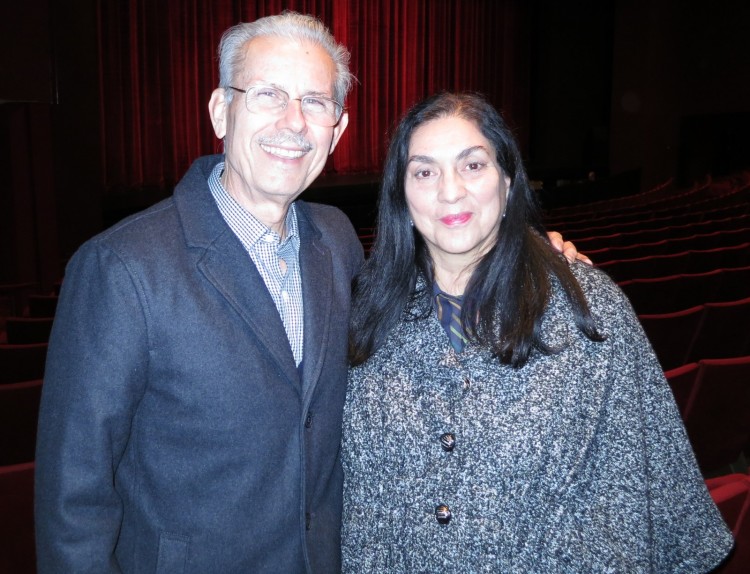 SAN DIEGO—Veteran UCLA physician Rosamaria Durazo and her husband, foundry owner Francisco Varela, enjoyed Shen Yun Performing Arts performance on Dec. 27 at the San Diego Civic Theatre.
Shen Yun is a New York-based classical Chinese music and dance company that tours the world on its mission to revive 5,000 years of traditional Chinese culture. 
For the past 60 years, and especially during the Cultural Revolution, China's rich cultural heritage was almost destroyed. 
Ms. Durazo recognizes this phenomenon. 
She said that it is sad that traditional Chinese culture has been lost in today's Chinese society. The richness and diversity of the culture is diminishing, she added.
"Especially in the cities, everything gets mish-mashed into one. And It's a little bit sad to think that that diversity and the culture and the music and the dance and the divinity behind it, which is the real, true thing that it represents—where did we all come from, where are we all going—I think a lot of that is being lost in the world of today, and that's a little sad," she said.
At the same time, Ms. Durazo is noticeably in strong support of Shen Yun's effort to restore traditional culture.
"I think it's fantastic," she said, "and I'm so glad to know that there [are] three [Shen Yun] companies going all over the world because I think it's very important that you put it out, especially for the Tibetans and many folks like them, who have unfortunately gone through what they have gone through."
Mr. Varela came to the performance with an open mind. When asked if he learned anything new about Chinese culture, he said, "Pretty much everything. Everything was new to me." He added that the dances were "very inspiring, and truly beautiful."
Noting that they are both from Mexico, Mr. Varela said it's a pleasure to be exposed to Chinese culture through Shen Yun. 
Quiet Dancers
In addition to the deeper, spiritual aspects of Chinese culture, Ms. Durazo also appreciated Shen Yun's costumes and dancers.
When asked about the costumes, she said, "Oh, beautiful, beautiful! Even the lady (emcee) who came out to present, the two dresses she wore were spectacular. And then the costumes were just fantastic. Fantastic." 
She noticed a unique aspect of the dancers: "Like I was telling my husband, they're flipping, they're dancing, they're jumping, they're everything, and you can't hear anything. It's quiet, they're like flowing in water and air, and the music, and you can't hear the steps. Even though they're just [moving] continuously–you can't hear the steps," she said.
Reporting by Lu Rusong and Albert Roman.
Shen Yun Performing Arts Touring Company will be heading to Escondido for performances at the California Center for the Arts from Dec. 28 to 31.
New York-based Shen Yun has three companies that tour the world each year on a mission to revive 5,000 years of traditional Chinese culture. For more information, visit ShenYunPerformingArts.org
The Epoch Times publishes in 35 countries and in 20 languages. Subscribe to our e-newsletter.