Veteran Arrested on Tiananmen Square for Appealing
March 13, 2007 12:00 am Last Updated: March 13, 2007 12:00 am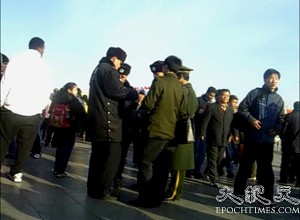 Since the Chinese Communist Party's National People's Congress has been in session, measures have been taken by the authorities to prevent the public from voicing their appeals to the officials. Vehicles are required to take detours and the deputies meet behind several lines of security. Appellants still wait near the conference center and attempt to hand their documents to the officials. The appellants are arrested and taken to Tiananmen Square police station by policemen.
According to appellants from Tianjin Province, many people still show up daily to protest despite the convention center being surrounded by police and national security officials. The police seek and interrogate those who do not seem to be locals based on their accents. Those interrogated appellants are escorted to the Tiananmen police station and ordered to go home.
On the afternoon of March 11, a veteran soldier from Jinan Province distributed materials on Tiananmen Square while waiting to hand documents to congressional members after their meeting. Witnesses reported that the veteran had documents that exposed corruption in the military. A policeman saw the contents and cried out, "This concerns the military!" Immediately, four policemen surrounded the veteran, confiscated his documents and called for a police car via radio to avoid alarming tourists on Tiananmen Square.