BOGOTA, Colombia—Following a tumultuous three days of growing civil unrest and rumors of a military takeover of his regime, Nicolas Maduro now faces the added pressure of a near-regional consensus opposing him.
As the military dispersed mass crowds protesting for the Venezuelan dictator's exit with riot shields and tear gas, the list of presidents and prime ministers siding with the self-appointed interim president Juan Guaidó grew quickly.
Guaidó, the leader of the National Assembly—the country's opposition-run congress made politically impotent by Maduro—swore himself in Jan. 23 in front of protesters invoking the constitution and what they cite as the fraudulent election of Maduro last year. A number of countries, including the United States and most members of the Lima Group—a coalition of Latin American countries and Canada—had previously rejected the legitimacy of Maduro's second term, saying the election was rigged.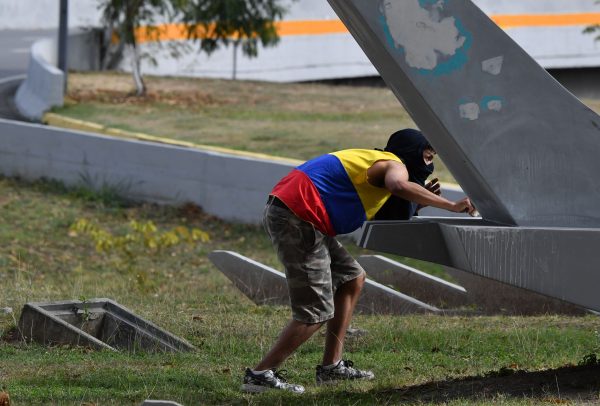 Within minutes, President Donald Trump quickly recognized Guaidó as "Interim President of Venezuela," with most Western countries following suit.
A riled Maduro blasted the White House's statement, declaring to loyal "Chavista"—referring to the leftist ideology of Maduro's predecessor Hugo Chavez—supporters from a balcony of the People's Palace: "We've had enough interventionism, here we have dignity, damn it." He added that diplomatic ties with the United States would be cut and officials had 72 hours to vacate the country—a demand the United States says it will not obey. On Jan. 24, Maduro said he will close Venezuela's embassies and consulates in the United States.
Besides declining democratic and political freedoms, multiple factors including widespread food and medicine shortages, hyperinflation predicted to reach 10 million percent, and deteriorating security conditions have made conditions for many in Venezuela unliveable, forcing three million to flee the country. It's now also the center of an international rift.
International Pressure
Brazil and Colombia quickly issued messages of resounding support to Guaidó and the desire for a quick transition to democracy, with almost every other Latin American country following suit. Mexico, where leftist President Andrés Manuel López Obrador took office last year, says it's remaining neutral on the issue, citing a non-interventionist foreign policy, while socialist Bolivia and Cuba continue to back Maduro.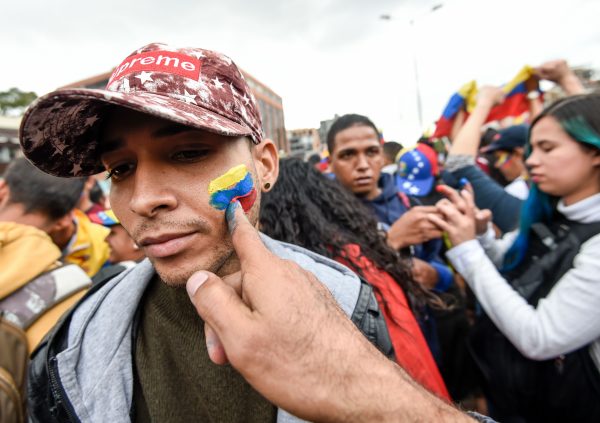 The European Union was unable to reach a unanimous agreement, but France, Germany, the UK—and nearly all other Western nations, including Canada—declared Guaidó the legitimate leader.
"I hope that all of Europe will unite in support of democratic forces in Venezuela. Unlike Maduro, the parliamentary assembly, including Juan Guaido, have a democratic mandate from Venezuelan citizens," tweeted Donald Tusk, president of the European Council.
The EU's decision not to unanimously back the opposition leader could be an effort to avoid generating friction with Russia, a key oil supplier to Europe, which alongside China still recognizes Maduro.
The lack of consensus backing Guaidó means a peaceful or quick solution to the political crisis may be further away than his supporters would hope, analysts say.
"If the international response is not unanimous the chances of success are slim; unanimity is the only way to demonstrate to the backers of Maduro that their reputation of democracy is on the line," said Sergio Guzmán, a political risk consultant in Bogotá.
Diplomats in Limbo
With the United States denying Maduro's demands for diplomats to leave the country, and Guaidó's plea for them to remain on Jan. 23, they also have become a central chess piece in the diplomatic dispute over the OPEC country.
Diosdado Cabello, the head of Venezuela's Constituent Assembly, suggested that light and gas could be cut if the orders are not obeyed; the threat has been widely mocked as widespread light and gas cuts are one of many complaints fueling civil unrest across Venezuela.
Should Maduro order the military to force the diplomats out, he risks provoking an international incident, or giving the military a possible motive for defection, either of which he can't currently afford, given the rumors of waning allegiances.