A mother carried the 22-pound body of her 19-year-0ld daughter through the dark streets of Venezuela to the city morgue after two hospitals, without electricity, turned them away and she died in her arms.
A harrowing video of Elizabeth Diaz walking to the morgue in Valencia with her sick and emaciated daughter during a national power blackout, went viral.
Other videos showed hospital staff desperately tending to babies by torchlight, protest fires burning and once brightly-lit city-scapes shrouded in blackness.
Already crippled by food and medicine shortages and rampant inflation that have driven millions of starving people out of the country, Venezuela is currently experiencing its worst blackout in decades, as socialist dictator Nicolas Maduro refuses to allow in foreign aid and assistance.
On the night of March 9, Diaz had tried to bring her severely malnourished daughter, who suffered from cerebral paralysis, to her local diagnostic center (CDI) in the northern city of Valencia.

"The doctor told me that they had finished their day, and there is no light," said Diaz in the video, according to a Daily Mail translation.
"So I was going to bring her to Los Lamos so that she could get a check up."
Her daughter then started convulsing and suddenly went stiff, she said.
She was accompanied by police through the dark city streets, according to Heberlizeth Gonzalez, the journalist who interviewed her in the viral clip.
View this post on Instagram
According to Gonzalez, Diaz told her that her daughter was 19, and weighed just 10 kilos (22 pounds).
When she arrived at the second hospital, she was again turned away because they had no power generator, and her daughter died shortly afterwards.
The video went viral, striking a chord with many Venezuelans who are struggling to survive during the humanitarian crisis. Other images and videos of people emaciated from months of starvation have also surfaced in recent months.
The United States announced on March 11 that it was pulling the remaining staff from its embassy in Venezuela, citing the deteriorating situation that has left the country with little power, water and communications since March 7.
"We have no internet, no water, no telephone, and all of our food has gone bad," said a resident in the city of Valencia, who wished to remain anonymous to avoid potential repercussions from the state.
"It's a war but without opponents—everyone is fighting to survive," he said, according to an Epoch Times report. "I have two young babies, I don't know if we can take much more."

Over 2 million people have fled Venezuela since 2015, according to the UN, driven out by the economic crisis under Maduro's socialist policies.
'Middle-Class Venezuelans Are Unable to Afford Food'
In 2014, the country's economy—which was almost entirely reliant on vast oil reserves—was crippled when oil prices shifted.
Last year, Maduro was forced to slash 5 zeros off the currency because hyper inflation, running at 4 percent a day, had left bank notes with less value than plain paper. The IMF predicted in October that inflation would reach the annual rate of 10 million percent in 2019.
In his State of the Union address on Feb. 5, President Donald Trump said that the United States stands with the people of Venezuela.
"We condemn the brutality of the Maduro regime, whose socialist policies have turned that nation from being the wealthiest in South America into a state of abject poverty and despair," Trump said.
According to The Borgen Project, an organization set up to fight hunger, "poor and middle-class Venezuelans are unable to afford food and often must wait in long lines known as 'colas' to find basic food like flour and rice."
"In the poorest segments of the population, especially in slums and areas of Caracas, malnutrition has increased greatly, as noted by many health workers. Often, families cannot afford two or three meals a day and those meals consist of just bread or banana."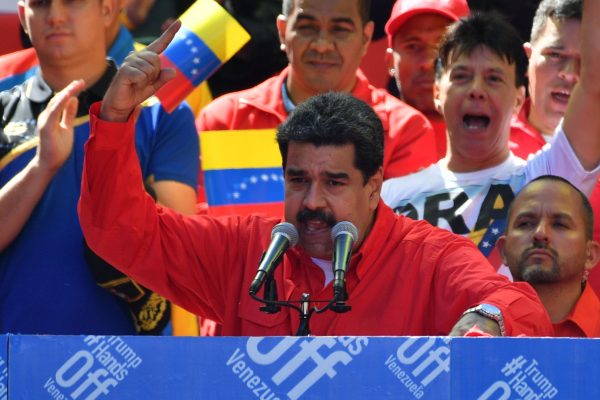 Muduro is no longer recognized as president by many nations, including the United States, Canada, and the UK, which regard opposition leader Juan Guaido as interim president.
Guaido says that as head of the opposition-led National Assembly he is Venezuela's rightful leader because Maduro's re-election last year was a sham.
Maduro has still clung to power with the support of the country's highest-ranking military officers.