A Maryland woman who was shot in the head during the Oct. 1 Las Vegas massacre has come out of a coma and took her first steps.
Tina Frost, 27, was shot by Stephen Paddock along with hundreds of other people in the attack that also left 58 people dead.
The bullet, reported the Las Vegas Review-Journal, passed through her eye and shattered part of her skull, and she underwent surgery at Sunrise Hospital and Medical Center that night.
On Friday, she began waking up and moving without assistance, her mother said on a GoFundMe page dedicated to collecting funds for her medical expenses. She was also able to breathe on her own without medical assistance for about six hours.
More than half-a-million dollars has been raised for her via the crowdfunding website.
"We are so proud of our Tina, and everyone is amazed at every single movement she makes," mother Mary Watson Moreland said.
She added: "She opens her left eye just a lil and looks all around the room at us, taps her feet whenever music is playing, continues to squeeze our hands, and even gives Austin a thumbs up when asked. She sometimes taps to music and also took her first steps today with the assistance of the nurses—3 steps to the chair and 3 steps back to the bed."
But Tina is going to have a long road ahead of her.
"She will be moving ICU to ICU, so the whole team will be on track with her recovery," Moreland noted, saying that she'll have more surgeries.
Elaborating further, Moreland told the Las Vegas Review-Journal that her daughter will "have pieces of the bullet in her brain forever," citing doctors.
Dr. Keith Blum told the newspaper that he worked to remove as many fragments as possible, adding that he was forced to remove her eye.
Last week, Clark County Sheriff Joseph Lombardo, who oversees the Las Vegas police department, told reporters that gunman Stephen Paddock shot at Mandalay Bay hotel security guard Jesus Campos outside his room on Oct. 1 at about the same time he opened fire on the more than 20,000 concertgoers at an outdoor venue, Reuters reported.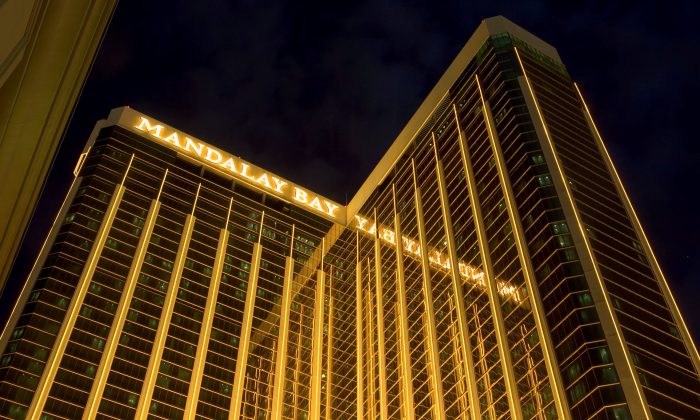 Previously, police said that Paddock shot Campos six minutes before he started firing on the crowd, raising questions as to whether police and hotel security could have acted faster to prevent casualties in the attack.
"Nobody is attempting to hide anything. The dynamics and the size of the investigation require us to go through voluminous amounts of information in order to draw an accurate picture," Lombardo said of the changing timeline.
 Campos was shot in the leg when Paddock strafed the hallway with about 200 bullets, police said.
Paddock, who placed cameras in the hotel hallway to monitor activity, injured 546 people before killing himself.
No motive for the attack has been made public.
Reuters contributed to this report.