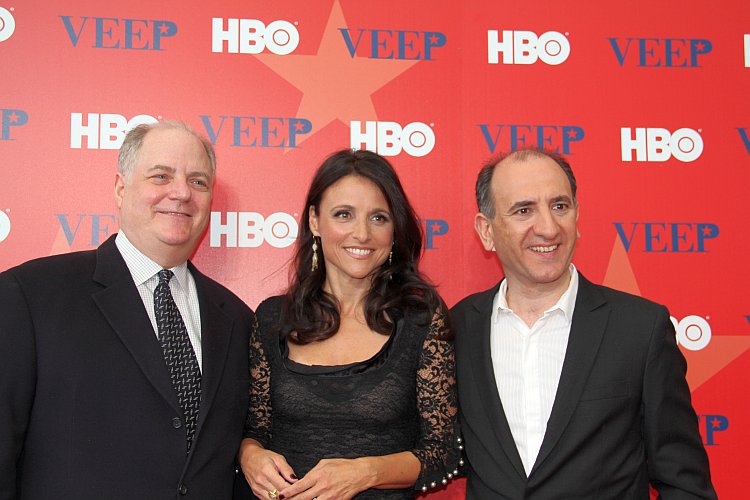 Political wrangling on Capitol Hill may be an increasing source of frustration for the population at large, but for those in the entertainment industry, it has become rich fodder.
The red carpet was thrown down in Washington, D.C., this week for HBO's latest political offering, "Veep," starring actress Julia Louis-Dreyfus.
Speaking at the premiere of the comedy series at the U.S. Institute of Peace in D.C. April 12, Armando Iannucci, executive producer, director and writer of "Veep," said, humor was his natural response to the political tensions.
"If I see something that feels maddening or frustrating, like the political process, my approach is to look at the funny side and heighten that," he said.
"Veep," a comedy series about a fictional Vice President Selina Meyer, is played by the Emmy Award-winning Louis-Dreyfus, who described the experience as "infinite fun."
"Veep" is the second political production from HBO this year. "Game Change," depicting Sara Palin as running mate to Sen. John McCain during the 2008 election, premiered in Washington in early March.
Predictably, parallels have been drawn between Louis-Dreyfus's character and Palin, the first Republican woman nominated for the vice presidency, but Louis-Dreyfus stressed that she had assiduously avoided "parodying one person."
She had spent hours studying as many politicians as she could, she said, including Palin but also Vice Presidents Joe Biden and Al Gore, plus Secretary of State Hillary Clinton, Minority House leader Nancy Pelosi and many more.
"What I am watching is the way they behave, the way they don't answer questions when you think you have your questions answered. I am interested in all of that," she said, "so we created this character based on political realities that are not apparent."
The vice presidents, she said, had been "very generous" in terms of talking about the nitty-gritty of the realities of the office. "But beyond that, the idea of having a very ambitious person in a powerful position but who is also powerless at the same time, is inherently funny."
While there were many, "so many, I don't even know where to begin" aspects of political life that had surprised her, none, she hastened to add, had inspired her to enter politics.
"I will never get involved in politics," she stated emphatically, "I really like to entertain. I like to get laughs, and I think if you like to get laughs, maybe politics isn't your best place."
The Human Side
Anna Chlumsky, best known for the film "My Girl," and recent TV series "The Loop," plays the vice president's chief of staff; Matt Walsh ("The Hangover") plays her raddled spokesperson, and Reid Scott ("My Boys") plays an ambitious political aide.
Journalist and executive producer of "Veep," Frank Rich, a native of Washington, said the comedy series was not an expose but was meant to be a funny and "very human" depiction of the capital.
"Most people think D.C. is like Hollywood, a rarefied place, bigger than life, but a lot of them are like everyone else: schmendricks who are out for themselves," he said.
Rich said "Veep" was also more about the pervasive political culture of the nation's capital rather than any particular character, party, or election year.
"I hope, most of all, people will laugh, but I also hope this will demystify and de-glamorize it," he said of the Washington culture.
Iannucci said he had spent more time talking to political aides who were "terrible gossips" than "always guarded" politicians, in order to create the details of Washington life.
Politicians, he noted, were increasingly forced to focus on what they were not doing, rather than what they were achieving.
"That is a worrying sign," he said, "I think it means people don't connect with them as much as they used to do."
Through "Veep" he hoped people would see the human side of politicians, "not that I want people to absolve them of all responsibility, but I want people to see the pressure they are under and understand why they might behave in a certain way," he said.
If the series-which begins April 22-is successful, he is looking forward to working on a second season of the show, Iannucci said.