Vatican Appointed Bishop Arrested
September 18, 2006 12:00 am Last Updated: September 18, 2006 12:00 am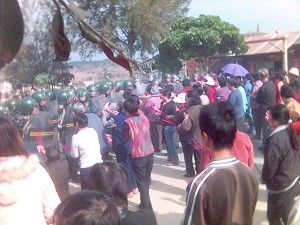 On September 11, Bishop Wu Qinjing of Zhouzhi Parish, ShannXi Province was taken away by the public security. Local Catholics said that although Wu is a bishop appointed by the Vatican, the appointment was not approved by the Chinese Communist Party (CCP) authorities. CCP officials had persuaded and ordered him to join the "Chinese Patriotic Catholic Association," but Wu refused. Mr. Zhang, a member of Xingping City Catholic Church of Zhouzhi Parish and Ms. Meng, chairman of the Beitai Catholic Church of Zhouzhi Parish said in an interview with The Epoch Times : "The CCP controls the religious affairs and that China does not have any freedom of belief. The real religious believers all have to hold underground activities secretly. The bishops appointed by the CCP serve politics, and their goals go against the Vatican's."
A reporter of The Epoch Times phoned the Zhouzhi County Public Security Bureau. The person who answered the call denied any arrest had been made. The Zhouzhi County Religious Bureau stated: "We picked up Wu Qianjing here to let him study for a few days, as soon as he meets our expectation, we will let him go."
Public Security Staffs Jumps Over Wall To Arrest Bishop
Mr. Zhang revealed that around 10pm on September 11, more than ten Zhouzhi Public Security Bureau personnel suddenly jumped over the wall of the church where Bishop Wu serves and abducted him. When Wu asked the police why he was being arrested, police slapped him in the face.
Dozens of priests and nuns at the scene were forcibly driven away by the police. Zhang said that it is illegal for government officials to raid a church to catch people
Ms. Meng expressed her worries of Wu's plight. She said that ten years ago, Bishop Fan from the Zhouzhi Parish was caught and injected with poison. He died at a young age as a result. She hopes this kind of thing won't happen to Bishop Wu.
The Communist Party Intervenes With Religious Affairs
Zhang said Wu Qinjing was appointed bishop by the Vatican last October. However his identity was not publicized until May of 2006. Since May, he has held mass as bishop many times.
Zhang said, "Former Bishop of Xi'an Parish Li Duan was afraid of the authority's harassment, so he kept Bishop Wu's identity secret. Only a couple of days before Li died at the end of May did the church (secretly) announce it, and there was no public induction ceremony."
After the authorities learned Wu became bishop, they said it was illegal since Wu was not appointed by the government. They used various tactics to persuade and even threaten Wu to join the official "Chinese Patriotic Catholic Association," but Wu refused, said Zhang.
Zhang also said that the State Bureau of Religious Affairs is an organization that monitors and tyrannizes churches and does not serve churches at all. Therefore real bishops suffer the greatest pressure. If they draw too closely to authorities, they will compromise the fundamentals of the church and a huge number of religious believers will revolt as a result. If they don't do so, they will be pressured and even lose personal freedom.
The CCP's Purpose In Appointing Bishops
Mr. Zhang said, the purpose of the CCP in appointing its own bishops is to compete politically with the Vatican, as the Vatican is the spiritual leader among Catholics.
Catholics generally believe that the bishop being appointed by the authorities is a means to use the high leadership position of the church as a political tool. During peacetime, it is hard to see their nature. But at crucial times, they would expose themselves by casting away the principles of the church to benefit the authorities.
No Freedom of Belief in China
Mr. Zhang said that Chinese authorities have made their own religious terms that require religious activities to be held only with governmental recognition and permission. However, according to the understanding of Catholics, it intervenes with the internal freedom of the church.
He said that domestic churches have to secretly contact the Vatican because of worry of intervention from the authorities. He pointed out that the CCP claims to the outside world that it respects freedom of belief and human rights. These are all lies. Chinese people don't have freedom of belief at all.
Zhang said that the domestic Catholics are in a tough situation. However, true Catholics won't give up, because they have faith.