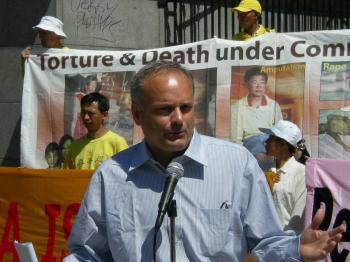 VANCOUVER—Grisly re-enactments of torture and illicit organ harvesting backed by a wall of banners set the scene outside the Vancouver Art Gallery on Sunday for a rally commemorating the tenth anniversary of the persecution of Falun Gong in China.
It was on July 20, 1999, that the Chinese regime under then-leader Jiang Zemin outlawed Falun Gong and began a campaign of persecution that continues today.
A number of speakers at the rally condemned the persecution and called for an end to religious repression in China.
Coquitlam Mayor Richard Stewart said he joined Falun Gong practitioners in "celebrating their belief and the contribution that it brings to our country and the world."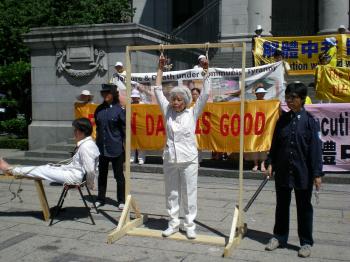 "It breaks my heart that people who subscribe to truthfulness, compassion, forbearance, tolerance, that a belief that subscribes to that could be the subject of persecution," Stewart said.
He asked those in attendance to "work toward a day when everybody in the world can speak and believe as they wish—have complete freedom of thought, of belief, of worship, of practice."
Mati Bernabei, vice-president of the Vancouver chapter of the Canada Tibet Committee, said 2009 has several anniversaries connected to the Chinese regime: the tenth anniversary of the banning of Falun Gong, the 60th anniversary of the occupation and oppression of both Tibet and the Uyghurs in East Turkestan, and the 20th anniversary of the Tiananmen Square massacre.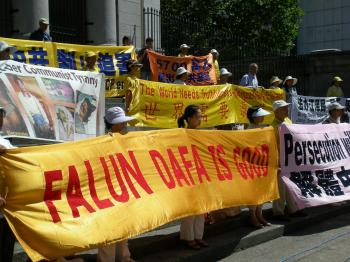 "2009 I would hope would be a year that the Chinese government and its supporters would take some time to pause and look in the mirror and really question what has happened and where they're going and where this could possibly lead," she said.
Given the level of monitoring by the regime of overseas Chinese, especially of Falun Gong and advocates for a free Tibet, Bernabei said she "fully understands" the courage of Falun Gong practitioners who took part in the rally on Sunday.
"The rule by fear that the Chinese government is using to control its people absolutely extends to Vancouver. The Chinese government does monitor the behaviour of people here, and people here who have family back in China are worried for their safety. Standing here is a courageous act."
'The biggest story in the world'
Author, journalist, and former MP Simma Holt, 87, compared the "genocide" of the Falun Gong in China and the harvesting of their organs to the situation in Germany in the 1930s when Hitler was setting the stage for the holocaust. She said the 1936 Olympics in Germany were identical to the 2008 "show Games" in Beijing.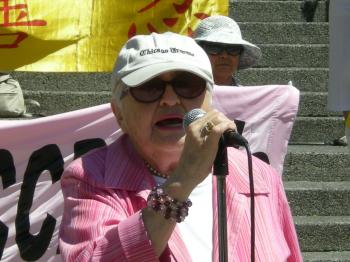 "Corporate people and journalists went over there like bunnies without coming back and reporting the horrors. And like Hitler's holocaust, in 1936 as he was building the gas chambers nobody said a word. They went there and marveled—they marveled because Hitler was helping the economy. The whole world was greedy then and crazy in their greed, and it's happening again now."
She criticized journalists for their scant reporting on the persecution of Falun Gong, which she called "the biggest story in the world."
"This is a crime against humanity such as we've never seen. It's worse than the holocaust."
Holt also slammed former Vancouver Mayor Sam Sullivan's "mad support" for the People's Republic of China and the fact that he was responsible for outlawing the hut and banners erected outside the Chinese consulate on Granville Street, thereby effectively bringing to an end Falun Gong's long-running 24/7 appeal.
"When they closed down that site on Granville and 16th it was a disgrace for Vancouver. That was there for six years, symbolic of what our freedom is in Canada. People admired it."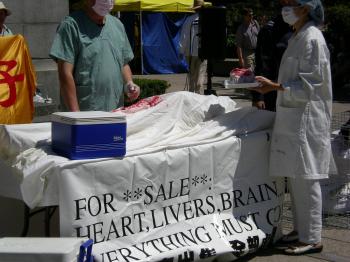 Fred Muzin, former president of the Hospital Employees Union and long-time social justice activist, said that for ten years, Falun Gong has been "shining a light" on the atrocities of the Chinese Communist Party (CCP).
He criticized people who travel to China to get an organ transplant, thereby feeding into the illegal harvesting of Falun Gong practitioners' organs for profit, a macabre practice exposed in a 2007 report called Bloody Harvest.
People must be vigilant in protesting against injustice, Muzin said.
"We have to make sure that we educate, that we don't forget, that we continue to come to protest, that we teach and share the information, because it's only when governments like the Communist Party in China are defeated, when they are held to international standards of morality, that any of us can still be free."
'Terror of genocide'
Tang Feng told a harrowing tale of how, while jailed in China for practising Falun Gong, he was subjected to many vicious forms of torture.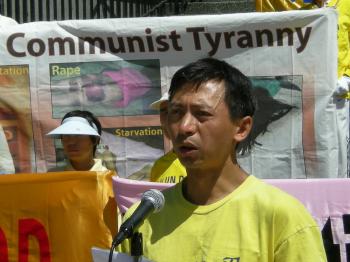 These included repeated electric baton shocks to the genitals and other areas, having his body tied tightly on a 'tiger bench' and hot pepper put in his mouth, having his head stuck into an iron bucket then being beaten with the bucket, prolonged sleep deprivation, and being burned with a cigarette lighter.
"Several times, my whole body was covered with bleeding wounds and I was on the verge of death," Tang said.
In one instance, as he was being shocked with electric batons, a chair was placed on Tang to restrict his body's instinctive struggle as the shocks surged through his body. A policeman sat on the chair to add more weight.
"They used several two-foot batons to shock my genitalia while beating my shin bones, ankles and toes with clubs," said Tang.
"The shock was so strong that I felt the electricity going through my body. The current jolted my body up in the air and lifted the chair above with great force. The person on the chair could not hold me down. So other policemen then sat on the chair. While they tortured me, someone came every now and then to mop up my blood from the floor."
It was during this torture session that Tang learned that his friend Liu Haibo, who was detained at the same time as Feng, was tortured to death that night.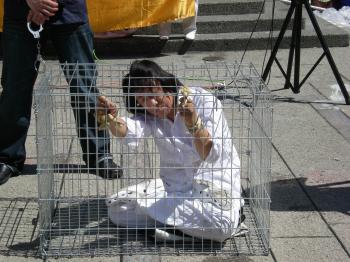 After the persecution began, Tang lost the government job he'd had for 20 years. He was arrested more than 10 times and tortured repeatedly. He eventually escaped to Canada but had to leave his wife and daughter behind.
"The evil of the Chinese Communist Party is beyond imagination," he said. "I am happy to see that the Canadian government and the international community are paying attention to the persecution in China and giving support. But I am very sad to see that millions of Falun Gong practitioners are still facing the terror of genocide inside China."
Jing Cai said that she, her mother, her brother, her sister and her sister's husband were all persecuted for their belief in Falun Gong. Her brother, Jin Yu, is still doing hard labour in Dalian Prison.
"In brainwashing camp, the police shocked me and my mom with electric batons. They put the baton into my mom's mouth and beat her face. As a result, my mom went blind in one eye and lost many teeth. After that, she was sent to a labour camp for three years," Jing said.
Jing's sister was "roasted over a hot pit, and tied to a tree outside in freezing weather."
"Many innocent people have been jailed in China and forced to separate from their family. The Chinese Communist Party is still continuing its crimes and creating ever more tragedy, including stealing the organs of living practitioners and selling them," she said.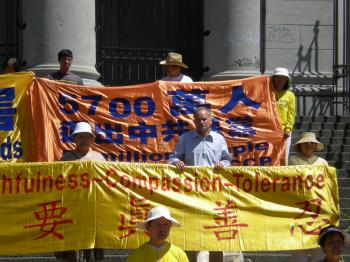 Letters of Support
Several letters of support were received from politicians who were unable to attend, including NDP MPs Libby Davies and Peter Julian.
Julian called on Ottawa "to speak out against the violations of human rights taking place in China and to press the Chinese government to fully investigate charges of organ harvesting, torture, and murder that have been levied against representatives of the Chinese government."
A letter that Derek Corrigan, Mayor of Burnaby, wrote to Prime Minister Harper commended the PM for his stand taken in the past against human rights violations in China and urged him to do more.
"I urge you to commemorate this date by restating Canada's strong opposition to violence and oppression anywhere in the world, with particular reference to the issues raised by the Falun Dafa and the need for resolution of their claims against the Chinese government."