Vancouver Goes after Notorious Slumlords
July 22, 2011 2:35 am Last Updated: October 1, 2015 4:09 pm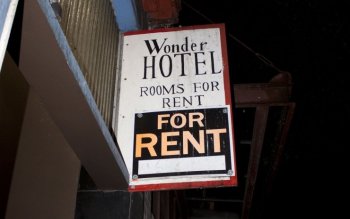 They may have fancy names like Palace Hotel and Wonder Rooms, but these single-resident-occupancy hotels in Vancouver's Downtown Eastside are so beset by problems that their owners are facing legal action on two fronts.
Tenants at the two SROs allege that not only do they have to contend with mice and rats, cockroaches, bedbugs, and mould, but also a tyrannical landlord who has power to control their homes, their work, and even their health.
After hearing from tenants about the deplorable conditions at the hotels, the City of Vancouver voted on July 14 to establish two task forces: one to look into methadone kickback allegations and the other to come up with a strategy to improve conditions in SRO hotels.
In the case of the Palace and Wonder Rooms, council unanimously approved taking legal action against the landlords and their partners if they fail to bring the buildings up to minimum standards.
"Given the way these landlords have treated their tenants and refused to maintain their buildings, approving the use of legal injunctions is absolutely critical to helping the people who live there," Mayor Gregor Robertson said at the meeting.
Tenants who are on methadone to treat their heroin addictions told a council meeting on June 30 that in addition to having to live in filthy and unsafe conditions, Palace owner George Wolsey, a former pharmacist, threatens to evict them if they get their methadone prescriptions filled through anyone other than him.
After allegations surfaced in 2008 that some pharmacists were pressuring or offering money to methadone patients to use their particular pharmacy, several pharmacies were closed and Wolsey lost his licence to practise as a pharmacist. But the kickbacks have continued.
Doug King, a lawyer with Pivot Legal Society, told The Epoch Times that Wolsey still owns a pharmacy and although it is operated by others, he continues to benefit when the tenants get their prescriptions filled there. Almost all the tenants in the SROs are in the methadone program, he said.
"They try to bring in tenants that are on methadone. Pretty much everybody in the Wonder Rooms and in the Palace is on methadone."
Pharmacists collect dispensing fees and an additional fee for witnessing ingestion of the drug, as well as a provincial reimbursement, all of which can make it a lucrative business since patients must have their methadone prescriptions filled daily.
Pivot is representing several tenants who on June 29 launched a class-action suit against Wolsey and Douglas Robinson, owner of the Wonder Rooms. They are seeking damages for being evicted illegally or for the harm they've suffered as a result of conditions in the hotels. Wolsey is also involved with the Wonder Rooms.
Many of the tenants who spoke at the June 30 council meeting told of being threatened by Wolsey—in particular regarding speaking at the meeting. In an unprecedented move, they were allowed to speak from the upper gallery to protect their anonymity, and members of the media were asked not to photograph them.
Mayor Robertson and several city councillors thanked the tenants for their courage in coming forward considering their situation.
Hundreds of Violations
Council heard that between the two hotels there are 265 violations, with about 20 rooms uninhabitable.
In addition to rodent, bedbug, and cockroach infestations, fire alarms are either not working or have been disconnected, the fire escapes are blocked, there are broken windows throughout, and toilets don't flush. Several units have holes in the walls, damaged flooring, leaky taps, and water damage.
Many tenants work for Wolsey for $3 an hour, doing jobs such as tending the front desk which can include intimidating residents and inspectors with a baseball bat or a stick with a pair of scissors taped on the end. Monthly rent costs between $375 and $600 for a basic room.
City building inspectors, who are often refused access, were not allowed to document violations on their most recent visit.
A resident of the Wonder Rooms told council that his methadone treatments are sometimes diluted and that he was once given someone else's dose.
Ivan Drury of the Downtown Eastside Neighbourhood Council said that earlier that day, Wolsey had refused to fill a tenant's methadone prescription in an attempt to prevent him from coming to speak at the meeting.
Drury said there's "a crisis of living conditions" in the hotels and residents' health is being compromised.
Councillor David Cadman said conditions in the two SROs "can only be described as a Dickensian type of lifestyle."
"It is simply intolerable in this, the 21st century, that people in this city that is so wealthy have to live under these conditions," he said. "It's time for us and the province to get together and really begin to address these problems."
The task force will work with the province, stakeholders such as the College of Pharmacists, non-profit groups, and the Downtown Eastside community to improve conditions at all SROs, some of which are not in much better shape than the Palace and Wonder Rooms.
"A combination of all of these things involved is really what's needed," said King, adding that he has hope that with this approach, SRO landlords will be forced to do better so that tenants can live in some semblance of dignity.
"In the past it's just been community groups trying to enforce the legal situation—trying to get change—and I think the fact that the city is now kind of actively working with the province and community groups to find a solution could be what needs to be done to make a difference."
George Wolsey could not be reached for comment for this article.