A kayaker's van is resting at the bottom of a Georgia river, thanks to a spider.
Georgia Highway Patrol were called to an incident at the Etawa River in Kingston, Georgia, on May 19, according to the Atlanta Journal-Constitution.
Highway patrol said that the a young woman was preparing to put her kayak on the river from her Kia van, and was backing down the boat ramp when a spider landed on her lap.
She panicked, and jumped out of the van, which rolled down into the river and began to float downstream.
"She stated that it floated downstream a few feet," a Georgia State Patrol spokesman said according to the AJC.  "And within seconds, it was totally submerged. A passerby in a boat attempted to locate the van, but without success."
The woman's insurance company was preparing to send out a dive team to locate the van, according to local reports.
Later photographs on Facebook show a van clearly visible under the surface of a river, which the posters say is the same van.
It appears to have been strapped to stop it from being swept downstream.
According to local reports, the insurance company is intending to pull the van from the river with the help of a dive team.
Denver News Woman's van rolls away into river after spider jumps into her lap https://t.co/9ImapUre2f pic.twitter.com/cxhbgxiOAs

— Denver NewsChannel (@Denver_NC) May 20, 2019
Last month in New York state, a woman injured her leg in a crash caused when she was panicked by a spider in her car, according to Cairo police.
A photograph released by police at the time shows the front of her car severely damaged after the crash on April 10.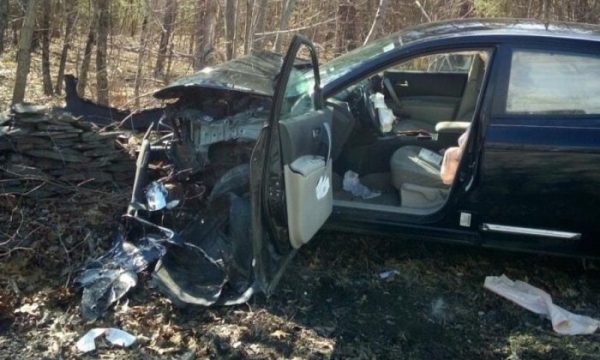 "We know that it is easier for some drivers than other but PLEASE, try to teach new drivers and yourselves to overcome the fear and pull over to a safe place. Lives depend on it," police wrote in a Facebook post.
In 2016, a woman lost control and rolled her car into a ditch when she panicked after a spider dropped down from her rearview mirror, according to Katu.
Spider season in full swing.Driver not injured after crash when spider drops from mirror on NW Thompson Rd today.BR pic.twitter.com/oV3woHyv9Z

— WCSO Oregon (@WCSOOregon) September 21, 2016
Fortunately, the woman only suffered a small scratch on her hand.