The CCP virus vaccine mandate for England's frontline health care workers is "under review," Health Secretary Sajid Javid said on Tuesday.
Javid said it was "right" to reflect on CCP (Chinese Communist Party) virus policies in the context of the Omicron variant and that the government is "reflecting on all this."
This is the first sign from a government minister that suggests the mandate—which is due to take effect on April 1—is open for discussion.
Up until Monday, the government insisted the mandate is "the right approach" and will go ahead as scheduled, amid calls for the policy to be delayed or thrown out to avoid staff loss and reports suggesting ministers were considering an 11th-hour delay.
According to NHS guidance, frontline health workers have until Feb. 3 to get their first shot so they won't be redeployed or sacked without severance pay.
Submitting oral evidence to Parliament's Health and Social Care Select Committee, Javid told MPs that around 100,000 NHS workers have received CCP virus vaccination since the government launched a consultation on the mandate in September 2021.
"I think now it's almost 95 percent of NHS workers that that have had at least one jab. The latest numbers I have is around 77,000 that have not," he said, noting that most but not all unvaccinated staff are within the scope of the mandate.
Javid told MPs that it's the "professional duty of every NHS worker to get vaccinated," and that the "whole principle" of the vaccine mandate is "about patient safety."
But he acknowledged that staff loss is part of the "cost element" that also affects patient safety.
"When we made this decision, that was the principle, and we weighed it up. The dominant variant of the time was Delta," Javid said, adding he believes "it is right—in light of Omicron—that we reflect on all this, and keep all COVID policies … under review."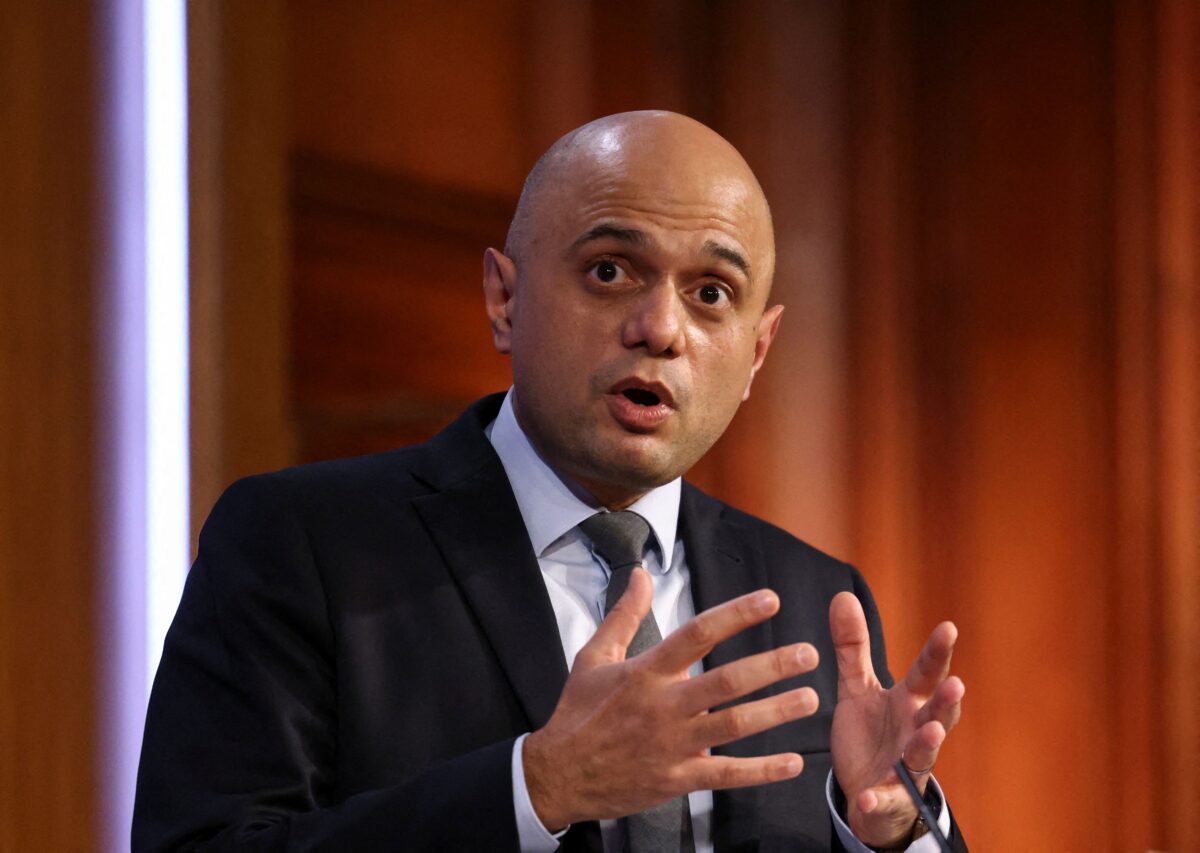 Many unvaccinated NHS workers have spoken out against the mandate after Steve James, a consultant anesthetist at King's College Hospital, told Javid that he doesn't believe the science for mandating the vaccines is "strong enough" and the government should at least consider the nuance that some doctors have antibodies through previous exposure to the virus.
Asked during the committee hearing by one MP about previously infected NHS workers from his constituency, the health secretary said "all the evidence is that even if you had a prior infection, if you get a vaccination on top of that, you're even more protected … you're less likely therefore to infect others and that means less likely to infect your patients who are already very vulnerable."
But the claim appears to contradict some recent studies that suggest natural immunity against the CCP virus works better than vaccine-induced immunity.
A study published on Jan. 19 by the U.S. Centers for Disease Control and Prevention, which compared those who were unvaccinated with no previous COVID-19 diagnosis, unvaccinated with a previous COVID-19 infection, vaccinated with no prior COVID-19 infection, and vaccinated with prior COVID-19 infection in two states during the Delta wave, indicated that natural immunity was superior than vaccine-induced immunity both in terms of infection and hospitalisation, and that vaccination made virtually no difference for those with a previous infection.
A Israeli study from December 2021 also suggested that natural immunity was more protective than the vaccines over time.
The Epoch Times reached out to the Department of Health and Social Care for comment.
Meanwhile, Javid told the committee that people should learn to live alongside COVID-19 "like we do for the flu."
He also said that the "living with COVID plan" for England, which will be published in the spring, will set out how the government plans to deal with new variants and how the NHS will plan for "surge capacity" as and when it is needed.
"It's about understanding we do now have defences which we didn't have before and just as sort of flu doesn't stop society and stop life, we mustn't let COVID do that any more," he said.
Javid denied the accusation that the government neglected the need for better workforce planning in health and social care, and said the NHS was considering "radical plans" to tackle the backlog of care built up during the pandemic.
PA Media contributed to this report.