The COVID-19 vaccine mandates for federally regulated workforces caused severe staffing and operational challenges for the transportation sector, according to a secret briefing delivered to cabinet in June before the mandates were suspended.
"Operators are reporting acute challenges in staffing critical operating positions across sectors, citing current vaccination mandate as key factor," says a now-declassified and heavily redacted document meant to brief government ministers on policy considerations for the mandates requiring employees and travellers in the federally regulated air and rail sectors to be vaccinated against COVID-19.
According to a document attached to the briefing and signed by Neil McCraw, counsel for the Privy Council Office, the briefing came from Transport Minister Omar Alghabra and Treasury Board President Mona Fortier.
"In air, operators are losing some pilots to jurisdictions like the U.S. who don't require vaccines and ground crew to other sectors that do not have mandates," says the briefing marked "Secret—Confidence of the Queen's Privy Council."
The document was partly declassified in the context of the ongoing litigation related to the COVID-19 vaccine requirements for travel.
In June, the Canadian official behind the travel mandate policy was cross-examined as part of the legal proceedings and repeatedly cited cabinet confidence as a reason for not answering questions.
Sam Presvelos, the lawyer for applicants Karl Harrison and Shaun Rickard, asked Transport Canada manager Jennifer Little if she and her COVID Recovery Team had ever made recommendations to their superiors to change aspects of the mandate that came into force on Oct. 30, 2021.
"We have made recommendations and outlined considerations. And as I mentioned, I can't—I can't discuss them," said Little.
When Presvelos enquired as to why that is, Justice Department counsel Mahan Keramati evoked "cabinet confidence"—a rule protecting government information from public view.
Presvelos asked for an undertaking to have the information released, and the government sent back four official documents, three of which were completely redacted.
The one briefing not entirely redacted also mentions the pressure the airline industry was putting on the Liberal government in late spring to lift COVID-19 restrictions.
"They are highlighting increased difficulty operating because Canada is increasingly off-side the rest of the world, and they are getting increased push-back from travelers who are aware of the latest science of weak protection from infections," said the briefing.
While the government suspended the vaccination requirement for domestic and outbound travel on June 20, with a warning it could be brought back depending on circumstances, a public health official said the government was aware in late 2021–early 2022 that vaccination was affording limited protection against infection.
"I do remember that it became clear to us that two doses or doses that were given several months prior were less protective," said Dr. Eleni Galanis, director general of the Centre for Integrated Risk Assessment at the Public Health Agency of Canada, during her cross-examination in June.
The briefing noted that vaccine protection against infection and transmission from the Omicron variant after two doses is "20 percent or less in most studies by 6 months or more after vaccination."
The Epoch Times reached out to Air Canada and WestJet to find out more about staffing issues but didn't immediately hear back.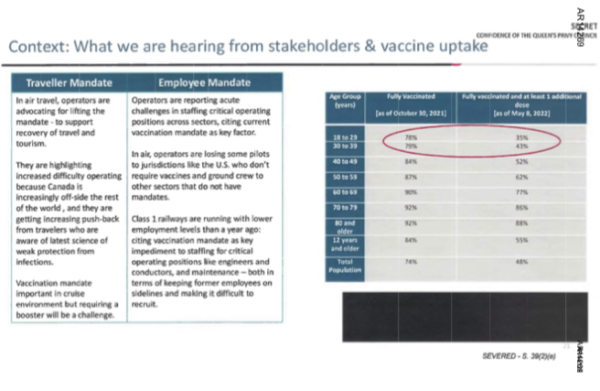 Rail
While the issue of air travel has been a subject of greater scrutiny in the context of vaccine mandates, the briefing also mentions how they affected major railways.
It says that Class 1 railways, meaning Canadian National (CN) and Canadian Pacific (CP), were operating with less staff compared to last year and cited the mandate as a "key impediment to staffing for critical operating positions like engineers and conductors, and maintenance—both in terms of keeping former employees on sidelines and making it difficult to recruit."
Blacklock's Reporter said in late June that Canadian Pacific had not imposed such a strict mandate in order to keep the trains running. Not doing so would have placed the "critical operations of the railroad at risk," CP reportedly said.
Both CN and CP are being sued in federal court along with Transport Canada for imposing a vaccination requirement.
CN declined to comment on this story and CP did not reply before publication time.
Cruises
The Liberal government suspended the domestic vaccine mandate for taking a plane or a train effective June 20, but kept it in place for going on a cruise.
"The chance of being infected with COVID-19 on cruise ships is very high, even if you're fully vaccinated," says a government website.
Cases of outbreaks on cruise ships are widely documented, even with people on board vaccinated at very high rates.
The cabinet briefing mentions that a vaccine mandate is "important in cruise environment but requiring a booster will be a challenge."
Beside the text is a table on vaccine uptake with columns for "Age Group," "Fully Vaccinated [as of Oct. 30, 2021]," and "Fully Vaccinated and at least 1 additional dose [as of May 8, 2022]."
The first two rows covering ages 18 to 39 are circled in red to show low booster uptake. The 18 to 29 were 78 percent fully vaccinated, while 35 percent had a booster. The 30 to 39 were 79 percent fully vaccinated, while 43 percent had a booster. Uptake rates were progressively higher for older individuals.
"Requiring a booster" refers to the consideration the government made to keep the mandates in place and impose a booster to be considered fully vaccinated. Knowing that protection wanes drastically over a short time, such an approach would require mandating new doses every few months.
Reaction
The Epoch Times contacted Transport Canada to obtain additional details about the staffing issues and whether they're related to the travel chaos experienced lately, but didn't immediately hear back.
Transport Minister Omar Alghabra put some blame on the private sector at a press conference on Aug. 29, during which he and other ministers gave an update on the government task force to improve services.
Alghabra was asked by reporters whether there are places where the government could reduce its presence to try to improve the transportation system, in reference to what Conservative MP and party leadership contender Pierre Poilievre says about removing "gatekeepers."
"I actually find it ironic. On the one hand, some Conservative voices are saying 'remove government,' and then on the other, they're asking government to fix problems in the private sector. So you can't have it both ways," Alghabra said.
He added that the government's role is to ensure there are safety and efficiency standards, whereas the mostly privately run transportation sector is responsible for delivering service to customers.
Transport Canada believed the mandates would be a "catalyst" to drive vaccine uptake, indicated other documents filed during litigation.