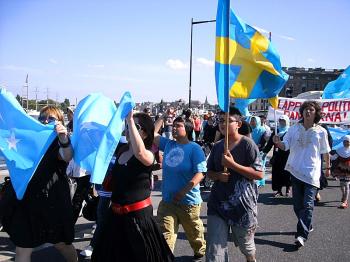 On the anniversary of the July 5, 2009 violence in Xinjiang, the World Uyghur Congress (WUC) launched a worldwide protest in over 20 countries. It strongly condemned the Chinese communist regime for its military suppression of Uyghurs one year ago, and for oppressive security measures leading up to the anniversary.
Dilshat Rishit, spokesperson for the WUC, told The Epoch Times that on July 5, Xinjiang authorities have placed Uyghurs under house arrest. Personnel who carried out operations to maintain "social stability" used the excuse of "appeasement" to enter Uyghurs' homes and monitor and restrain them from mourning the victims of last year's violence. They also want to prevent victims' families from exposing their true situation to the outside world. Telephone networks and the Internet inside Xinjiang have been subjected to various interference.
Rishit said that large-scale protests were held on July 5 in over 20 countries, including Europe, Australia, the U.S. and Canada. The protests were in various formats. Besides mourning the victims, there were various large forums, photo exhibits, and documentary screenings to expose the misinformation of the 2009 events propagated by the Chinese communist authorities.
On July 4, Uyghurs in Paris and Tokyo held activities on the day prior to the anniversary. In Tokyo they held a rally and march in a park in Chiyoda-ku. Meanwhile in Paris, over 100 Uyghurs in exile gathered near the Eiffel Tower. They held protest signs and waved flags, then marched to the Chinese Embassy, demanding international pressure be put on Beijing authorities to hold a dialogue with Uyghur leaders.
During a July 5 protest held in Sweden, Ms. Dilala Reheman, who witnessed the 2009 violence in Xinjian, said Uyghurs will never forget this bloody day. Ms. Reheman subsequently fled from China. She said the Chinese communist party (CCP) is continuing its systematic persecution of Uyghurs.
Elyar Abduwali also fled to Sweden at the same time. He said they were disappointed by the international community's failure to stop the Chinese regime's violence.
Conflict Deepening

In Canada members of the Uyghur community held a protest in front of the Chinese Consulate in Calgary. According to Mukerrem Kurban, spokesperson of the event, the conflict between Uyghurs and Han Chinese has deepened since last year's violence in Urumqi, and this conflict was created by the CCP. Since July 1 this year, authorities have used the excuse of maintaining stability to send in a large number of military police. They are all over Urumqi. Authorities have also installed 40,000 surveillance cameras across Urumqi. The Uyghur people are afraid to go on streets now. All phone calls entering Xinjiang from overseas have been interfered with. On July 5, all phone lines were cut off.
Rishit said that the basic dignity of Uyghur people has been seriously infringed upon. Uyghurs living in different villages cannot communicate with each other normally. When going from one village to another, they are been interrogated. If a Uyghur needs to go to somewhere far, he or she has to get a criminal record clearing from their village cadres. "Uyghurs are now living in an open-air prison," Rishit said.
Missing People

Rishit also said that since the July 5, 2009 incident, families of the large number of missing people have not been informed of the whereabouts of their family members. They don't know where their children have been detained or when they will be released.
"Everything is based on Beijing's political need rather than going through the normal judicial process. People don't have any right to defend themselves," Rishit said.
Rishit issued a brief statement regarding the anniversary of the July 5 incident: "I would like to urge all people inside Mainland China, who love democracy, human rights and respect people of different beliefs, to come forward to expose the Chinese communist regime's longtime lies that demonize Uyghurs. Because democracy and human rights should not be selective to race and religion, all Chinese people with conscience should step forward to strongly condemn the Chinese communist regime's armed suppression of the Uyghurs."
Chinese authorities claimed that 197 people were killed and 1,600 injured during the July 5, 2009 protest, but an Amnesty International report released on July 2 challenges those numbers and the official Chinese coverage of the events based on testimonies by Uyghurs who fled China during the unrest.
Read the original Chinese article.