Utah Gov. Spencer Cox on March 22 vetoed a bill that would ban transgender students from participating in girls' sports in public schools, coming a day after Indiana Gov. Eric Holcomb vetoed a similar bill in his state.
In response, Utah Senate President Stuart Adams and House Speaker Brad Wilson said they have the two-thirds majority needed to override the veto and indicated they would hold a veto override session on March 25.
In anticipation of the veto override, Cox subsequently called for a special legislative session for the same day to consider the financial and legal issues regarding the measure, to allow lawmakers to amend the ban and potentially include taxpayer funding for school districts and youth sports organizations that anticipate being sued.
Utah's House Bill 11, the Student Eligibility in Interscholastic Activities bill, limits participation in female sports by "prohibiting a student of the male sex from competing against another school on a team designated for female students."
But if a court were to invalidate the above provisions, the bill would create a commission to allow a student to play in "a gender-designated interscholastic activity that does not correspond to the sex designation on the student's birth certificate" if the commission approves, per certain eligibility criteria. The commission would be the first of its kind in the United States.
Since 2020, 11 states have passed laws banning transgender children from playing in girls' sports. They are Alabama, Arkansas, Florida, Idaho, Iowa, Mississippi, Montana, South Dakota, Tennessee, Texas, and West Virginia.
The veto for the Utah bill was no surprise—Cox indicated on March 5 that he would veto the measure. On March 22, he outlined "several fundamental flaws" that prompted his decision. The reasons mainly involved major last-minute changes and the lack of financial protection to the government.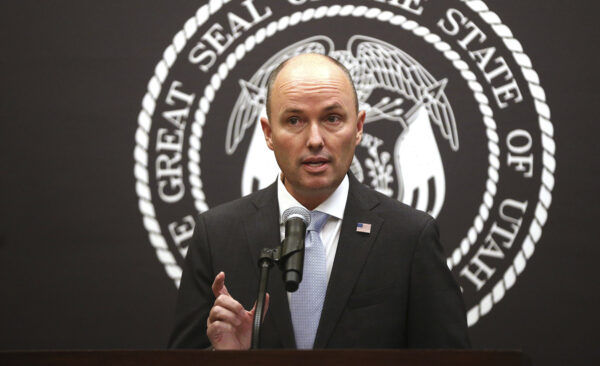 No Financial Protection
In a statement posted on Cox's Twitter page, which mirrors content in a veto letter he issued to the leaders of the state House and Senate, the governor said the bill was "substantially changed in the final hours of the legislative session." He said the lack of time and public input was a "poor process" that "has serious legal and financial implications."
"HB11 also provides no financial protection and explicitly invites a lawsuit meaning this bill will likely bankrupt the Utah High School Athletic Association and result in millions of dollars in legal fees for local school districts," Cox said on Twitter.
He added in his veto letter, "if we want to protect women's sports, bankrupting the institution that is responsible for their participation is a bad place to start."
Cox also noted there was a "hastily adopted amendment" to explicitly exclude local schools in Utah from indemnification.
"Clearly, the reason for the amendment was to avoid a fiscal note that could not have been funded at such a late hour without nullifying the bill," Cox wrote in the veto letter. "However, during the discussion on the Senate floor, it was incorrectly argued that government immunity would protect schools from a lawsuit based on the ban.
"Because these lawsuits would involve potential civil rights violations, they would not qualify for governmental immunity. This means that schools would inevitably face costly litigation and the potential for significant damages."
Cox said that in the event of a veto override, he is motivated to "immediately call a special session to change this section of the bill in order to avoid bankrupting our athletic association and local schools."
Compromise 'Fell Apart'
The governor said that a compromise reached between legislators and LGBTQ advocates "fell apart in the 11th hour of the session." The compromise would "would protect women's sports and allow some participation for transgendered youth," he noted.
Cox said in the veto letter that the compromise involves allowing participation in sports for a small number of transgender children. The decision would be made "without posing any threat to women's sports" by a commission created under the bill.
The commission "would prohibit participation in the rare circumstance of an outlier who could pose a safety threat or dominate a sport in a way that would eliminate competitive opportunities for biological females," the governor said in his veto letter.
He said that a fourth substitute to the bill was approved on the last day of the legislative session that would have implemented an "all-out ban, with the new commission only coming into play if a court prohibited the ban."
"It is important to note that a complete ban was never discussed, never contemplated, never debated and never received any public input prior to the Legislature passing the bill on the 45th and final night of the session," Cox wrote. "I feel a veto is necessary to improve the process and to better allow the public an opportunity to weigh in."
"A simple veto override will not resolve this fundamental issue."
Utah Senate President Adams said in a statement late on March 22 that he respects the legislative process.
"We must work to preserve the integrity of women's sports and ensure it remains fair and safe for all. … We care deeply for all students, but we can not ignore the scientific facts that biological boys are built differently than girls. Doing nothing is taking a step backward for women. Finding a solution to this complicated issue is necessary to maintain fair competition now and in the future," he said.
House Speaker Wilson said in a statement, "Governor Cox made his intention to veto the bill clear from the day it was passed so his action today was expected. … Ultimately, the Legislature recognizes the value of girls athletics and our members want to ensure girls have the level playing field to compete."
Cox noted in his veto letter that many legislators brought up the case of Lia Thomas, a trans swimmer at the University of Pennsylvania, who won the 2022 NCAA Division I women's 500-yard freestyle event.
"I agree with those who are concerned with this egregious example," Cox said. "I believe this is terrible for women's sports. There are natural advantages that come from our birth sex, which is the very reason that we have men's and women's sports in the first place. Setting records and taking scholarships away from biological gendered women should give everyone pause."
Cox said the example of using Thomas's case as a reason for a complete ban in Utah has multiple issues, the main one being that the bill "would do nothing to prevent that example, as HB11 only applies to high school and middle school and does not impact collegiate athletes." Furthermore, if there was a similar case in a Utah high school, the commission as provided in an earlier version of the bill would prevent the situation from happening, Cox wrote.
"Indeed, that is the very purpose of the commission: it would attempt to both protect women's sports and allow our most vulnerable an opportunity to participate."
Cox also noted that in Utah, about 75,000 high school children are participating in high school sports, of whom four are transgender, and one is a transgender student playing girls' sports.
"Four kids and only one of them playing girls sports. That's what all of this is about," he said. "Four kids who aren't dominating or winning trophies or taking scholarships. Four kids who are just trying to find some friends and feel like they are a part of something. Four kids trying to get through each day. Rarely has so much fear and anger been directed at so few.
"I don't understand what they are going through or why they feel the way they do. But I want them to live. And all the research shows that even a little acceptance and connection can reduce suicidality significantly. If a veto override occurs, I hope we can work to find ways to show these four kids that we love them and they have a place in our state."