The parent company of Woodbury Common Premium Outlets presented a new expansion plan for the global shopping center to the Village of Woodbury Planning Board on Sept. 20.
"The property is a destination—it is a destination for employment, it is a destination for restaurants and retail, and it is an international destination for shopping," Simon Property Group Vice President of Development Timothy Fox said at the meeting.
Among 250 or so pieces of real estate owned by Simon Property Group across the world, Woodbury Common came in the top three, he said.
"We are really trying to make something that is great even better, bringing it to the next level," he said.
Nearly half of the millions of visitors to the outlet annually are tourists from outside the region, with a significant number from outside the country.
The planned expansion features a new 200-room hotel for out-of-towners who want to stay overnight.
It also includes more than 130,000 square feet of new retail and restaurant spaces to be constructed on an existing surface parking area within the outlet's Niagara district.
A new multilevel parking garage will absorb the loss of surface parking spots while increasing the outlet's total parking spaces by about 1,400.
Mr. Fox said the parking changes would reduce conflicts between pedestrians and cars and that enhancing pedestrian experience and safety was a key intention behind the proposed expansion.
The expansion will also improve landscaping and add a new play area for children.
Tax and Job Benefits
Mr. Fox said the expansion will bring an estimated $20 million in additional tax revenues every year to the state, local governments, and other involved taxing districts.

The benefits mainly come in new property, sales, and hotel taxes.

Among them, New York state and Orange County governments are expected to each receive about $8 million in additional tax revenue, while Monroe-Woodbury Central School district is expected to receive an additional $2 million.

The Metropolitan Transportation Authority, which taps 0.375 percent of sales taxes generated in Orange County to finance its operation, should receive about $700,000 more.

The Town and Village of Woodbury are expected to earn additional revenues of $570,000 and $377,000, respectively.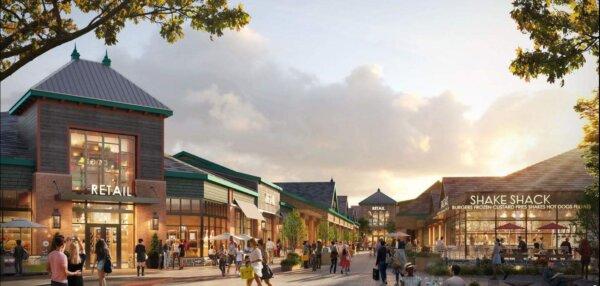 The expansion will produce 770 new full-time and part-time jobs on-site, in addition to the current employment of about 5,000 people during peak seasons, according to Mr. Fox.
Orange County Executive Steve Neuhaus, state Sen. James Skoufis, state Assemblyman Chris Eachus, Village of Woodbury Mayor Andrew Giacomazza, and Town of Woodbury Supervisor Thomas Burke released statements supporting the expansion.
Consultant Comments
Following the presentation, planning board legal counsel Kelly Naughton suggested that the applicant strip jargon from its executive summary to make it easier for an average resident to understand.

Natalie Barber, the engineering consultant to the planning board, said that more information is needed to be furnished by the applicant before its draft environmental impact statement could be ready for public review, including a potential application for property tax incentives, the availability of village and town hall services (fire, police, and emergency services), and the municipal water and sewer capacities.

She said the village had a moratorium on certain developments due to straining water resources.

As for traffic, a consultant suggested to the planning board that the applicant provide more current data as well as more data on Sunday traffic.

The Epoch Times reached out to Woodbury Common for comment but didn't receive a reply by press time.

Woodbury Common has had several expansions since it opened in 1985; the most recent expansion, between 2014 and 2018, added a parking garage and a market hall.