Nine Florida sex offenders face potential voter fraud charges stemming from a voter registration drive held at the Alachua County jail in 2020.
Darry Lloyd, public information officer for the Eighth Judicial Circuit State Attorney's Office, told The Epoch Times the latest nine cases were referred in July by Kim Barton, a Democrat who holds the position of Alachua County elections supervisor.
The registration drive triggered a ​series of complaints lodged by Gainesville database researcher Mark Glaeser, who used his computer skills to identify potentially hundreds of illegal ballots cast by inmates around the state.
So far, 10 of the initial 34 inmates identified by Glaeser have been charged with voter fraud in connection with the 2020 jail registration drive held by the Supervisor of Elections Office in deep-blue Alachua County.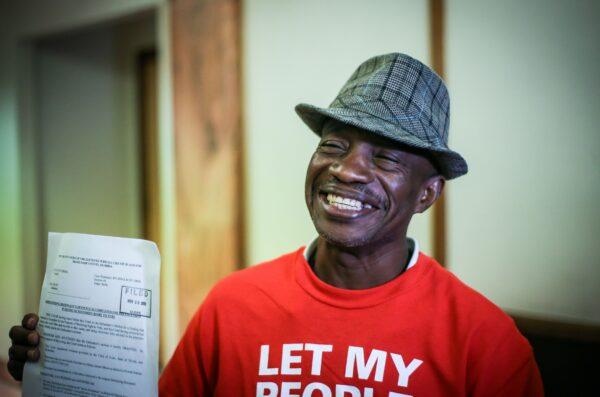 Glaeser also filed a complaint with the Florida Department of Law Enforcement against Barton and Thomas "TJ" Pyche, who was director of outreach at the elections office before resigning in 2021. Glaeser alleged the officials facilitated illegal voter registration of convicted felons at the jail.
The department's investigation criticized how the elections office handled the jailhouse registration drive but did not press charges against the election officials.
According to the FDLE report obtained by The Epoch Times, the elections office "showed a haphazard registration of inmates and could compromise the integrity of the Florida Voter Registration System."
The report showed the Alachua election office conducted its voter registration drive differently than other third-party organizations.
Then-elections office outreach director Pyche would arrange visits to each of the jail's housing units—including units with medium-maximum security inmates.
Barton, who was outreach director for some 10 years before being elected in 2017, said she would only leave educational materials and paperwork at the front desk to be posted throughout the facility, according to the report.
The investigation found that Barton was aware of Pyche's methods and did not fault his conduct nor advise him to make adjustments.
The Epoch Times called and emailed Barton's office for comment.
The latest group of sex offenders facing voter fraud charges would not fall under the state's Amendment 4, which was approved in 2018 by Florida voters. The amendment restores voting rights to those with felony convictions, except those convicted of murder or sexual offenses who completed their sentences.
However, subsequent changes to the meaning of the amendment required felons to pay all legal financial obligations, including unpaid fines and restitution, as well as completing their prison sentence before their voting rights could be restored.
Glaeser, a semi-retired computer programmer, told The Epoch Times he spent his time and money investigating potential corruption in Alachua County and across the state because no one else seemed interested.
The outrageous anomalies he witnessed on election night 2020 were a factor in his motivation, he said.
"I had the time; I had the skill set; I had the track record," he said.
Glaeser blamed former Florida secretary of state Laurel Lee—a Republican now running for Congress—for not standing strong for election integrity. Glaeser said neither Democrats nor Republicans seemed interested in looking for voter fraud.
"If they can't find this low-hanging fruit, what can they find?" he asked. "Nobody wants to hear this story."
Glaeser noted that the Alachua Supervisor of Elections Office had received a $707,000 grant from the Center for Tech and Civic Life, a Chicago nonprofit funded by billionaire Mark Zuckerberg during the pandemic.
The 2020 grant document obtained by The Epoch Times said the money was to help with "non-partisan" voter education and vote by mail/absentee voting equipment, supplies, or other approved applications in Alachua County.
Using his computer skills once again, Glaeser tagged some 2,000 sex offenders so far on the voter rolls, with some 500 apparently casting votes. He expects voter fraud charges will be forthcoming.
"It's big, and it's getting legs right now," he said of the investigation.