Lawyers around the country are volunteering their time to help connect people who are experiencing "dire circumstances" involving COVID-19 to attorneys with experience who are ready to help.
Patients and families of patients told The Epoch Times that they've struggled to find any lawyer willing to even talk about their legal needs. Tapping into the network that was officially introduced on March 22 will give clients access to information that participating attorneys have learned and shared about fighting COVID-19-related legal battles since the pandemic began.
About 250 attorneys are participating in the loosely affiliated group known as the COVID Resource Network. Organizers say they expect it will grow exponentially as more "freedom-fighting" attorneys commit to helping patients get access to drugs they want to try, help workers fight their employers' vaccine mandates, prepare to enter the hospital with proper power of attorney documents, and more.
"We're just trying to move the needle—that's what patriots do," said West Palm Beach, Florida, attorney Rachel Rodriguez, who is, for now, hosting the network's intake form on her law office website. "We're sharing ideas, pleadings, motions. We're trying to multiply our efforts," and save time, which, for some clients, is running out.
The plan is to expand the network soon to include a nationwide list of medical providers who would offer help by advising on how to avoid the hospital and treat COVID-19 at home, or suggest treatments that could help hospitalized patients.
For now, people with an urgent legal need related to COVID-19—such as a patient worried about legal documents needed before checking into a hospital, or the family of a loved one being treated in a hospital, where care may not be optimal—can fill out an
online form
 requesting help. Volunteer attorneys sort through the requests and send SOS emails to custodians maintaining lists of willing lawyers who have experience with cases involving COVID-19.
Those list-keepers then identify experts best suited to help; fees are worked out privately between clients seeking help and the attorneys they hire.
Rodriguez first got involved with COVID-19 cases when she filed a lawsuit in 2021 representing Orange County Fire Rescue in Florida. The department's employees were trying to avoid choosing between their jobs and submitting to COVID-19 vaccines they didn't want or felt they didn't need. Eventually, their efforts prevailed when Florida Gov. Ron DeSantis outlawed vaccine mandates in the state.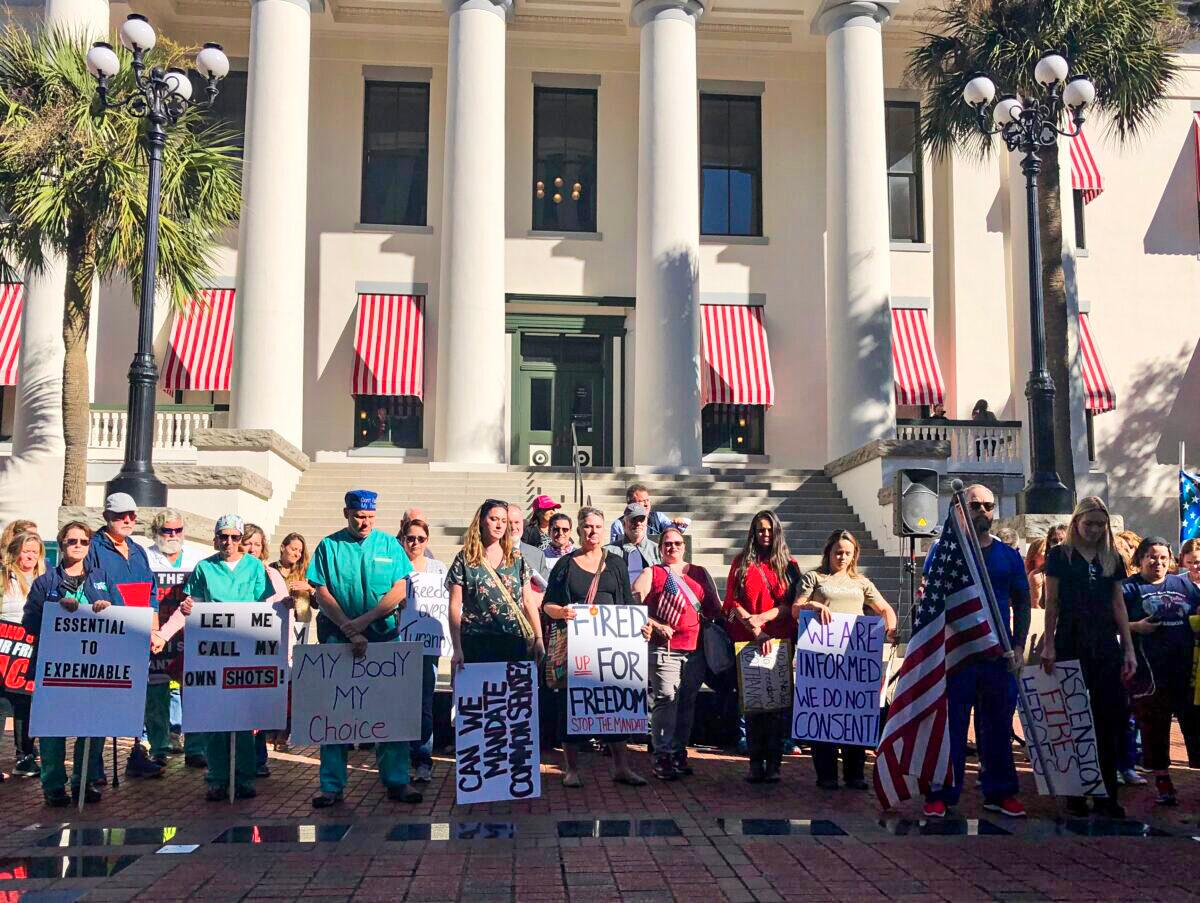 In addition to overseeing requests for help from the COVID Resource Network, Rodriguez is now working on a way to accept donations that could go toward the legal bills of those who can't afford to hire an attorney.
"That would be for people who want to put money into a fund and say, 'I want to help people who want to see if they have claims against hospitals for some of these really egregious cases,' or 'I'd like to provide for somebody who doesn't otherwise have the means to have an attorney,'" she said.
The lists of attorneys willing to take on COVID-19 battles aren't published because of fear of backlash, according to a Florida lawyer helping with the effort who asked not to be named. The person said the lists haven't even been merged into a single database out of fear of hacking or becoming otherwise compromised.
"I know it all sounds very mysterious," the lawyer said. "But you have to understand, that could end up being like a political hit list."
As part of the effort, the lawyer volunteers to contact custodians and medical providers who may be able to offer assistance immediately, and makes the connections between those professionals and the people who've submitted requests for help.
Attorneys from around the country started coming together to share ideas, strategies, and even files at the request of Jeff Childers of Childers Law in Gainsville, Florida.
"None of this would exist without [Childers]," the lawyer said.
Childers told The Epoch Times he was "minding his own business," handling mostly business law and commercial litigation, when the pandemic struck. He stepped into this new area to help a business owner fight mask mandates in 2020. Later, he helped groups fight employers over vaccine mandates and represented parents battling to choose whether their children would have to wear masks at school.
He also helped on lawsuits involving families of COVID-19-hospitalized patients who sued for the right to try medications they believed could save their loved ones.
Meanwhile, he started a daily blog with updates about developments around the world related to COVID-19. On it, he published his own
hospital COVID guide
, telling readers, "Here are some suggestions, starting with the time before admission. You should read this now and you might want to bookmark it for later. It could save your life."
His blog, 
CoffeeandCovid.com
, has since grown to about 80,000 followers, and he's been inundated with calls for help with cases related to COVID-19.
It's been heartbreaking, he told The Epoch Times, to receive calls from people who are desperate because a loved one has been admitted to the hospital, forced to take remdesivir, and often refused access to other treatments they want to try. The family is then unable to transfer the loved one to be able to seek alternative care, he said. It's the most common call his law office receives these days.
As his practice evolved, Childers initiated a way for attorneys around the country who are interested in fighting COVID-related cases to stay in communication, leading to the formation of the expanded COVID Resource Network of attorneys.
"I think that people have a right to have their claims assessed in that way by somebody who's a professional," said Rodriguez, who works closely with Childers on the effort. "Unfortunately, there's very few of us who feel that way. So as a result of that, it means there's a smaller supply [of attorneys available] to meet a greater need."
Janna Logan was grateful to connect with COVID Resource Network organizers. For months, she's sought advice on the best way to help her husband, Jim, who has been fighting for his life in a Nebraska hospital since August.
"I called the hospital back again this morning, trying to find out why they are not releasing his medical records," Logan told The Epoch Times. "I requested them in writing almost 50 days ago, and still have not received them. I was told they would be released once hospital administration was done reviewing them. I thought that was my legal right as [the person designated as having Power of Attorney]."
She knew she needed help, but didn't know where to turn.
"I have tried four different attorneys in Omaha, and no one seems interested," she said on March 18.
But then she learned about the COVID Resource Network. Within hours, she'd received a referral to an attorney in her state, and a list of medical providers that could offer advice. And that has brought her hope.
"That," she said, "is invaluable to me."