Republicans are furiously campaigning—and campaign spending—to expand a narrow U.S. House advantage while targeting vulnerable Democrat-held Senate seats to flip that chamber, capture all three branches of the government, and install a conservative agenda.
That's the GOP's Nov. 5, 2024, plan.
That plan's "test case" comes on Nov. 7, 2023, in Virginia, the governor has said.
Once again, what is true across the country is first true in Virginia, where the bellwether state's off-year General Assembly elections appear likely to presage national voting trends in what pundits are describing as "the first election of 2024."
All 100 seats in the purple commonwealth's House of Delegates, now led by the GOP 52–48, and all 40 seats in the state Senate, where Democrats hold a 22–18 advantage, are on Virginia's Nov. 7 ballot.
Abortion has emerged as the defining issue in an election where nearly $100 million was raised even before June's primaries. Both parties believe they have the blueprint in charting the issue to victory, first this November in Virginia and then next November nationwide.
Democrats are certain they have a compelling get-out-the-vote message for independents, suburban voters, and moderates in vowing to protect women's rights from "extremist" conservative overreach.
Republicans, galvanized by Gov. Glenn Youngkin—and at least $12 million from his Spirit of Virginia PAC—believe they can win by turning the election into a referendum for his proposed "common sense" 15-week abortion ban with exceptions for rape, incest, and the life of the mother.
Virginia has a recent history of chamber flips. Democrats seized the House and Senate in 2017 and retained them in 2019 under Democrat Gov. Terry McAuliffe. But with Mr. Youngkin defeating the incumbent Democrat and the GOP regaining the House in 2021, Republicans now seek to reverse that trifecta in November and set a winning trend for the national party heading into 2024.
"Hold our House and flip our Senate, we know how to do this," Mr. Youngkin said during a Sept. 9 rally for Republican candidates in Prince George County. "Virginia is the test case."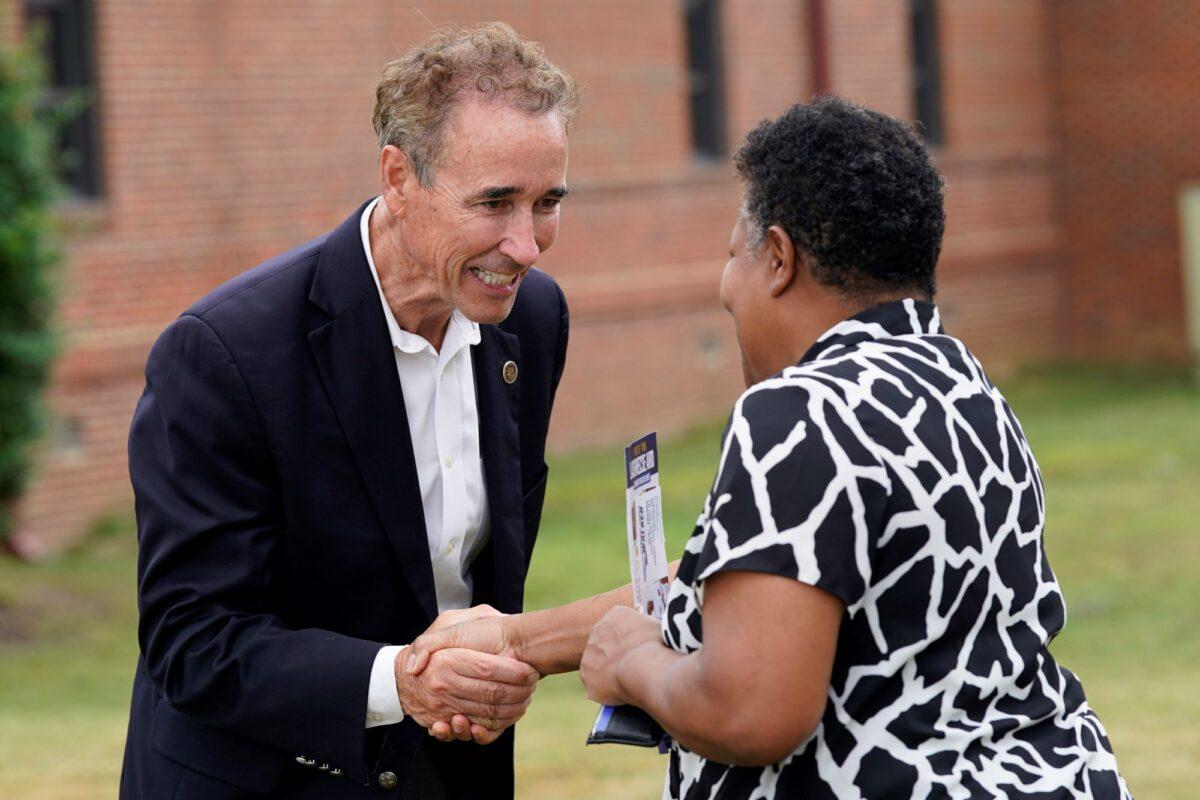 Rare 'Competitive' Legislature
State legislature election campaigns are underway in Virginia, New Jersey, Louisiana, and Mississippi.

Turnout for such odd-year elections tends to be lower than for those in presidential election-year cycles, especially without statewide offices such as governor on the ballot, which is the case in Virginia and New Jersey. Governor elections do, however, headline November ballots in Mississippi and Louisiana.

In Mississippi, Republican Gov. Tate Reeves is favored to win a second term to sustain that state's GOP trifecta, meaning control of both legislative chambers and the governor's mansion.

Louisiana voters will see elections for governor, lieutenant governor, attorney general, legislators, mayors, sheriffs, parish council members, and eight proposed constitutional amendments on two crowded ballots, beginning with an Oct. 14 primary.

Under Louisiana's "jungle primary" system, candidates of all party affiliations are on the same ballot. If no single candidate garners 50 percent of that Oct. 14 tally, the top two advance to a Nov. 18 runoff election.

Republican state Attorney General Jeff Landry and Democrat Shawn Wilson, a former state Department of Transportation and Development secretary, appear likely to emerge from the Oct. 14 primary to go head-to-head in a Nov. 18 runoff to succeed Louisiana's term-limited Democrat Gov. John Bel Edwards.

If the favored Mr. Landry gains the governor's office, Republicans will complete a trifecta in Baton Rouge, giving the GOP 23 such triplexes nationwide heading into 2024 sessions. Democrats now have 17 state trifectas, including in New Jersey.

According to FiveThirtyEight, the dominant party in three of the four states with legislature elections this fall—Republicans in Louisiana and Mississippi, Democrats in New Jersey—"are likely to retain full control, though there's a question of whether the GOP can hold onto or win veto-proof majorities in Louisiana and Mississippi."

Virginia, meanwhile, "has the only highly competitive state legislature" in the nation, FiveThirtyEight maintains. "As a result, only Virginia looks set to see much drama" in its 2023 General Assembly elections.
Follow the Money—Lots of It
According to the Virginia Public Access Project (VPAP), Virginia General Assembly candidates had raised a collective $87 million, and AdImpact Politics reports they had spent more than $22 million on campaign ads, as of June 30, the last reporting date, which was shortly after the state's June 20 primary.

The next Virginia campaign finance report updates will be posted Sept. 15, Oct. 15, and Oct. 30.

Virginia does not have campaign contribution limits for state elections, which analysts say gives large donors more impact compared to what federal election rules allow. This is generally regarded as more favorable for Republican candidates, especially those benefitting from Mr. Youngkin's Spirit of Virginia PAC, which reports raising $3.3 million in August and $12 million since March.

Mr. Youngkin has formally backed dozens of candidates in the general election after going 10-for-10 in June's primaries. On Sept. 11, the Spirit of Virginia PAC announced it was kicking $50,000 to a "Blacks Electing Conservatives" PAC to support GOP General Assembly candidates.

The Democratic National Committee, at President Joe Biden's urging, last week funneled $1.2 million into the Majority Project PAC, a Virginia Democrat group, to get door-knockers out and boost ad buys in key districts.

According to AdImpact Politics, an advertising tracking service, more than $8.8 million was spent on primary ads, which it said was a 700 percent increase from 2021 legislative contests.

In the two-and-a-half months since, Virginia General Assembly candidates had purchased more than $3.5 million in air time, AdImpact Politics reports, with Republican campaigns accounting for $2.1 million, or 60 percent, of that spending.

The $3.5 million is nearly triple the campaign ads purchased by Virginia General Assembly candidates by Sept. 7, 2021, AdImpact Politics notes.

With the calendar now beyond Labor Day, campaign spending should heat up as the pace of the politicking intensifies.
Battleground Senate Districts
Elections for eight of Virginia's 40 state Senate seats were determined in June's primaries with those winners now running unopposed in the general election. Six are occupied by Democrat incumbents and two by sitting Republicans.

Of the remaining 32 senate districts, Ballotpedia identifies eight as "battlegrounds." Four are held by Democrats, four by Republicans, and four it rates as either tossups or competitive.

According to CNalysis, a state legislature rating service, seven Virginia senate races are competitive, with two tossups and three with slight partisan tilts or leans. VPAP rates four of the senate district races as tossups.

Virginia Senate campaigns had raised more than $55 million of the $87 million raised by General Assembly candidates as of June 30, with Democrat hopefuls banking $34.35 million of it.

In fact, 18 senate campaigns, including 14 Democrats, had raised more than $1 million in contributions halfway through 2023. At least 22 will likely have surpassed seven figures by the time Sept. 15 reports are posted by VPAP.

Democrat Senate District 13 candidate Lashrecse Aird was leading all candidates with $2.1 million in campaign contributions after defeating pro-life Democrat Joe Morrissey in the primary. She is favored to defeat Republican candidate Eric Ditri in November.

The most competitive races will be along the fringes of the state's metropolitan areas, the exurbs nestled outside greater Washington, Richmond, and Hampton Roads, where voters tend to be college-educated and moderate, especially on social issues.

In Senate District (SD) 4, state Sen. David Suetterlein (R-Salem) is seeking a second term against Roanoke City Council member Trish White-Boyd after state Sen. John Edwards (D-Roanoke) chose to retire rather than run in the newly configured district. SD 4 had been a relatively blue seat but is now rated "very likely Republican" by CNalysis and as "leans Republican" by VPAP.

As of June 30, Mr. Suetterlein has also outraised Ms. White-Boyd $500,000 to $71,000.
Reapportioned District
In SD 16, incumbent state Sen. Siobhan Dunnavant (R-Henrico) will be challenged by state Del. Schuyler VanValkenburg (D-Henrico) in a refashioned Senate district that now has a Democratic lean, where President Biden won by nearly 17 points in 2020.

As of June 30, Ms. Dunnavant's campaign had raised more than any other Republican candidate to defend the seat, raising $1.474 million. Mr. VanValkenburg's campaign reported nearly $690,000 in donations coming out of the primary.

In SD 22, state Sen. Aaron Rouse (D-Virginia Beach) will again face off against retired Republican naval officer Kevin Adams, a repeat of the January 2023 special election won by the former NFL football player by 1.7 percentage points, or 700 votes out of 40,000 cast.

Mr. Rouse had raised $1.668 million to defend the seat heading into the general election while Mr. Adams' campaign had collected $1.405 million in donations to take it away.

President Biden won the district by 19.7 percentage points in 2020. CNalysis rates SD 22 as "solid Democratic" and VPAP rates it as "leans Democratic."

In SD 24, state Sen. T. Monty Mason (D-Williamsburg) is running for a third term against J.D. Diggs, who served 23 years as York County Sheriff in a battle between two longtime political presences in the district.

Mr. Mason's campaign had topped $1 million in contributions and Mr. Diggs' nearly $700,000 by June 30 for the race in SD 24, where Mr. Youngkin won by 3.4 percentage points in 2021 after President Biden won it by 8.8 percentage points in 2020. CNalysis rates SD 24 as a "toss-up" and VPAP as "competitive."

In SD 17 and SD 27, candidates are running to hold seats vacated by sitting Republicans who are either retiring or who were forced to run for seats in other districts because of reapportionment.

State Dels. Clint Jenkins (D-Suffolk) and Emily Brewer (R-Smithfield) face off in SD 17 for the seat occupied by state Sen. Bryce Reeves (R-Spotsylvania), who must seek reelection in SD 28. As of June 30, Ms. Brewer was convincingly ahead in campaign fundraising, $564,000 to less than $100,000.

President Biden won the district by 7 percentage points in 2020. CNalysis rates the reconfigured SD 17 as "lean Republican" and VPAP gives it a "competitive" rating.
No Incumbent
SD 27 is being vacated by incumbent Republican state Sen. Jill Vogel, who did not seek reelection. Del. Tara Durant (R-Stafford) is vying to keep the seat red against Democrat Joel Griffin, founder & CEO of Riphean Group and chair of the Stafford Economic Development Authority, and independent challenger Monica Gary, founder of New Wine Community Church in Stafford, Virginia.

Ms. Durant's campaign, which reported more than $600,000 in campaign donations heading into the general election, has received a great deal of support from Mr. Youngkin and his PAC, which have waded heavily into this race.

Mr. Griffin, with the capacity to self-fund and a long track record in the area as an economic policymaker, had raised about $430,000 as of June 30, and Ms. Gray, a community organizer, nearly $100,000 at that juncture.

President Biden won the district by 5.8 percentage points in 2020. CNalysis rates SD 27 as "tilt Republican" and VPAP as "competitive."

In SD 30 and SD 31, candidates are running to hold seats vacated by sitting Democrats who are either retiring or whom reapportionment forced to run for seats in other districts.

In SD 30, Del. Danica Roem (D-Manassas) is being challenged by Republican William Carroll Woolf, principal of The Woolf Group, a conservative public policy nonprofit, to retain a seat formally occupied by state Sen. Adam Ebbin (D-Alexandria), who was redistricted into SD 39.

Ms. Roem, who flipped a district long held by Republicans in winning her first House race in 2019, had outraised Mr. Woolf nearly 10-to-1, roughly $500,000 to $50,000, through June 30.

President Biden won the district by 26.7 percentage points in 2020. CNalysis rates SD 30 as "very likely Democratic" and VPAP rates it as "leans Democratic."

In SD 31, incumbent state Sen. Barbara Favola (D-Arlington) was redistricted into SD 40, enhancing Republicans' opportunity to take this Loudoun County district that CNalysis rates as a "toss-up" and VPAP rates as "competitive" even though it voted for President Biden in 2020 by nearly 14 percentage points.

Republican Juan Pablo Segura, founder and president of Babyscripts, a maternal telehealth app, is facing off with Democrat attorney Russet Perry, a former CIA officer, in the senate district where anger over COVID restrictions and parental participation in schools kickstarted Mr. Youngkin's 2021 campaign.

Mr. Segura had raised nearly $1.136 million through June 30, nearly three times what Ms. Perry's campaign had reported, although state and national groups are heavily embroiled in this campaign.
Forecast Has GOP Seeing Blue
CNalysis projects Democrats will retain the state Senate, essentially sustaining the 22–18 status quo in the chamber. In its "initial Virginia State Senate Forecasting Model" issued Sept. 10, CNalysis also gives Democrats a 71 percent chance of flipping the House, winning 51.6 seats, reversing the GOP's current 52–48 advantage.

CNalysis gives the GOP just a 14 percent chance of retaining the House, less odds than the 15 percent chance it gives to the election producing a 50/50 chamber split.

The numbers tell the tale, it says. Democrats sit in many more "safe" seats than Republicans do, CNalysis maintains, with 46 "solid Democrat" seats in the House and 18 "solid Democrat" seats in the Senate.

"Meanwhile," the projection states, "the GOP has just 40 'Solid R' seats in the House and 14 'Solid R' seats in the Senate."

Of the 100 House districts, 46 races are uncontested with primary winners unchallenged in November. Those 46 already-won seats include 33 Democrats and 13 Republicans, VPAP notes, citing another advantage for Democrats.

Of the 54 contested elections, Ballotpedia identifies seven in "battleground" districts. CNalysis names 15 as competitive with four as tossups and VPAP lists seven as toss-ups.

The four most-watched Virginia House races are in House Districts 21, 57, 82, and 97, according to most ratings.

In House District (HD) 21, incumbent Del. Kelly Convirs-Fowler (D-Virginia Beach) was redistricted into HD 96, leaving Democrat attorney Joshua Thomas to defeat Republican attorney John Stirrup to keep the seat blue. As of June 30, Mr. Stirrup's campaign had collected more than $217,000 and Mr. Thomas' $204,000.

In HD 57, incumbent Democrat Del. Sally Hudson is running for the Senate, pitting Democrat nurse practitioner Susanna Gibson against retired Republican home builder David Owen in a race garnering national focus for all the wrong reasons, at least for Ms. Gibson.

Alerted by a Republican operative's tip, The Washington Post on Sept. 10 published an article about Ms. Gibson and her husband, an attorney, performing sex acts for a live online audience and encouraging viewers to pay them with "tips" for specific requests.

In a written statement, Ms. Gibson called the scurry for archived videos "an illegal invasion of my privacy designed to humiliate me and my family," vowing that "it won't intimidate me and it won't silence me. My political opponents and their Republican allies have proven they're willing to commit a sex crime to attack me and my family because there's no line they won't cross to silence women when they speak up."

Mr. Owen did not capitalize on the story, instead appearing to offer sympathy for his opponent.

"Me and my team found out about this story today like everyone else," Mr. Owen said in a written Sept. 11 statement. "I'm sure this is a difficult time for Susanna and her family, and I'm remaining focused on my campaign."

As of June 30, Ms. Gibson's campaign had raised nearly $377,000 while Mr. Owen's campaign had $340,000 in the bank. President Biden won the district by 4 percentage points in 2020.

In HD 82, Del. Kim Taylor (R-Dinwiddle) is seeking a second term against Democrat Kimberly Adams, an accountant and auditor. Abortion is a top ticket issue in this Petersburg-area district that Democrats believe they can flip.

Ms. Taylor's campaign had nearly doubled Ms. Adams' fundraising heading into the general election, $313,000 to $167,557. President Biden won the district by 10.7 percentage points in 2020.

In HD 97, another Republican incumbent Del. Karen Greenhalgh (R-Virginia Beach), first elected in 2021, faces a stiff challenge from Democrat Michael Feggans, a tech entrepreneur.

Through June 30, the two were neck-and-neck in fundraising with Mr. Feggans' campaign reporting $257,268 and Ms. Greenhalgh's reporting $255,243. President Biden won the district by 12.3 percentage points in 2020.