VIENNA, Va.—Although the office of the Virginia attorney general has well-established partnerships with federal, state, and local agencies, Attorney General Jason Miyares said his office needs additional assistance from the community to bring an end to human trafficking.
The attorney general announced a new anti-human trafficking initiative at a Sept. 12 press conference at the Northern Virginia Chamber of Commerce. The 100% Business Alliance Against Trafficking will help Virginia businesses educate their employees on how to recognize possible trafficking incidents within their business communities and allow more people to become the communities' "eyes and ears."
"The reality is we need help. We need partners, every single business, really every Virginian" to fight the invisible war happening in plain sight, Mr. Miyares said. "Virginians every day are interacting with those that are being exploited, either human trafficking or sex trafficking, and oftentimes they don't realize it."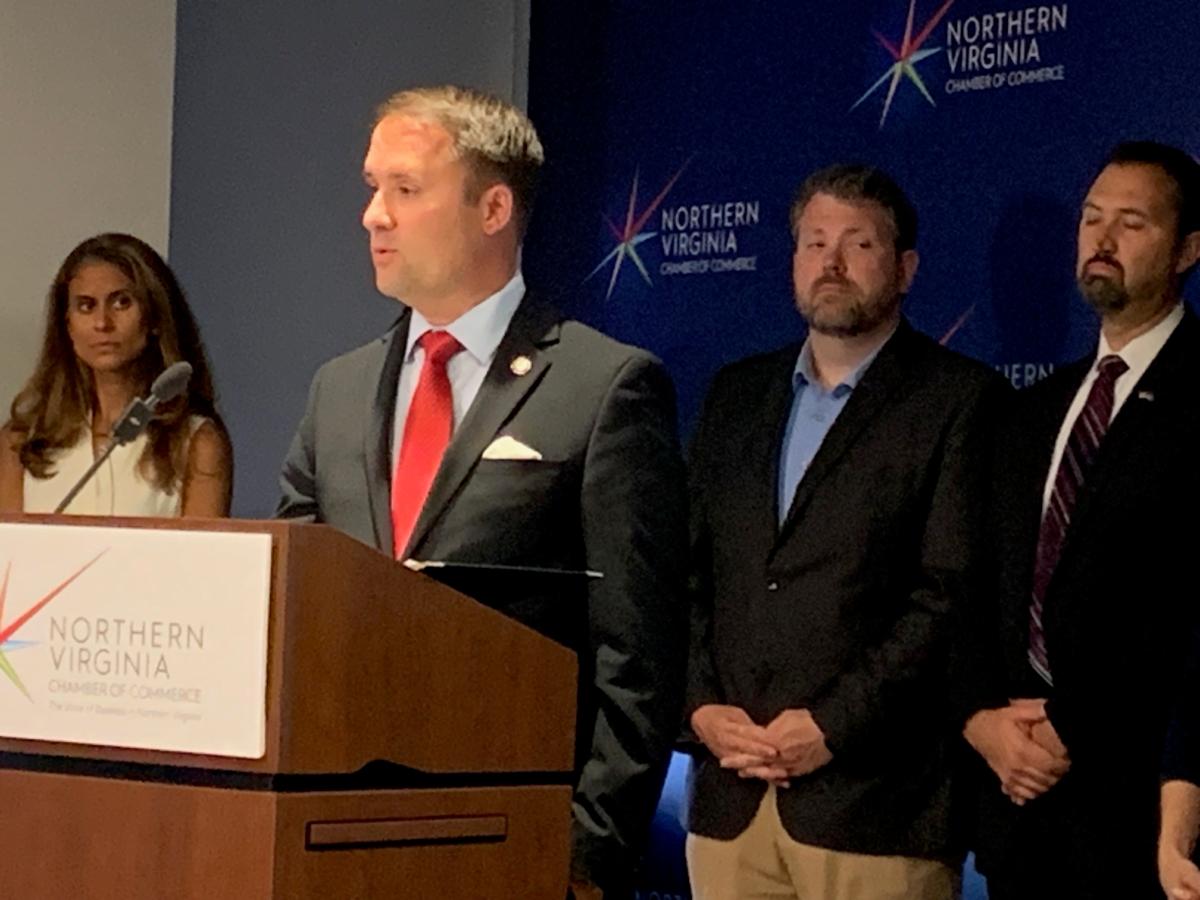 Globally, human trafficking is a $150 billion business, which flourishes in every corner of Virginia, Mr. Miyares said, and while narcotic trafficking is the most common and lucrative criminal enterprise, human trafficking is second.
Fairfax County Sheriff Stacey Ann Kincaid told reporters that human trafficking is prevalent in Virginia and not something that happens in far-off lands, that it is happening all around and in plain view.
"Unfortunately, they don't see it as something that will touch their neighborhoods or social circles. However, the reality is that human trafficking has the potential to touch every community," said Ms. Kincaid. She said the impacts of human labor and sex trafficking are horrific. The victims are sometimes murdered or have lifelong mental health issues, feeling powerless and severely traumatized.
The attorney general said human trafficking is happening in Virginia.
"That is why in the fight against trafficking, it is vitally important for businesses and their employers to be part of that partnership, in identification, in prevention, and reporting of trafficking, and the protection of trafficking victims and survivors."
The anti-trafficking training comes in the form of video modules and is free for all businesses to use. Making the human trafficking training modules a part of their regular training schedule will allow the thousands of Virginia businesses to equip their employees with the education, tools, and training to become partners with the law enforcement community in the effort to eradicate human trafficking, said Mr. Miyares.
The Northern Virginia Chamber of Commerce and the Northern Virginia Hispanic American Chamber of Commerce have committed to training all their employees and encouraging their members to take the anti-human trafficking training as well.
The two chambers have a total of more than 900 members combined, representing close to 700,000 employees.
The Office of the Attorney General's plan is to make these training modules available to any Virginia business that requests them. Companies that train all of their employees will be officially recognized, said Mr. Miyares.
Obed Diaz Rodriguez, a director at the Northern Virginia Hispanic American Chamber of Commerce, told The Epoch Times that the chamber is committed to this anti-trafficking initiative because this issue affects the "core fiber" of their community.
"This is a long-term commitment. And the first steps are going to be to [reach out to] our mailing list for members and partners," Mr. Rodriguez told The Epoch Times. He said they will also create a campaign that shows the social benefits for their community, not only in the United States but also their families in their respective countries.
Mr. Miyares said the goal is to have more people know what human trafficking looks like and then report it, so law enforcement can investigate the tips made to the trafficking hotline.
Gov. Glenn Youngkin's Commission on Human Trafficking Prevention and Survivor Support put out a report in 2022 in which they laid out four key recommendations to help end human trafficking.
The recommendations included the state abolishing illicit massage sites; updating Virginia codes and expanding partnerships with Internet Crimes Against Children task forces to increase available resources and ensure technology companies actively fight human trafficking on their platforms; developing financial resources for victims and survivors both through state grants and transferring trafficker assets; and expanding education and training on human trafficking throughout all agencies and businesses.
Ms. Kincaid said while some victims get assistance, "we know that many victims go unnoticed and unidentified. And that is really why we must come together as a community to combat these horrific crimes."
"We cannot do it without the collaboration and the cooperation and partnership of those working and living in communities that we serve," the sheriff said. "When we all come together and play a part in the solution, we will achieve success and eradicate human trafficking."