The United States evacuated diplomats' families from Ukraine out of an "abundance of caution," Kristina Kvien, the U.S. acting ambassador to Ukraine, said on Tuesday.
"The decision was made because right now [President] Vladimir Putin and Russia have built up such military might on the border that they could take an action any day now," Kvien told ABC News, as tensions mount over the possibility of a Moscow-led invasion.
The United States felt that out of an abundance of caution, embassy families had to be kept safe, she said.
"So that was the basis for a decision," said Kvien.
The U.S. State Department on Sunday authorized non-essential U.S. embassy staff to leave Ukraine, while families of Kyiv embassy staffers were ordered to leave.
State department officials also said at the time that the decision was made out of an "abundance of caution."
In response, Ukrainian foreign ministry spokesman Oleg Nikolenko called the decision "premature" and a "display of excessive caution."
Kvien said Russia had gathered so many troops at its border with Ukraine and that officials believed "Russia could do anything at any moment."
"It's like a gun to the head of Ukraine," she said. "And we don't think that Ukraine should have to live with a loaded gun to its head."
Western officials estimate Russia has amassed about 100,000 troops near the Ukraine border, while Ukrainian officials have estimated as many as 127,000 Russian troops are stationed at the border.
On Monday, White House press secretary Jen Psaki said U.S. citizens in Ukraine should leave the country immediately, noting that there are no plans for a "departure or an evacuation" for American citizens and diplomats from Ukraine in the event of an invasion.
"There is not an intention for there to be a departure or an evacuation along those lines," Psaki told reporters when pressed on the issue. "So we are conveying to American citizens they should leave now. And in fact, there's not precedent beyond Afghanistan for that to be how it operates."
"We are conveying very clearly now that now is the time to leave and that there are means to do that," Psaki added.
"Of course, there's commercial airlines, you can depart over land. There's obviously the embassy there to provide assistance. And this is very similar to what we did in Ethiopia, Kazakhstan, and many other countries over the course of the last several decades. But there is not an intention or a plan for any military evacuation."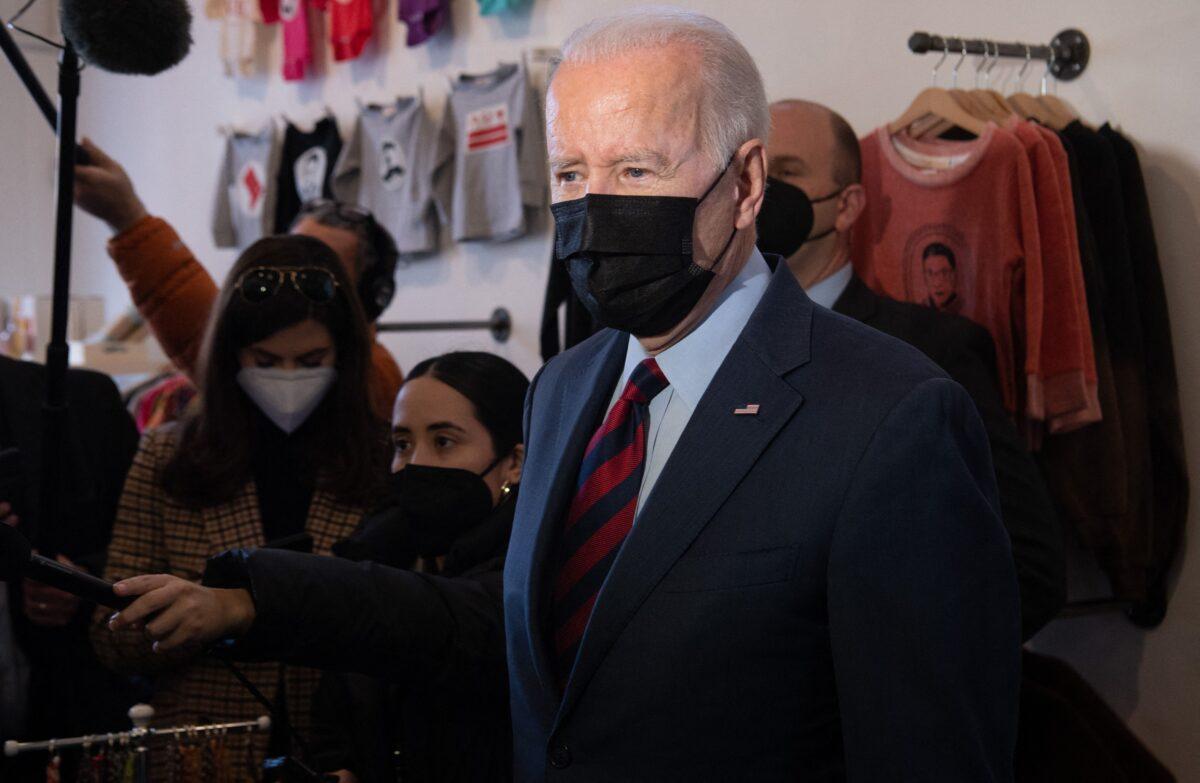 Russia has denied it is planning an invasion but has issued a list of demands that includes NATO promising to not allow Ukraine to become a NATO member state.
President Joe Biden said Tuesday that a Russian invasion of Ukraine would "change the world" and reiterated that the United States "has no intention" of sending troops to Ukraine.
"There will be enormous consequences if [Putin] were to go in and invade, as he could, the entire country—or a lot less than as well—for Russia, not only in terms of economic consequences and political consequences, but there will be enormous consequences worldwide," Biden said to reporters during a visit to a store in Washington on Jan. 25.
"This would be the largest—if he were to move in with all those forces—it would be the largest invasion since World War II," Biden added. "It would change the world."
The Pentagon announced this week that at Biden's direction it was placing 8,500 American troops at a "heightened readiness to deploy" in support of eastern NATO allies should the ongoing tensions between Russia and Ukraine warrant it.
Administration officials continue to assert that the United States and its allies would impose "severe" sanctions against Russia if it were to invade Ukraine.
Russia seized control of Ukraine's Crimea Peninsula in 2014 and Ukraine's Donbas region has since seen violence that has taken more than 14,000 lives. The region is now under de facto control by Russia-backed separatists.
Nick Ciolino contributed to this report.