Tudor Dixon, the front-runner to win the Republican nomination for governor of Michigan, may have just gotten a winning boost with a coveted endorsement by former President Donald Trump on July 29—just days before the Aug. 2 primary.
Trump raised political eyebrows at an April rally in Macomb County when, of the then-10 GOP gubernatorial hopefuls, he mentioned Dixon by name and spoke favorably about her but stopped short of an endorsement. Trump was silent about Dixon until recently, after months of heightened suspense among the five remaining candidates, who all competed fiercely for Trump's endorsement.
To underscore the importance of Trump's endorsement, a recent Detroit News-WDIV TV poll taken about two weeks ago found that 38 percent of likely GOP primary voters remained undecided. That's significant because according to the poll, 63 percent of undecided voters said Trump's endorsement is either very important or somewhat important to them in making up their minds.
Dixon
According to her website, Dixon has a background in the steel industry. She is a mother of four daughters, and it was her concern over the indoctrination of school children that led her into public life.

She founded Lumen Student News, an organization that provides patriotic and constitutional news programs to school children. Dixon also works as a news anchor on Real America's Voice.

She is dedicated to expanding school choice and empowering parents in the education of their children.

Dixon also has been endorsed by the influential family of former Secretary of Education Betsy DeVos, Michigan Right to Life, the American Conservative Union, the Michigan Chamber of Commerce, and the Police Officers Association of Michigan—which, according to political observers, all pale in value compared to her endorsement by the former president.

She has raised $1.2 million and, between her campaign and several independent political action groups supporting her, has spent $2.3 million, mostly on advertising.

A Real Clear Politics analysis of recent polls shows Dixon with a lead ranging from four to eight points over Kevin Rinke, who is currently polling in second place. Dixon's average lead is about five points, very close to the polls' margin of error.

Candidates Ryan Kelley and Garrett Soldano are both within striking distance, trailing Dixon by about 10 points.
Soldano
Soldano—currently fourth in polling—had recently publicly advised Trump to stay out of the tight governor's race to avoid angering the party's grassroots voters who may be supporting candidates other than Trump's pick.

Following Trump's endorsement of Dixon, Soldano said in a statement: "From what I know about President Trump, he likes winners. I look forward to his support on Aug. 3."

He told The Epoch Times that his campaign will succeed because of strong grassroots support.

"I've personally knocked on well over 10,000 doors," he said.
A Detroit News-WDIV poll said that 12 percent of likely Republican primary voters declined to answer pollsters' questions, adding another element of uncertainty. When that cohort of GOP voters is added to the 38 percent who claimed to be undecided, that means the preferences of 50 percent of party primary voters are unknown to pollsters just days before Election Day.
Also, early voting has been underway in Michigan since June 23, and no one can be certain what factors may have influenced voters.
During a campaign event at a restaurant in the small farming town of Croswell, Soldano warned supporters that the nation is headed into a serious recession and stressed the need to craft state policies designed to encourage the return of businesses and families who have fled the state.
Soldano helped spearhead the successful effort to curtail the emergency executive powers of the governor during the COVID-19 lockdowns in 2020–2021.
Rebandt
A wildcard in the race is longtime Oakland County pastor Ralph Rebandt. While Rebandt trails Dixon by 20 points in polls, his actual support may be very hard to gauge.
Rebandt—who is dedicated to bringing a spiritual element to politics and government—has been quietly visiting scores of churches, presenting himself as the candidate of Judeo–Christian morality, constitutionalism, and positive change.
In a recent campaign appearance, billed as a "Saving Michigan for God and Country Rally," he addressed a capacity crowd at a church near Flint.
During his presentation, he poked fun at Democratic Gov. Gretchen Whitmer's 2018 campaign mantra "Fix the damn roads."
"Don't bother fixing the roads, Gretch. We can't afford to drive anymore," he said, as he displayed a screenshot of one of his billboards displaying that message.
After the rally, audience member Dave Griffin of Flint Township told The Epoch Times that he had come to the meeting undecided.
"But now I know, 100 percent, Ralph Rebandt has got my vote," Griffin said. "He cares for the American people."
Kelley
Businessman Ryan Kelley is polling third behind Dixon. He hosted a "meet and greet" at a riverfront restaurant in St. Clair on July 26.

At the event, Kelley told The Epoch Times that, unlike his four Republican rivals, he is "not afraid to stand on principle."

Kelley said Whitmer is a "master at lying and manipulating voters and has abused the public's trust."

He also criticized the governor for the unnecessary deaths of thousands of elderly Michiganders in nursing homes during the pandemic.
"I could easily vote for any of the five Republican candidates," Charlie Cook of Port Huron told The Epoch Times, after meeting Kelley. "I'm still persuadable."
Cook said Whitmer's "national ambitions" and her "disastrous COVID-19 policies" have made it impossible for him to vote for her.
Rinke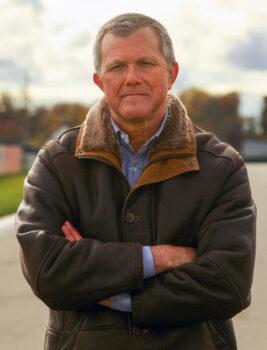 Metro Detroit businessman Kevin Rinke's campaign war chest and advertising budget in the last days before the Aug. 2 primary may be the factor that pushes him to victory, despite Trump's endorsement of Dixon.
Rinke has contributed $10 million of his own money to his campaign. He spent more than $4 million on media advertising.
"My business experience makes me the most qualified candidate to be the chief executive of the State of Michigan," he said. "We know business leaders solve problems differently than career politicians.
"Gretchen Whitmer and the Lansing establishment are drunk on spending and dedicated to growing the size of government."
Rinke said Whitmer has diminished parents' rights and that her policies during the pandemic caused Michigan to suffer greatly.
According to campaign finance reports, Whitmer, a Democrat, has raised $29.6 million in the election cycle since her 2018 victory over Republican Bill Schuette.