Former President Donald Trump revealed Monday that he returned to his Mar-a-Lago property while decrying the FBI's raid targeting the resort last month.
"Arrived in Florida last night and had a long and detailed chance to check out the scene of yet another government 'crime,' the FBI's Raid and Break-In of my home, Mar-a-Lago," he wrote on Truth Social. "I guess they don't think there is a Fourth Amendment anymore, and to them, there isn't. In any event, after what they have done, the place will never be the same."
Trump
said
the residence "was 'ransacked,' and in far different condition than the way I left it," adding that FBI agents "didn't even take off their shoes in my bedroom."
Members of Trump's family and his lawyers have indicated that the 45th president was not there when the FBI agents targeted his Palm Beach, Florida, residence. When the agents searched his home, Trump and family members watched them via CCTV cameras from New York, his lawyers have said.
The Epoch Times has contacted the FBI for comment.
What's Next
Trump's announcement comes just days after U.S. Judge Aileen Cannon also appointed Senior District Judge Raymond Dearie as a third party to review records seized by the FBI for materials that could be privileged and kept from federal investigators.

The Department of Justice (DOJ), in court filings, has promised to take the case to an appeals court if Cannon ruled against their request. They had also sought to block the independent arbiter, Dearie, from vetting the roughly 100 classified documents included among the 11,000 records gathered in the court-approved Aug. 8 search.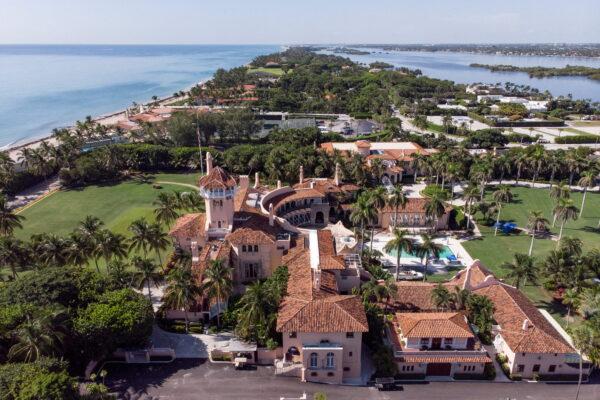 "The court does not find it appropriate to accept the government's conclusions on these important and disputed issues without further review by a neutral third party in an expedited and orderly fashion," Cannon wrote last week.
The special master's review could wall off documents from prosecutors as they weigh the possibility of criminal charges. Cannon on Thursday said she would instruct Dearie to prioritize reviewing the classified records first and also directed him to complete his review of all the seized materials by Nov. 30, according to her order.
In court filings, the DOJ has alleged Trump may have obstructed justice or violated provisions under the 100-year-old Espionage Act law after it was told about allegedly classified materials earlier this year and when FBI agents were sent to Mar-a-Lago in June to recover some of those records.
But Trump has asserted in public that those materials were declassified, while his lawyers said that some materials fall under attorney-client privilege. What's more, the 45th president has said the FBI took his medical records, tax documents, and even passports.
The former president also wrote on Monday: "Thank you to all of the many people who greeted me last night on my way from the Airport to Mar-a-Lago. I will never forget the great people of this Country. MAGA!!!"
Reuters contributed to this report.