President Donald Trump on Tuesday praised his nominee to the Supreme Court, Judge Amy Coney Barrett, for her performance during the second day of confirmation hearings before the Senate Judiciary Committee.
"I think Amy is doing incredibly well. It's been a great day," Trump told reporters at the White House before he departed for a campaign rally in Pennsylvania.
Tuesday marked the second day of confirmation hearings before the committee, during which Barrett repeatedly faced questions about her views on the
Affordable Care Act
(ACA), also known as Obamacare. It was the first day Barrett took questions from senators.
Barrett was in particular pressed by Sen. Cory Booker (D-N.J.) over the fate of the ACA, because of an article she wrote as a law professor criticizing Chief Justice John Roberts's reasoning in the case National Federation of Independent Business v. Sebelius, which upheld the ACA.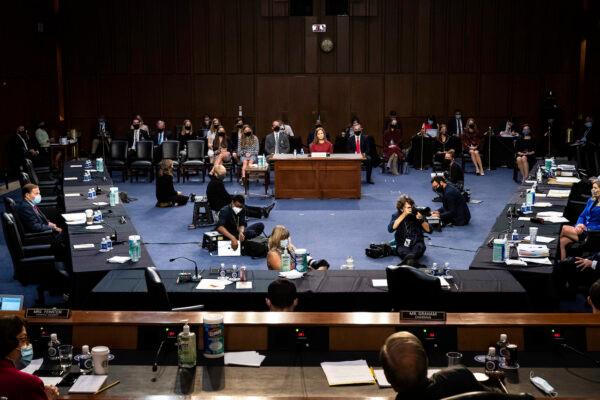 In that article, Barrett argued that Roberts had "pushed the Affordable Care Act beyond its plausible meaning to save the statute." She said that if Roberts had treated the "individual mandate," a provision that imposed a penalty on those without health insurance, as it was described in the legislation, the law would have been invalidated.
Shortly after Trump left the White House for Pennsylvania, he lashed out at Booker on Twitter, over his line of questioning at Tuesday's confirmation hearing. Booker dropped out of the Democratic presidential race in January.
"How dare failed Presidential Candidate (1% and falling!) @CoryBooker make false charges and statements about me in addressing Judge Barrett," the president posted on Twitter.
"Guy is a total loser! I want better Healthcare for far less money, always protecting people with Pre-existing conditions. He has done nothing on Healthcare, cost or otherwise, or virtually anything else. An empty suit!!!" he added.
Booker during the hearing questioned whether it's "unreasonable for people to fear" that the ACA would be overturned with Barrett on the bench, citing a tweet from Trump saying that he would only appoint judges who would do so.
"I want to stress to you, Sen. Booker, as I've stressed to some of your colleagues today, that I am my own person. I'm independent under Article III, and I don't take orders from the executive branch or the legislative branch," Barrett responded, before she was interrupted by Booker.
"I understand that," Booker said. "Can I restate my question because I don't think you're understanding it… I'm just asking you as an act of empathy, can you understand the fears exhibited by the people we put up?"
"I'm not here on a mission to destroy the Affordable Care Act. I'm just here to apply the law and adhere to the rule of law," Barrett separately told Sen. Chris Coons (D-Del.), when explaining that her article was an academic critique, which she says is an exercise that is different from judicial decision making.
Earlier in the hearing, she told senators that she did not have any conversations with or make any promises to Trump or anyone on how she would rule on the ACA case or any Supreme Court case.
"I have had no conversations with the president or any of the staff on how I might rule in that case," Barrett told Sen. Patrick Leahy (D-Vt.).
She stressed that it would be a "gross violation of judicial independence" to make such a commitment and that it was also a violation of the independence of the judiciary for anyone to appoint a justice on the top court for the purposes of "obtaining a particular result."
Senate Democrats, who have been vocal about their opposition to Barrett's nomination, are making the case that the judge would not hesitate to repeal former President Barack Obama's signature health care law. Throughout the hearing, they have been making the point that Trump and the Republicans are using the court to strike down the ACA, which they claim would result in many Americans losing their health care.
Moreover, Democrats are claiming that Trump had nominated jurists who would carry out his agenda to terminate Obamacare, which he has criticized. Trump has previously said in statements that his "judicial appointments will do the right thing unlike Bush's appointee John Roberts on Obamacare."
The GOP's leadership said they are trying to get Barrett confirmed before Election Day on Nov. 3.
Janita Kan contributed to this report.