President Donald Trump defended Sen. Lindsey Graham (R-S.C.) after attendees booed the Republican senator at a campaign event in South Carolina.
Speaking to a crowd of several hundred at Sportsman Boats in Summerville, South Carolina on Sept. 25, President Trump was introduced by Gov. Henry McMaster, one of the earliest political figures to endorse President Trump's re-election bid.
Before turning to his speech, President Trump opened with remarks about several well-known South Carolina figures—including Mr. Graham, a controversial figure among Republicans with some believing he is too left-wing.
"[A] man who's always there, I tell you what, when I need help on the left, he's great," President Trump said. "And he's my friend too—Lindsey Graham."
At this, the crowd erupted into boos, indicative of the dissatisfaction many South Carolina Republicans have long expressed with Mr. Graham.
President Trump, however, defended Mr. Graham, an erstwhile critic turned ally to the president.
"No, no," President Trump responded to the boos. "He helps me on the left. We need help sometimes. Republicans shouldn't need help, but he helps them."
At this, the crowd gave a mixed reaction, with some cheering while others maintained their jeers.
After the event, some rally-goers commented on Mr. Graham.
"Well, he's a mixed bag, and everybody knows it," Charles Hughes of Charleston said.
"The problem with him is we're often voting against the lesser of two evils," Mr. Hughes said. "And that's the way a lot of people look at him. I mean, you want to have Republicans [in Congress] because sometimes he will vote that way."
But Mr. Hughes added, "I think he goes with the flow of the day."
Seth Hughes, his son, called Mr. Graham "a fear-monger," citing past statements the senator made about foreign policy.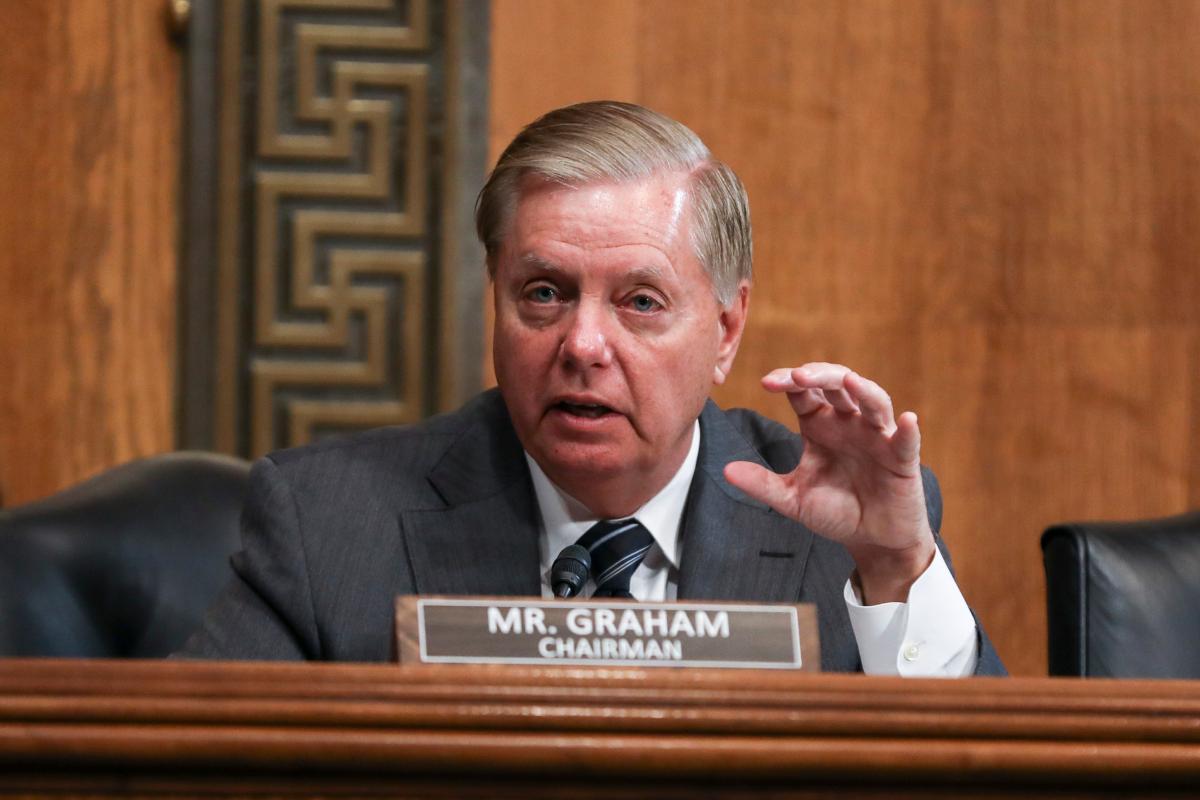 Kevin Martin called Mr. Graham "a little old-fashioned in some of his thinking."
Mr. Martin said he believes in term limits, adding that Mr. Graham should have left office under such a restriction before now under an ideal regime.
Jabs at Haley
Other comments President Trump made were better received by the audience, including remarks he made contrasting Mr. McMaster with former South Carolina Gov. Nikki Haley and Florida Gov. Ron DeSantis.

"[McMaster] is a great governor," President Trump said.

"He kept this place open, but he really kept it open," he said, a clear jab at Mr. DeSantis, who has touted his COVID-19 record for credit among Republicans.

"What a great governor [McMaster's] been," President Trump said.

"It's one of the reasons I got her out of here, so I could make him governor of the state," he added, a reference to his decision to appoint Ms. Haley as the United States ambassador to the United Nations. "I never said that."
"That was a big deal—let her move and get Henry there," President Trump said. "People were very happy about it."
Here, the crowd cheered.
At the time that she stepped down to serve at the U.N., Ms. Haley had two years left in her second term. In recent years, however, she's been an outspoken critic of the former president.
"Henry was with me in the campaign early on," he said. "I thought she'd be with me, but she went a different way."
Voters at the event expressed mixed feelings on Ms. Haley, a popular governor who brought rich economic benefits to the state but who many say is not ready for the White House.
John Peterson, a resident of North Charleston, South Carolina, said, "I like Nikki Haley, but it's not her time."
"She seems to be for this war in Ukraine, and a lot of conservatives aren't for this," he added, a reference to Ms. Haley's outspoken support for continued U.S. support of the Eastern European nation in its battle against Russia.
"It just seems like we're funding this war by thousands of times more than any other country. And I just think we don't have accountability as to where this money is going."
Thayer Arthur and Maryellen Arthur, residents of Summerville, said they liked Ms. Haley but said this was "not at all" her year to seek the White House.
"This year, it's Trump, period," Mr. Arthur said.
Craig Frazier also expressed concerns about Ms. Haley on another level.
"When I hear her talk, she still can't get rid of that politician speak," he said.
Danny Knox said he likes that Ms. Haley "stood up to Trump" but expressed more interest in President Trump, citing his record in the White House.
Notably absent from President Trump's comments was Sen. Tim Scott (R-S.C.), South Carolina's junior senator.
While Mr. Scott currently has his own bid for the White House, many observers think his goal is to set himself up as a possible vice presidential pick for the eventual Republican nominee.
Though he's been tight-lipped on whether he'd consider Mr. Scott, President Trump has expressed deep respect for him—a rarity among President Trump's current rivals for the nomination.
South Carolina holds the third presidential contest in the country and the first in the South.
The state, a must-win for Ms. Haley and Mr. Scott's presidential aspirations, will hold its primary election on Feb. 24, 2024.