HAGERSTOWN, Maryland—The People's Convoy, a large caravan of vehicles led by trucks, will be moving slowly around the Beltway twice on Sunday morning in efforts to stop the government's COVID-19 emergency powers.
Brian Brase, one of the convoy organizers, confirmed the plan to drivers Sunday morning before the group departed Hagerstown Speedway in western Maryland, where it has spent the past two nights.
The Beltway refers to a 64-mile interstate highway that surrounds Washington, D.C., as well as Maryland and Virginia. Virginia and Maryland State Police previously issued traffic notices saying they will be increasing patrol in the region to mitigate potential traffic disruptions.
"We do not expect any type of law enforcement blockages stopping us," Brase said, adding that organizers "spent many hours working with local law enforcement" in Virginia and Maryland on Saturday.
Brase, a trucker from Ohio, told drivers to proceed in one lane "so they could see just how long we are."
"We're doing this so that the people in the area can see truly how large we are. We're doing to do this peacefully, with some class. We're not going to shut anything down today," he said.
The convoy will be traveling slowly but not below the minimum permitted speed, a convoy organizer confirmed to The Epoch Times. After two laps, it will return to Hagerstown Speedway and repeat the process in the days to come, while increasing the number of laps each day.
'We'll Increase Those Laps'
Brase told drivers, "In an effort to work with the local community here, which has been gracious in hosting us, we've agreed to two laps today. As we go forward, we'll increase those laps."

He told the drivers, "I'm seeing light, I'm seeing people that are willing to sit down and meet in D.C. with us ... At least the people are starting to be heard, whether they'll do anything with that has yet to be determined."

The

website of The People's Convoy

declares, "We demand the declaration of national emergency concerning the COVID-19 pandemic be lifted immediately and our cherished Constitution reign supreme."

The COVID-19 national emergency, recently renewed by President Joe Biden, has facilitated various COVID-19 restrictions and mandates over the past two years in the United States.

At a rally late Saturday, Brase said the group "will not leave until we get what we ask for," to loud cheers and applause.
The convoy
arrived in Hagerstown
 on Friday. At least 1,000 vehicles, among them about 200 trucks, were in the area.
The convoy set out on Feb. 23 from
California
and traveled through 
Arizona
, 
Texas, Oklahoma
, Missouri, 
Indiana
, and Ohio, before arriving in Hagerstown. They were inspired by Canadian truckers who protested in downtown Ottawa for about three weeks against government COVID-19 mandates and restrictions.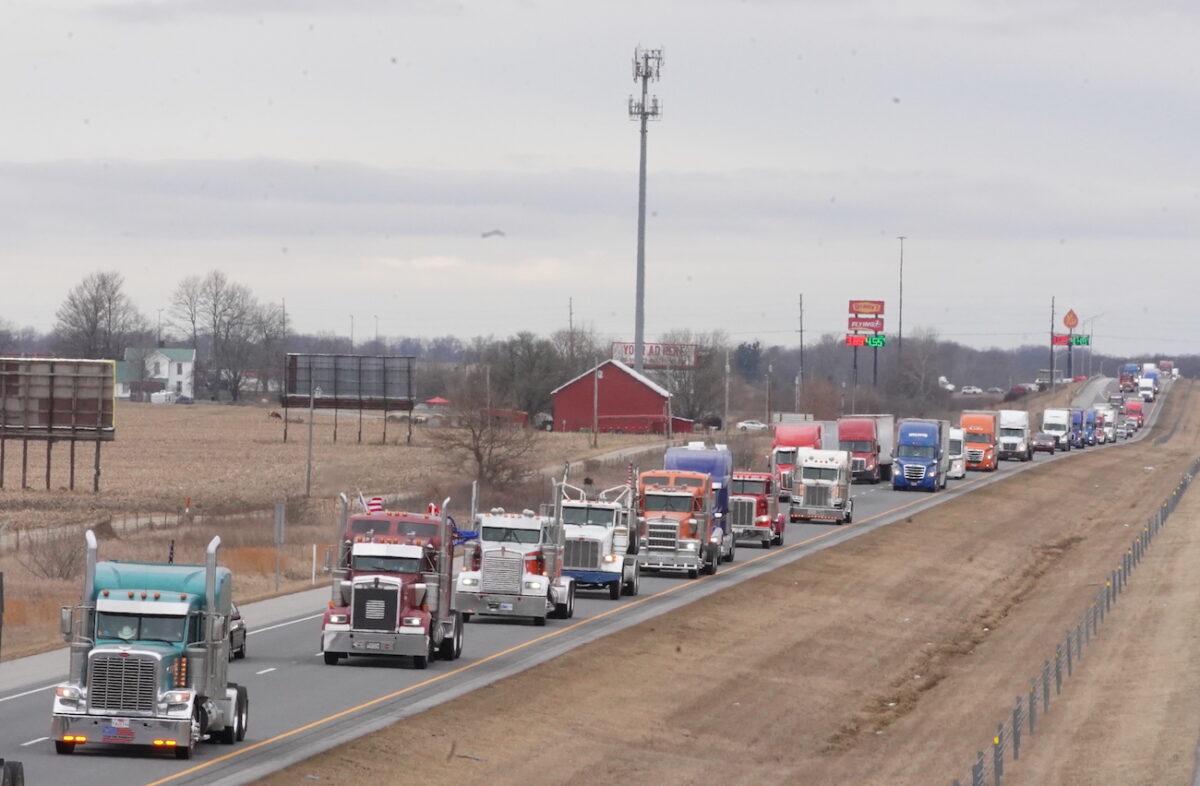 Warnings Against Going to Downtown Washington
Joshua Yoder, co-founder of
U.S. Freedom Flyers
, urged convoy participants not to enter downtown Washington.
"I was in the military, I was with the federal government for many years. I can tell you right now that as I speak, there are traps being laid in D.C.," he said late Saturday. "I'm pleading with all of you, we cannot go into the District of Columbia. It cannot happen."
He said he was informed that "anyone who comes in there with the convoy is probably going to be detained."
"I'm asking you please keep this peaceful, keep it law abiding, and do not go into the District of Columbia, I'm begging you," Yoder said. Some of the crowd responded with "boos."
Brase responded to the reactions, saying, "I know some didn't like what an individual said up here tonight. That is a person's opinion, and it is a very good opinion, honestly."
Brase shared that he had inconspicuously traveled "into D.C. proper" to check out the situation on Saturday morning. "I'm telling you, it's creepy," he remarked. "It's always creepy, but this is a different feeling. They are waiting for us to show up, and it's a trap."
Brase told the rally that the approach will be "through diplomacy first" and if things don't work, the group will "take the next step," without elaborating. "Please hold the line and be patient as we develop this plan going forward," he said.
On Sunday morning, Brase said that drivers "are not going into DC proper at this time."
"At this time," Brase emphasized. "Doesn't mean it won't happen. It means that we're going it diplomatically. We are working through the process and giving time for them to come to the table."
The Epoch Times previously reported that at least one of the convoy organizers, Mike Landis, said he
intends to travel into Washington
. He did not specify when.
'Fighting for Freedom'
A group of about 20 Chinese-Americans attended the rally on Saturday. Sam Shi, part of the group, said they are supporting the truckers because truckers support freedom.
"We're all fighting for freedom, that's what we're all here for," he added. "I come from China, everyone knows China is a communist country. ... Communism is dictatorship. Communism is just to give you a little bit of benefit and take away your whole portion."
He said he believes COVID-19 mandates are communism "because mandates are how they divide people."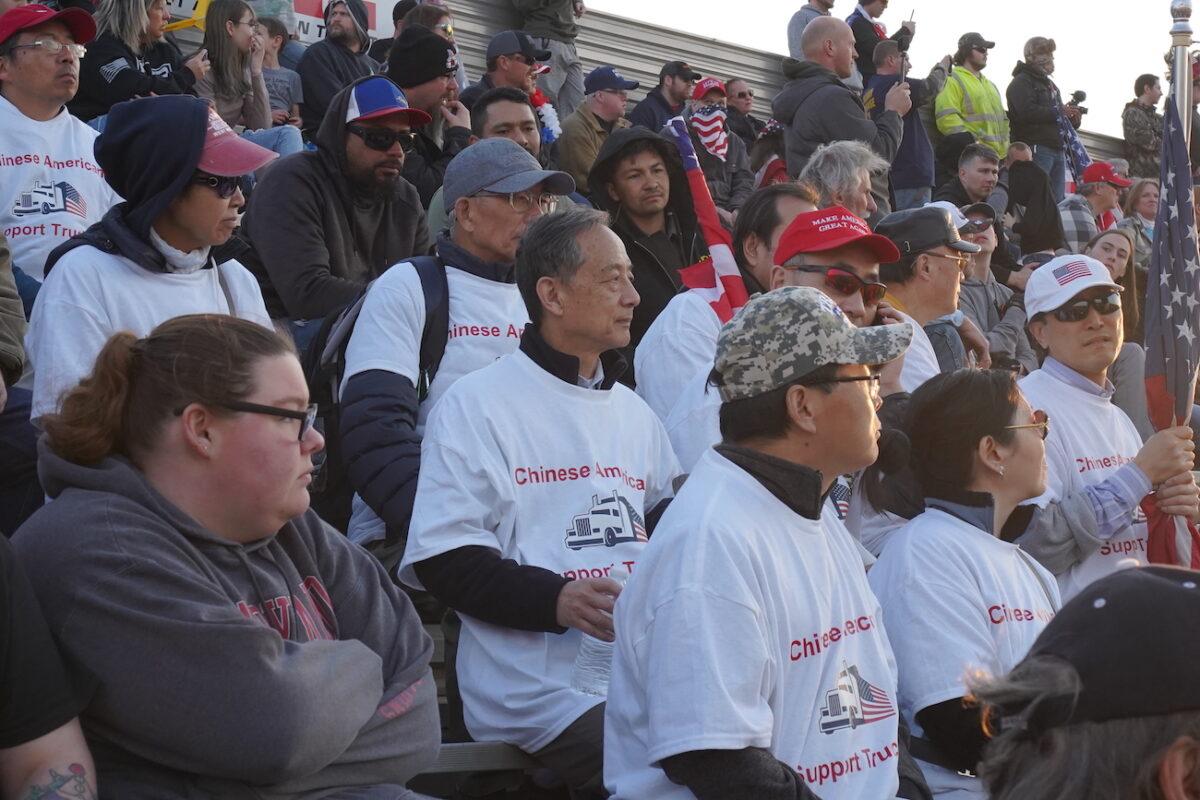 "They divide and control you. That's why it's communism," he said of the mandates. "It's all about control. Government control you and take your freedoms away. It's very dangerous. I want American people, especially young people, to know. I know communism because I come from a communist country.
"It's so dangerous, the direction the country is going now. We need to take the country back, we need to take our freedom back."