Officials made mistakes in dealing with COVID-19, Wisconsin's Department of Health Services secretary-nominee said this week.
"We certainly made mistakes," Kirsten Johnson, until recently Milwaukee's health commissioner, told a state Senate hearing.
"Part of this is it was a novel virus. We didn't know what we didn't know, and we were making the best decision we could out of a host of bad decisions," she added. "Would I make some of those same decisions today? Absolutely not."
Ms. Johnson said one of the aspects officials have learned is that they did not do a good job of communicating how COVID-19 poses different levels of risk to different people.
Ms. Johnson became Milwaukee's top health official in early 2021.
Before Ms. Johnson assumed the post, health officials in the city forced some businesses to close or curtail their offerings, and closed schools, part of a wave of harsh restrictions imposed in many states. Wisconsin Gov. Tony Evers, a Democrat, also ordered some businesses closed.
Ms. Johnson, after taking the position, retained some of the restrictions for months, including limits on the sizes of gatherings. City officials also kept a mask mandate in place until later in 2021, and reimposed it in 2022.
The school closures happened because "we didn't know how children were going to be impacted, and we were very worried that kids were going to get sick and die," Ms. Johnson said. "And as it turns out, kids were not as, as impacted seriously as we were concerned they may have been. I would not close schools today if we were to have a spike of COVID."
State Sen. Rachel Cabral-Guevara, a Republican, asked if Ms. Johnson would support COVID-19 vaccine mandates for professionals such as teachers.
"No, I think it's recommended. I think, again, that's part of, people need to evaluate their own risk," Ms. Johnson She also said she would not mandate masks.
Backed Mandates
Ms. Johnson previously backed both mask and vaccine mandates, including those imposed by the Milwaukee School Board. She even called for a statewide or even nationwide masking order.

Ms. Johnson has also promoted COVID-19 vaccines throughout the pandemic, including the unproven bivalent shots introduced in the fall of 2022.

"The best way to protect yourself from severe illness from COVID-19 continues to be vaccination," Ms. Johnson said at the time, despite a lack of data supporting the claim. She acknowledged that effectiveness of the older shots had waned and encouraged everyone to receive an updated shot "to restore those protections."

Those vaccines were replaced by new shots this month in

a bid

to counter waning effectiveness.

As part of her vaccine promotion, Ms. Johnson introduced a program that handed out $100 gift cards to vaccine recipients.

"I'm personally vaccinated, my children are vaccinated, my parents are vaccinated, I would highly recommend everyone gets vaccinated. But again, it's a choice that people can make," Ms. Johnson said on Wednesday.

She also said, "I recommend people wear masks if they are vulnerable, if they've been exposed, but not mandated."

Ms. Johnson in 2021 also attacked Sen. Ron Johnson (R-Wis.) for meeting with people who were injured by COVID-19 vaccines, which carry potentially fatal side effects such as heart inflammation.

Mr. Johnson, she said at the time, "has used his platform today to raise misleading concerns regarding the COVID-19 vaccine." She added, "The scientific facts about the COVID-19 vaccine remain: it is safe, it is effective, and complications are extremely rare."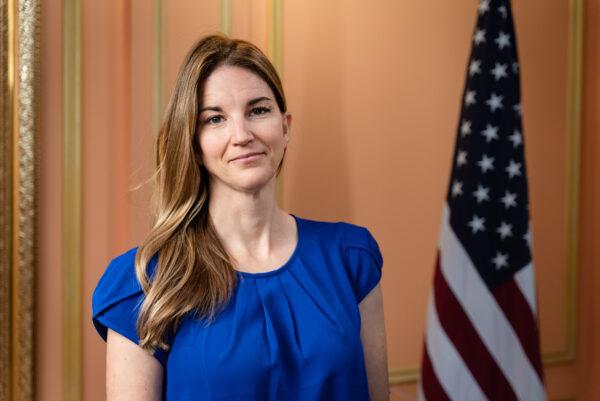 The meeting included Brianne Dressen, a teacher who the U.S. National Institutes of Health
has confirmed
was injured by AstraZeneca's vaccine. Kristi Dobbs, a dental hygienist who suffered an allergic reaction to Pfizer's vaccine in early 2021, has
since suffered symptoms
like heart palpitations.
"I think it's important to recognize that there are people that have been harmed by the vaccine. And if we don't acknowledge that fact, how do you treat people that you're not acknowledging the root cause of the problem," Mr. Johnson said after meeting with the group.
Ms. Johnson is serving in an acting capacity until she is confirmed by the state Senate. Karen Timberlake, who resigned around the end of 2022, and Andrea Palm, her predecessor, also served in acting capacities, never being confirmed by the state Senate.
Republicans have a 22–11 majority in the state Senate. Confirmation requires a simple majority.
Mr. Evers has described Ms. Johnson as having a "storied, 20-plus year career in public health and public service," including her time in Milwaukee.
"I have no doubt that her wealth of experience in public health," he's said, "as well as her commitment to reducing disparities in health so every Wisconsinite can live their best and fullest life, will serve the Department and our state well."