Commentary
According to the widely-read Orange County Housing Report, the median home price in Orange County is "anticipated to continue to increase at a pace of about 1 percent per month through the end of the year."
Supporting the authors' analysis, the Orange Country Housing Report points to the amount of inventory available for purchase in the week before Easter, when inventory was just 2,240 homes. Indeed, the report comments, inventory "is the lowest level since tracking began in 2004."
"The five-year average [from 2015 to 2019 and intentionally excluding 2020 as the numbers were skewed due to the pandemic] is 5,552, or 148 percent more" than the current supply of home available for purchase.
Of course, the typical home-buying season begins with spring break, traditionally the week before or the week after the Easter religious holidays. Spring break allows families to visit open houses, travel to view neighborhoods, and open escrow in time to close a sale during the summer vacation months.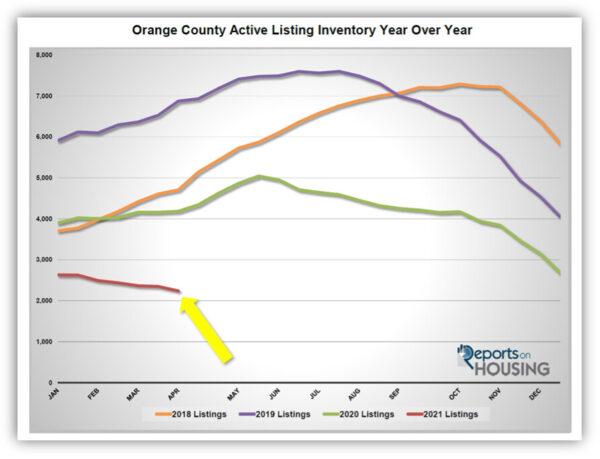 Now that Easter has passed, more homes will likely become available for sale. Sellers also want to move their families during schools' summer break. Typically, homes hit the market—and buyers seek them out—from about Easter until about Labor Day, the cultural end of summer about the time students begin a new school year.
The escrow process typically is 30, 60, or 90 days. Buyers and sellers traditionally set the length of escrow to accommodate families, and allow the seller time to buy a new home. However, a shorter escrow period is generally more favorable for the seller. So, in this super-hot real estate market, buyers have been reducing escrow periods as they compete to buy homes.
Of course, current projections may not come to pass. Home owners may see the high prices their neighbors are getting when they sell and more homes may become available to the market than are currently anticipated.
Looking at the demand for housing in Orange County, some potential home buyers may choose to look for places to live outside the region.
Time will tell where housing prices actually go in Orange County but currently the housing market remains a "seller's market."
Tim Shaler is a professional investor and economist based in Southern California. He is a regular columnist for The Epoch Times, where he exclusively provides some of his original economic analysis.