The man who supplied the helmet used by a rioter to break the windows of the House Speaker's Lobby entrance at the U.S. Capitol on Jan. 6, 2021, was sentenced to 83 months in federal prison on May 23.
Christopher Ray Grider, 41, who owns a winery in Eddy, Texas, was also placed by U.S. District Judge Colleen Kollar-Kotelly on 36 months of supervised release, fined $812, and ordered to pay $5,055 in restitution.
In a December bench trial, Grider was
found guilty on seven charges,
including obstructing an officer during civil disorder; obstructing an official proceeding; injuring, damaging, or destroying government property; disorderly and disruptive conduct in a restricted building; violent entry and disorderly conduct in a restricted building; and engaging in physical violence in a restricted building.
Grider earlier pleaded guilty to entering and remaining in a restricted building or grounds; and parading, demonstrating, or picketing in a restricted building or grounds.
Grider was in the center of the Speaker's Lobby hallway when rioting erupted at about 2:35 p.m. on Jan. 6.
He handed a black riot helmet to Jan. 6 suspect
Zachary Jordan Alam,
31, of Centreville, Virginia, who used it to bash in the door windows of the entry to the Speaker's Lobby. Alam is charged with 11 Jan. 6-related crimes and has a July 31 trial date.
Shortly after Alam smashed the final window, Air Force veteran Ashli Babbitt, 35, was shot and killed by Capitol Police Lt. Michael Byrd when she tried to climb through the broken window.
Just before Babbitt was shot, Grider moved away from the doors after Jan. 6 suspect John Sullivan—who was filming the scene—shouted, "Gun!"
Grider stayed in the area after other protesters exited the building, using his phone in an attempt to record Babbitt lying on the ground bleeding, according to court records.
In his
sentencing memorandum,
Grider said prosecutors and the probation department have portrayed him as someone he is not.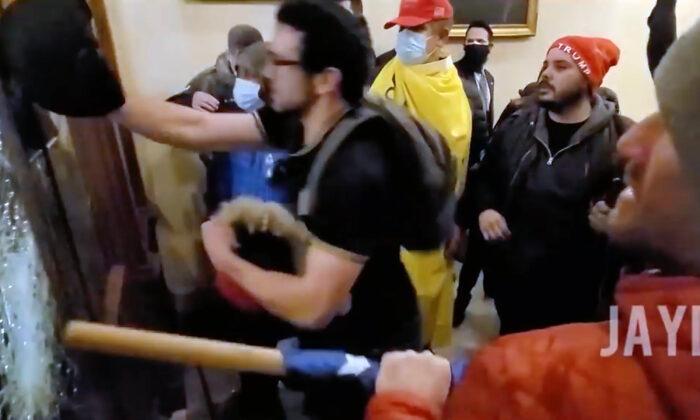 Grider's "actions on January 6 stood in stark contrast to his usual character both before and after that fateful day," wrote defense attorney T. Brent Mayr.
Although Grider picked up the black riot helmet, "he clearly did not intend to use it as a weapon or an implement for causing damage," Mayr wrote.
Judge Kollar-Kotelly rejected Grider's attempts to quash the
sentencing enhancements
sought by prosecutors. She accused the defendant of lying on the stand during his trial about his mental state on Jan. 6.
The
judge wrote
in a May 23 ruling, "The number and speciousness of defendant's lies during his testimony compels the conclusion, by clear and convincing evidence, that defendant willfully provided false testimony regarding the requisite mental states for the charged offenses."