UVALDE, Texas—Texas Department of Public Safety Director Steve McCraw admitted Friday that it was the "wrong decision" to not engage Texas mass shooter Salvador Ramos sooner.
When asked why police at Robb Elementary didn't act quicker, McCraw told reporters at a news conference that "the on-scene commander at the time believed that it had transitioned from an active shooter to a barricaded subject."
"A decision was made on the scene—I wasn't there—that this was a barricaded subject situation, there was time to retrieve the keys and wait for a tactical team with the equipment to go ahead and breach the door and take on the subject," he said. "At that point, that was the decision, that was the thought process."
McCraw said that in hindsight, "it was not the right decision, it was a wrong decision, very, there was no excuse for that," referring to the lack of engaging Ramos sooner. "I wasn't there but I'm just telling you from what we know, that we believe there should have been an entry as soon as you can," he said.
Ultimately, to enter the Robb Elementary classroom, officers used a key provided by a janitor, the agency director revealed. Ramos also fired approximately 100 rounds during the entire incident, McCraw added, noting that the finding was based on audio evidence.
In the Tuesday incident, Ramos killed 19 children and two adults in the worst U.S. school mass shooting in a decade. Authorities said that the teen, who recently turned 18, did not display signs of mental health problems although he was described as a loner who had problems in school.
Ramos also entered Robb Elementary School in Uvalde through a door that was propped open by a teacher just minutes before, McCraw added. McCraw said that there was also no school resource officer at the school, and he could not say why. The officer, he said, later responded when someone called 911.
Before Ramos entered the building, the officer inadvertently drove past the suspect, who was hiding behind a car. The officer instead confronted a teacher who he believed was the suspect, McCraw told reporters.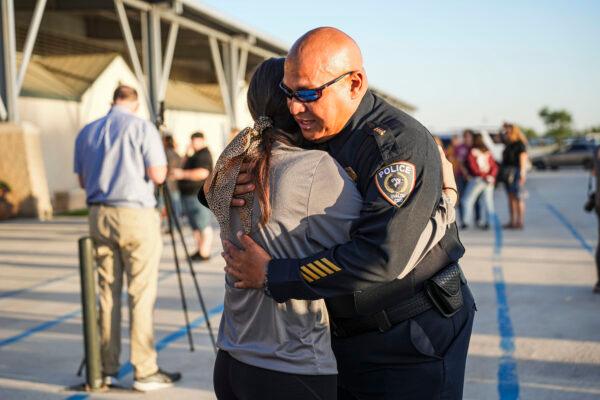 At around 11:27 a.m. Tuesday, the teacher propped open the door at Robb Elementary, coming about 1 minute before Ramos crashed his vehicle nearby, McCraw said. The same teacher about two minutes later at 11:30 a.m. reported the crash and a male with a gun, although it's not clear why the teacher didn't close the door.
McCraw did not provide more details on why the door was propped open in the first place or why the school resource officer confronted a teacher.
Gemma Lopez, a 10-year-old survivor of the attack, said that she heard Ramos say "leave me alone please" to law enforcement who responded to the shooting.
Lopez told ABC News that she turned off the light to her classroom after a "bullet came through the wall."
Later, the girl said, "I heard the officers yelling at the shooter ... to put the firearm down, and then the shooter said 'leave me alone please' and then he started shooting."