The State Department has approved the possible sale of 300 Patriot missiles to Saudi Arabia for around $3.05 billion, according to the Defense Security Cooperation Agency (DSCA).
DSCA informed Congress of the possible sale on Tuesday, which comes after President Joe Biden visited the Gulf kingdom in July and met with King Salman bin Abdulaziz al-Saud and Crown Prince Mohammed bin Salman.
"This proposed sale will support the foreign policy goals and national security objectives of the United States by improving the security of a partner country that is a force for political stability and economic progress in the Gulf region," DSCA said in a
statement
.
The sale will replenish Saudi Arabia's dwindling stock of Patriot Guidance Enhanced Missile-Tactical (GEM-T) missiles, increasing the U.S. strategic ally's capability to face future threats, according to DSCA.
"These missiles are used to defend the Kingdom of Saudi Arabia's borders against persistent Houthi cross-border unmanned aerial system and ballistic missile attacks on civilian sites and critical infrastructure in Saudi Arabia," DSCA added.
"These attacks threaten the well-being of Saudi, International, and U.S. citizens (approximately 70,000) residing in the Kingdom. The Kingdom of Saudi Arabia will have no difficulty absorbing these missiles into its armed forces."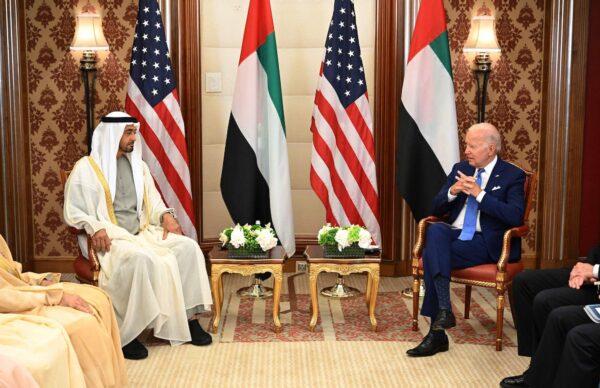 In addition to 300 Patriot MIM-104E GEM-T missiles, the proposed $3 billion deal will buy Saudi Arabia the necessary training, transportation, spare parts, tools and equipment, field support, quality assurance support, and logistical support services by U.S. government and contractors, and more.
Raytheon Corporation in Massachusetts will be the principal contractor that Saudi Arabia will negotiate with on the terms of the deal, including any offsets the kingdom is expected to request.
DSCA said the proposed deal won't "alter the basic military balance in the region" nor require "the assignment of any additional U.S. Government or contractor representatives to the Kingdom of Saudi Arabia."
"There will be no adverse impact on U.S. defense readiness as a result of this proposed sale," DSCA said.
Weapons Deal Announced Day Before OPEC Meeting
A senior Biden administration official has denied that the proposed weapons deal, announced one day before a meeting of the five petroleum exporting gulf countries known as OPEC, is part of a "quid pro quo" to encourage the Saudis to increase oil production.

When asked by reporters on Tuesday, John Kirby, the White House's National Security Council's strategic communications coordinator, rejected any presupposition that the weapons deal was part of "some sort of a quid pro quo."
"We provide defense articles like Patriots—sell those to Saudi Arabia because they have a legitimate need for air defense," Kirby said. "In fact, one of the things they discussed on this trip was the potential or possibility for some sort of integrated air and missile defense throughout the region, and the Patriot batteries would contribute to that."
"And, yes, he [Biden] met with the king and—and the crown prince and his leadership team," Kirby added, "as well as all the leaders of the GCC+3 [Gulf Cooperation Council] when he was out there, because there's a range of issues to talk about.
"Energy security was on the agenda, but it wasn't the only agenda," he continued. "I'm not going to speculate about what OPEC might or might not do."
Crown Prince Controversy
The proposed deal comes on the heals of Biden's visit with King Salman bin Abdulaziz al-Saud and Crown Prince Mohammed bin Salman last month, which was criticized by some segments of American media.

Biden met with the crown prince, known as MBS, despite saying when he ran for office that he never would. U.S. federal agencies suspect MBS was responsible for the 2018 murder of journalist Jamal Khashoggi at the Saudi Embassy in Turkey.

Biden's fist bump upon meeting MBS drew rare criticism from The Washington Post. But Biden defended the meeting, telling reporters on July 15 that he raised the issue of Khashoggi with MBS.
"With respect to the murder of Khashoggi, I raised it at the top of the meeting, making it clear what I thought of it at the time and what I think about it now," Biden said.
"He [MBS] basically said that he was not personally responsible for it. I indicated that he was, and he said he was not personally responsible for it and he took action against those who were responsible," Biden added.
This account of the meeting was disputed by Saudi Arabian Foreign Minister Adel al-Jubeir, who said he did not recall Khashoggi being raised.
Upon his return to Washington, D.C. Biden refuted al-Jubeir's claim. When asked by reporters if al-Jubeir had told the truth, Biden said, "no," then added, "Why don't you talk about something that matters?"
Prior to visiting Saudi Arabia Biden had said he would discuss security in the region, energy, and a reorienting of relations.