CHICAGO—Ruby Humphrey, now deceased, was a homeless woman on Chicago's West Side who was a light for others amid her own hardships.
She especially touched one young woman, Aisha Oliver, because of her words of encouragement and kindness to Oliver in her darkest time. Humphrey is one of the people in Oliver's life who have inspired her to help others in her troubled community.
Oliver reflected on Humphrey's effect on her as she hosted a Christmas charity drive in Chicago's Austin neighborhood on Dec. 19. The annual event is called Ruby's Roses, in memory of Humphrey.
"I always saw her as a rose that grew from the concrete," Oliver said of Humphrey. "No matter what, a rose is a rose. Even if it withers, even if it's not in the best condition, a rose is still a rose."
Oliver's own legacy-in-the-making was evident at the event. Many of the volunteers were people she has helped over the years.
Lester Bradford handed out donated toys to children. Although he came from a troubled background, Oliver took him in when he was 9 and raised him like her own son.
He recently started college and he's something of a basketball star and role model in his neighborhood. He leads a group that steers young men away from the gangs that are prevalent in the area.
"We do things that we want kids to look up to. We don't gangbang. We don't get a ton of violence. We just take the right path. Most of my whole crowd are in college or working," he told The Epoch Times.
Destiny Dockery was another volunteer at Ruby's Roses, where hot food, clothes, and other goods were distributed in addition to toys for children.
"She [Oliver] always helped me out as a kid growing up," Dockery said. "She is like a second mother."
When Dockery was in high school, she became suicidal and her parents eventually checked her into a mental health facility. Oliver stayed by her side and saw her out of her depression.
"It was the way she listened to me. She just listened, and she would understand," Dockery said. "She offered me that space to feel like I'm not alone."
Oliver "has always been like a pillar for the community," Asha Nichols, another volunteer at Ruby's Roses, said. "When someone is in need of food or clothing, she figures it out and she makes it happen.
"She does this regularly. It doesn't have to be a holiday."
Oliver said Humphrey "taught me that even in the hardest time, you can find a way to give."
Humphrey once found a knitted hat and used the few coins she had to wash it at a laundromat before giving it to Oliver's daughter, Khloe, as a gift.
"Khloe would not put that hat down," Oliver said.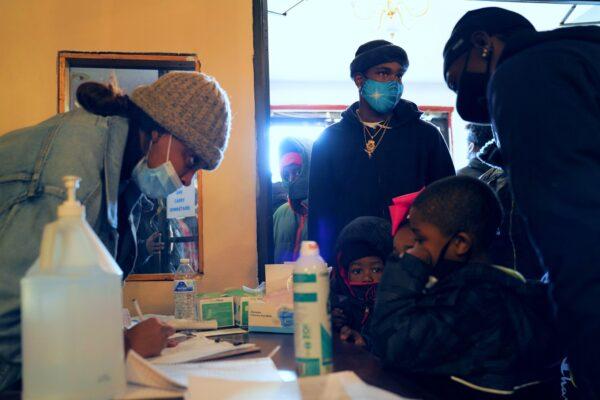 "There are so many different situations and relationships that have shaped who I am and why I do what I do," Oliver said. "I'm a giver. I like to see people happy, and help them live a full life. My vision is to really restore and reconnect people in this community and other communities."
Public Housing Kid
Oliver, 36, grew up in the LeClaire Courts public housing on Chicago's South Side.

"My parents didn't have a lot. They couldn't give us a lot," Oliver said. "But time, energy, love, and support, we got that hands down from my mom and dad."

LeClaire Courts was home to hundreds of families, and "everybody knew everybody, and everybody looked out for everybody," she said. "If you did something wrong and an adult saw you, you got in trouble. They took you home and let your parents take care of you."

She remembers fondly Mr. Gibson, a longtime resident on the same block who would buy fireworks from Indiana every summer and put on a huge show for the neighborhood kids.

"It was a fireshow like what you saw in downtown Chicago. He did this out of his own pocket, out of his own heart," Oliver said. "He was doing it when my mother was a kid. He was doing it when I was a kid. Before he died, we did the last one for him."

Oliver began to feel depressed at the age of 10, like she just didn't fit in at school.

"I really started to battle depression and got into a dark place, not wanting to be around other kids, not wanting to be around people," Oliver said.

An energetic, young Irish teacher named Stacey Beardsley, or Ms. B, helped her out of that dark place.
Ms. B
"She was hard on me because she cared," Oliver said. "She started to help me find myself again. My grades started to shoot up."

When Oliver started eighth grade, Beardsley encouraged her to aim for a first-rate private high school. That year, Oliver was the class president, valedictorian, and she did get into the highly rated Trinity High School with a scholarship.

"That's what I want to be for other kids, too," Oliver said. She wants to be their Ms. B—"to see their potential, let them see it, and tell them that someone is here to help them mold that."

Starting the fall of 1999, every morning on school days, Oliver took a train and two buses to get to Trinity High School in the wealthy village of River Forest from her West Side home.

During those years, Oliver also worked at a golf course and once caddied for Barack Obama when he was still an Illinois state senator.

At the end of 18 holes, Obama gave her his card and told her, "If you want to go to Columbia [University], I'm going to personally write you a recommendation."

Oliver did get to Columbia—but not the one in New York. She chose Columbia College Chicago, which is less expensive and closer to home.

In her junior year of college, she got pregnant and gave up college to raise her first son.

She and her boyfriend were married, and soon had a daughter as well. But when they divorced, "I felt like I had completely messed up my life. I felt like I failed."

She was juggling work, raising her children, and she was weighed down by "a very, very, very deep depression."

Humphrey, who lived under a viaduct near Oliver's home, helped her out of it.
'To See Her Gave Me Light'
One day, when Oliver and the kids walked past the viaduct on their way to school, she saw Humphrey and decided to spend some time with her. She bought her a cup of coffee and some breakfast, and they sat under the viaduct and had a conversation, which led to many more conversations.

"It taught me not to judge people on their circumstances, because she was one of the most educated women I had ever met in my life. ... She was so smart, very well-traveled, and very well-versed," Oliver said.

Humphrey came from a prominent black family that owned many businesses and a lot of real estate on the West Side. When she was a teenager, her father was murdered. Shortly after, her mother died of a broken heart.

She had a mental breakdown and ended up homeless. But her spirit remained warm, and she passed that to those walking by the viaduct, Oliver said.

"She came into my life at a time when I felt things were so dark, so bleak, and to see her gave me light. It made me realize that there were people out there who were in worse situations, and even in that, she would tell me all these great things."
In November 2018, Humphrey was found dead with stab wounds to her head and neck. She was mourned by many.
She did live to see Oliver found the Root2Fruit foundation in 2016, an organization that aims to "sow seeds of greatness into our future leaders, and to walk with them along that journey until I see the fruits of my labor."
She also lived to see the first Ruby's Roses event, which Oliver started as a way to celebrate Humphrey's birthday, a couple of years before she died.
Since her death, it's been a way to remember her.