Ohio's U.S. Senators J.D. Vance and Sherrod Brown teamed up to write a letter urging the Environmental Protection Agency (EPA) and the Centers for Disease Control (CDC) to immediately start health screenings for residents in the aftermath of the East Palestine toxic train derailment.
After the Feb. 3 crash and subsequent fire, more than 4,700 residents were ordered to evacuate because 11 of the burning cars were carrying hazardous materials including vinyl chloride.
Authorities—fearing a major explosion—decided to release and burn vinyl chloride from five cars on Feb. 6, sending flames and thick black smoke billowing into the sky once more.
Vinyl chloride is a chemical used to make PVC pipes and other products. The National Cancer Institute notes that vinyl chloride has been linked to cancers of the brain, lungs, blood, lymphatic system, and liver.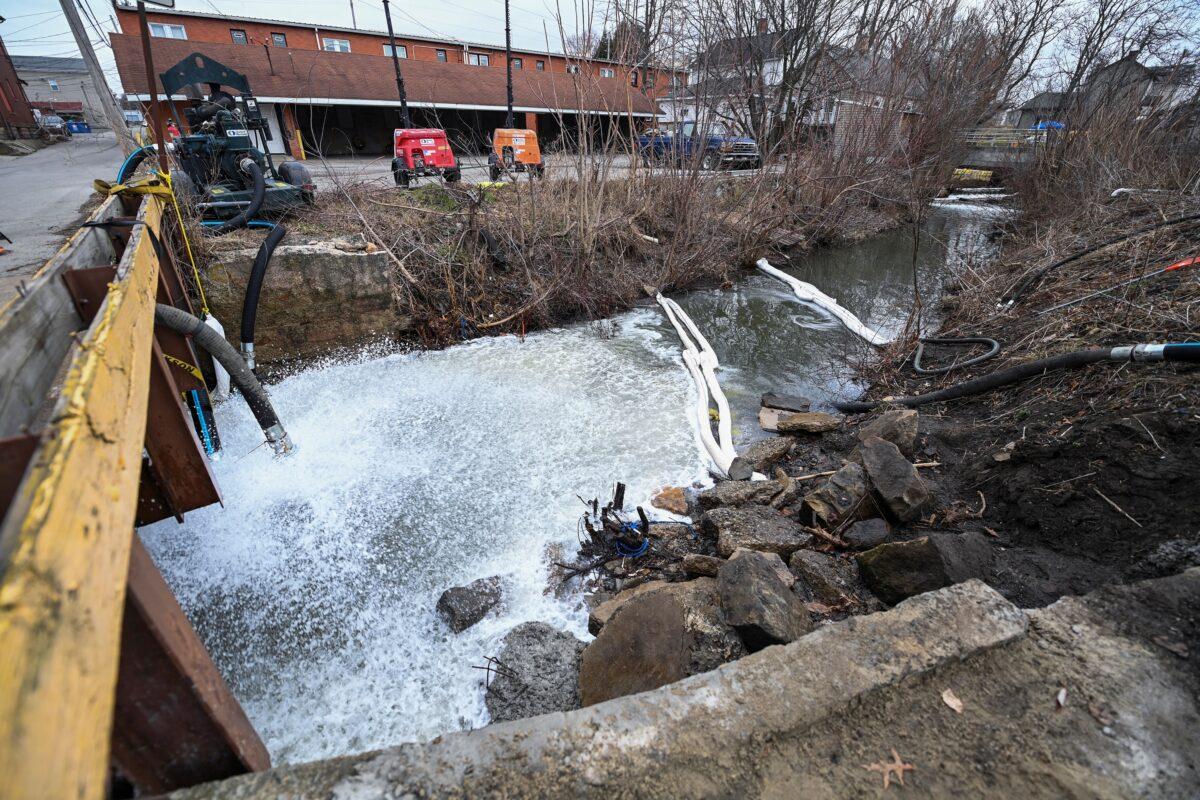 Ohio Gov. Mike DeWine held a press conference on Feb. 8 and announced that the evacuation order had been lifted and that it was safe for East Palestine residents to return to their homes.
But since returning, they and those in surrounding communities near the Pennsylvania border have reported headaches, nausea, skin rashes, blurred vision, and other ailments.
The letter from the senators—addressed to EPA Administrator Michael Regan and CDC Director Rochelle Walensky—expressed concern that "despite reassurances from local, state, and federal agencies that the air and drinking water are safe, their anxiety persists."
"While we understand that EPA, the Centers for Disease Control and Prevention (CDC), and other local, state, and federal authorities have been more focused—by design—on emergency removal action and associated risks related to acute exposure in the immediate aftermath of the derailment, we want to ensure that efforts moving forward also anticipate and address our constituents' concerns over potential long-term impacts from the disaster," the senators wrote.
"The residents of East Palestine and the surrounding community deserve to know if their health has been compromised by this disaster now and for years to come.
"Therefore, we urge you to work with your colleagues across the federal government to allocate the resources and expertise needed to begin the surveys and assessment needed to establish a medical baseline for the community," Vance and Brown added.
Vance and Brown included insight from Professor Glenn Talaska of the University of Cincinnati's College of Medicine and Professor Kyle Walsh of Duke University's School of Medicine, who is a native of northeast Ohio, where East Palestine is located.
Talaska is the director of the University of Cincinnati's Division of Environmental and Occupational Hygiene and Program in Biomonitoring, and Walsh heads Duke's Division of Neuro-epidemiology and is co-leader of the Duke Cancer Institute Program in Neuro-oncology.
"In the coming months and years, additional epidemiologic assessments will be necessary to identify potential longer-term negative health outcomes in exposed residents," the professors wrote.
"Because the impacts of exposure will continue to accrue," the professors explained, the voluntary collection of samples from a "broad spectrum of residents of the East Palestine region to establish a medical baseline from which to track any future negative health outcomes resulting from their exposure" should begin as soon as possible, Talaska and Walsh said.
"Such a health screening effort will not be an easy undertaking; the residents of this community have been burned before by Norfolk Southern contractors knocking on their doors and demanding they sign indemnification forms," Vance and Brown wrote.
"We have spoken with multiple constituents who have attempted to get this kind of baseline testing done by their primary care doctors, only to learn that their local doctors lack the capabilities."
No Testing For Dioxins
Earlier this month, Vance and Brown wrote a letter to Regan and Ohio Environmental Protection Agency (OEPA) Director Anne Vogel voicing dismay that testing for dioxins may not have been included in the agencies' air monitoring processes to date.

"We are concerned that the burning of large volumes of vinyl chloride may have resulted in the formation of dioxins that may have been dispersed throughout the East Palestine community and potentially a much larger area," the lawmakers wrote.

Dioxins are "a group of chemical compounds known as persistent organic pollutants because they break down very slowly once they are released into the environment," according to the EPA.

They can cause cancer, damage the immune system, create reproductive and developmental problems, and interfere with hormones.

EPA Region 5 administrator Debra Shore said that the agency will not test for dioxins, at least for now.

In a Washington Post op-ed published on Feb. 26, Vance proposed that a pandemic-era style Paycheck Protection Program be established for East Palestine businesses.
Help For Businesses
Vance also explained that East Palestine needs long-term investment from the federal government and Norfolk Southern Railway.

"Without special refinancing, homeowners will be underwater as a flight from the community drives home prices lower, decimating the tax base on which local schools and public services rely," Vance wrote.

"Farms will require direct support. Underfunded schools will need help," Vance continued. "East Palestine will need its own version of the Paycheck Protection Program to protect workers and businesses who lost their livelihoods because of the decisions of others."

"Otherwise, an entire town of good people will suffer mightily through no fault of their own," he concluded.

On Feb. 28, Regan returned to East Palestine to announce the opening of the EPA's "Community Welcome Center."

Located in downtown East Palestine, the welcome center is designed as a resource for residents and business owners to "get questions answered, sign up for home air monitoring, and learn more about cleaning services," Regan said.

"I can promise that as this community continues to look forward, we're going to be here every step of the way. For as long as it takes," Regan said.

"We aren't going anywhere and I can tell you and you can tell by the storefront behind me that we are here for the long haul we want to make sure that the community knows we're here for them, and that we're bringing resources to bear for them."