Former Democratic presidential candidate Andrew Yang and former New York Governor Andrew Cuomo questioned the Department of Justice for authorizing the FBI to raid former President Donald Trump's Mar-a-Lago property.
Yang and Cuomo's Tuesday statements became the few voices from non-Republicans who questioned the nature of the raid as being political.
"I'm no Trump fan. I want him as far away from the White House as possible. But a fundamental part of his appeal has been that it's him against a corrupt government establishment," Yang, who runs the Forward Party, a national political party that
brands itself
as a movement away from the "broken political system," wrote on Twitter on Monday.
"This raid strengthens that case for millions of Americans who will see this as unjust persecution," Yang
wrote
on Twitter on Tuesday.
"It seems like this was authorized by a local judge and a particular FBI office without buy-in or notification of higher levels of government," Yang added. "But literally no one will believe that or make a distinction. It's probably bureaucratic but it seems political."
Cuomo Weighs In
"DOJ must immediately explain the reason for its raid & it must be more than a search for inconsequential archives or it will be viewed as a political tactic and undermine any future credible investigation & legitimacy of January 6 investigations," Cuomo, a vehement critic of Trump,
wrote
on Twitter on Tuesday.
"DOJ must disclose the bona fide nature of the August 8 action or else the republicans will use it to Discredit the Jan 6 investigation, which would be a terrible disservice to the good work of the house committee in exposing The Trump administration violations," the former governor wrote in a separate post two hours later.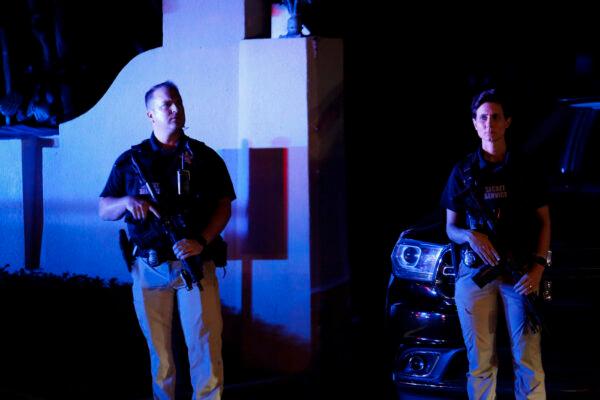 Yang and Cuomo's comments came a day after Trump said on late Monday that his Florida Mar-a-Lago home was "under siege" and "occupied by a group of FBI agents."
"These are dark times for our Nation, as my beautiful home, Mar-a-Lago in Palm Beach, Florida, is currently under siege, raided, and occupied by a large group of FBI agents," Trump said in a post on Truth Social late Monday.
Eric Trump, Trump's second son, said the raid was conducted to see whether his father possessed any documents from his time in office, adding that the former president has been cooperating with the National Archives on the matter for months.
"The purpose for the raid, from what they said, was because the National Archives wanted to corroborate whether or not Donald Trump had any documents in his possession," Eric Trump said on Fox News. He added that the raid was politically motivated as certain Democrats "don't want Donald Trump to run and win again in 2024."
Trump's lawyer, Christina Bobb, confirmed with The Epoch Times that the FBI was looking for presidential records.
"They're looking for presidential records, what they deemed to be presidential records, and anything that could potentially be classified," Bobb told The Epoch Times on Tuesday.
"We had been very cooperative with them before. And it's unclear to me why they went to such drastic measures to do this. But they did. And as far as the probable cause goes, they wouldn't give that to us," she added.
The Presidential Records Act stipulates
that
 the National Archive Records Administration (NARA) assumes the custody of certain presidential records upon the conclusion of a president's term. NARA said in February that Trump's representatives have been cooperating in transferring presidential records.
"Throughout the course of the last year, NARA obtained the cooperation of Trump representatives to locate Presidential records that had not been transferred to the National Archives at the end of the Trump administration," the NARA said in a
statement
.
'Weaponized Politicization'
After the former president broke the news Republicans rallied behind Trump and protested the raid as being a political maneuver and weaponization of the DOJ.
"I've seen enough," said House Minority Leader Rep. Kevin McCarthy (R-Calif.) in a
statement
late Monday. "The Department of Justice has reached an intolerable state of weaponized politicization."
"When Republicans take back the House, we will conduct immediate oversight of this department, follow the facts, and leave no stone unturned," McCarthy added.
Rep. Steve Scalise (R-La.), House Minority Whip, called the raid the "weaponization of the FBI by Biden's DOJ against his political opponent."
"Let's be clear: This is a brazen weaponization of the FBI by Biden's DOJ against his political opponent—while giving their political allies free passes," Scalise said in a
statement
published late Monday. "It's exactly why the IRS shouldn't get an army of 87,000 more agents."
"House Republicans will hold them accountable next year," the lawmaker added.