The U.S. Senate passed a bipartisan bill hailed as the most significant federal gun control legislation in decades Thursday night, but what's in it has Second Amendment advocates concerned.
With emotions running high after horrific mass shootings in Buffalo, New York, and Uvalde, Texas, school last month, Joe Biden and Democrats called for gun law reform, and a band of 10 Republicans answered.
John Cornyn (R-Texas) led a group of 10 GOP senators to hammer out a compromise gun bill with 10 Democrats. Tuesday night, the Senate advanced the 80-page Bipartisan Safer Communities Act. Then on Thursday, 15 Senate Republicans joined Democrats to approve the measure by 65 votes to 33.
Provisions of the bill include school safety and encourage the use of juvenile records background checks for those 18-21 who want to buy a gun. Other measures focus on mental health, state crisis intervention programs, and incentives for red flag laws.
Booed and Jeered
Cornyn, representing a state with an estimated 1.7 million people licensed to carry a firearm, was booed and jeered during a speech at the Texas GOP convention last week. Delegates were unhappy with his support for enhanced funding for red flag laws.
Here is a breakdown of the bill's content and reaction from Second Amendment supporters:
Red Flag Laws and crisis intervention programs allocated $750 million
Money can be used to implement and manage red flag programs, which Second Amendment advocates criticize as unconstitutional because they take guns away from those deemed a threat to themselves or others without due process. States without red flag laws can use the fund for crisis intervention programs such as mental health and veteran courts.
 Texas State Rep. Steve Toth (R-Woodlands) said even if states don't have red flag laws and want to use the money for crisis prevention, there will likely be strings attached. For example, the money might require different guidelines on determining if someone is suicidal. VA counselors must report when someone is suicidal to police, which could lead to gun confiscation.
Eliminates "boyfriend" loophole in domestic violence convictions
The bill would block gun ownership for a person convicted of domestic violence against someone with whom they are in a serious romantic or intimate relationship. The old law only applied to individuals convicted of domestic violence crimes against spouses, partners with shared children, or those living together from having guns. The bill would allow people convicted of misdemeanor domestic violence crimes to restore their gun rights after five years as long as they haven't committed other crimes.
As a domestic abuse survivor, Andi Turner, director of the Texas State Rifle Association, said she understands the seriousness of the problem a loophole might pose. But she wondered why assault charges couldn't be leveled at those who commit domestic abuse against dating partners. Laws already on the books could be enforced.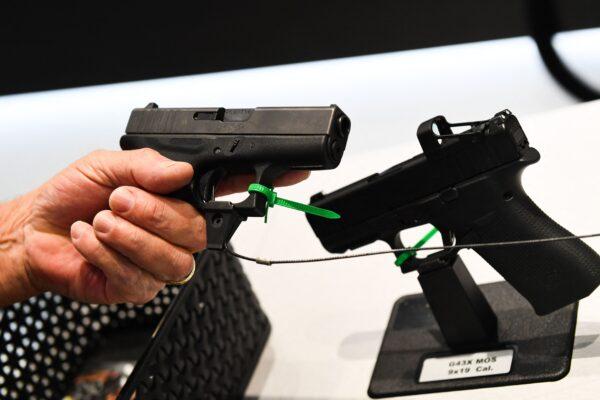 Gun sellers are required to register as federally licensed firearm dealers 
Those who sell guns as their primary source of income but evaded registering as Federally Licensed Firearm Dealers in the past will be required to do so by narrowing the definition of a dealer. Federally licensed dealers must conduct background checks before selling a gun to someone.
The National Rifle Association came out against the bill noting it contains undefined and overbroad provisions. Tony McKnight, owner of Big Daddy Guns in Florida and Georgia, said few people who don't have a federal firearms license would be selling a large number of guns in the first place, he said.
Gun trafficking and straw purchase laws
Under the bill, penalties will be higher for people buying guns for those who are not allowed to purchase firearms on their own.

Tony McKnight, owner of Big Daddy Guns in Florida and Georgia, said the bill could be targeting individuals who sell guns, say at a gun show. However, few people who don't have a federal firearms license would be selling a large number of guns, he said.
Juvenile record checks are encouraged for those 18-21
States will receive grants to include juvenile records in the National Instant Criminal Background Check System and establish a new protocol for checking those records. If potentially disqualifying information shows up, NICS gets another seven days. But the gun purchase goes through if the review is not completed by then.
John Lott, president of The Crime Prevention Research Center, said his question about the inclusion of juvenile records is would that offense follow the applicant around for the rest of his or her life. "There's a reason why juvenile records have been closed," he said.
Money for mental health programs and school security
More money will be allocated to programs, many already in existence.
Texas State Sen. Paul Bettencourt (R-Houston), who is on the state Senate committee examining school safety after the Uvalde school shooting, said increased funding for school safety would be a positive. Money for mental health could be helpful, too, if the government can determine how to use it as a tool against school violence.