Kari Lake pulled ahead of Karrin Taylor Robson in a heated five-way battle for the Republican nomination for governor of Arizona in the Aug. 2 primary.
With about 80 percent of precincts reporting, Lake currently holds the lead with 46.2 percent of the vote. Robson trails at 44.4 percent.
According to Decision Desk HQ, the long-shots Matt Salmon, Scott Neely, and Paola Tulliani-Zen trail by significant margins with less than 5 percent of the vote each.
Robson and Lake ran high-profile campaigns primarily distinguished by their bitter rivalry and public hostility toward one another.
Each presented herself as the conservative candidate best suited to lead the state through the current border crisis.
Throughout her campaign, America First candidate Lake characterized her opponent as an "Establishment RINO," or Republican In Name Only, aligned with Arizona Democrats and establishment Republicans.
"I'm up against a billionaire—actually, her husband's a billionaire," Lake said at a recent campaign rally in Tucson. "She's spending more money than ever in a statewide race in the history of this country to try to defeat us."
"We're not going to let her win. Arizona is not for sale and can't be purchased. We're going to send them a message."
Trump Blessing
Robson portrayed Lake as an unknown quantity: an Obama Democrat turned Trump Republican only when she decided to run for office.

Lake, a former Fox10 anchor, quickly gained momentum in the polls with the blessing of former President Donald Trump. His endorsement of Lake proved key in the minds of many of her supporters.

On July 22, Trump appeared at a "Save America" rally in Prescott Valley, Arizona, to shore up support for Lake and other America First Republican candidates.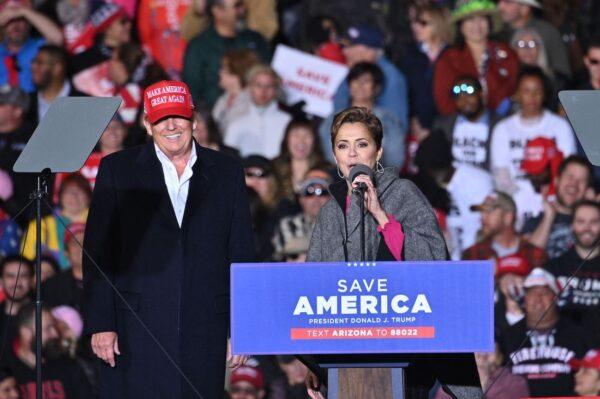 Former Vice President Mike Pence officially entered Arizona's gubernatorial fray by endorsing Taylor Robson, endorsed by eight past and present state governors, most notably former New Jersey Gov. Chris Christie.
While some polls showed Lake ahead by double-digit margins, Robson said both candidates were running neck and neck.
"We've got a lot of momentum. My opponent doesn't like where were are right now. I started this race essentially at zero this year, and now we are tied, and we have all the wind in our sails as we go into [the primary] election," said Robson at a recent Town Hall event in Tempe.
On the Democratic side, Katie Hobbs, Arizona's current secretary of state, is the projected winner by a landslide for her party's nomination for governor.
Hobbs currently leads her two opponents with 73 percent of the vote. Marco Lopez received 22 percent, and Aaron Lieberman 4 percent.
The winners in both races will advance to the general election on Nov. 8.