Officials are urging residents to evacuate as the Fairview Fire in Hemet, California, is still fiercely expanding, with 9,846 acres burned and only 5 percent containment as of 4:30 p.m. Wednesday, Sept. 7.
"Unfortunately, the fire continued to outpace our efforts," Josh Janssen, battalion chief of Riverside County Fire Department, said during an early morning press conference Wednesday. "We took an operational flight of the fire at about 2 p.m. [Sept. 6], and it was clear the fire was outpacing our ground and air resources."
All previous evacuation orders and warnings remain in place as firefighters are struggling since Sept. 5 with slowing down the spread of the blaze, which Janssen said was burning "in all directions on all flanks."
Officials urged residents living close to the fire to gather their belongings and get prepared for leaving anytime when an evacuation order arrives.
An investigation into the ignition of the fire is still underway, but Southern California Edison—the main electricity supplier for the region—claimed in a filing Sept. 6 that "circuit activity [occurred] close in time to the reported time of the fire"—indicating a possibility that the fire started from the utility's equipment. Janssen said the department did not have more details on the filing.
He said a national response team has been activated to handle the large-scale fire because it was heading east toward federal land in the area.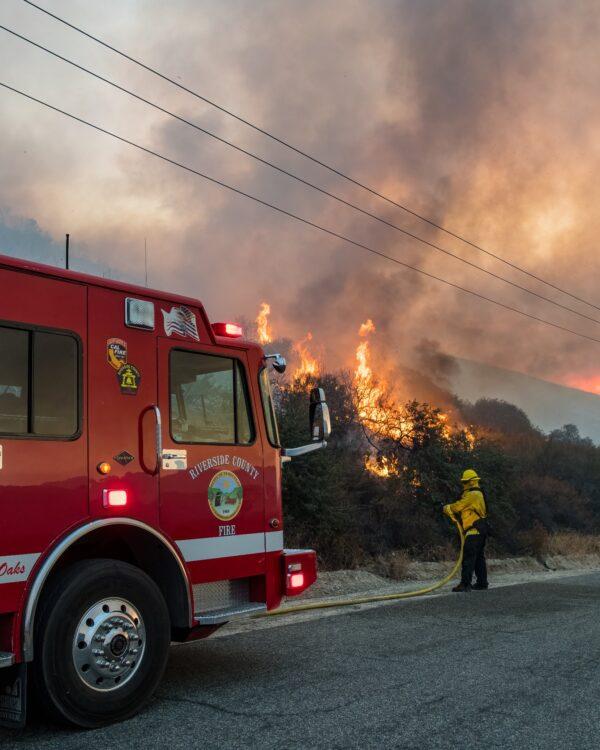 The fire killed two people and destroyed several structures so far, authorities reported on Monday.
The two bodies were found in a vehicle on the 42400 block of Avery Canyon Road, but authorities have been unable to identify them because of the conditions in which they were found, Sgt. Brandi Swan of Riverside County Sheriff's Department said at the press conference.
One injury was reported, she said, and the individual is being treated at a hospital and is possibly from the same family as the two deceased.
The burnt structures are in a rural area with orange groves at the intersection of Fairview Avenue and Bautista Canyon Road, authorities said. It is still unclear whether those are homes.
By Wednesday morning, evacuation orders extended to include regions east from State Street past Forest Route 5S15, between Stetson Avenue and Cactus Valley, and southeast along Bautista Road.
However, Swan said many people are not following the evacuation orders.
"There are plenty of people that are choosing to shelter in place," she said. "We have gone to over 3,700 homes to make notifications, and I would say maybe a quarter of those people are actually leaving."
She said the department "begs for their cooperation" because the "fire is very unpredictable and moves very fast."