Border Patrol agents are struggling to deal with the surge in illegal immigrants crossing into the United States from Mexico, Rep. Henry Cuellar (D-Texas) told The Epoch Times on Wednesday.
"Border Patrol has just been overwhelmed. All our good intentions are being overwhelmed by the pure numbers of people coming in," said the congressman, whose district includes portions of land that abut the border.
Many agents have been moved to processing centers to take care of the higher number of immigrants illegally crossing the border. The centers operate 24 hours a day and have had to house unaccompanied minors and family units for days on end because the Department of Health and Human Services (HHS), which has more permanent facilities, has not been able to keep up with the influx.
"What's happening with Border Patrol, too many people coming in, not enough people going out. Too many people coming in across the border, not enough people going from Border Patrol to HHS," Cuellar said.
Illegal border crossings jumped by some 22,000 to over 100,000 in February, with another 26,000 people evading capture, according to data reviewed by The Epoch Times. Border Patrol apprehended more than 150,000 people who crossed the border in March, former Customs and Border Protection Commissioner Mark Morgan said
on Tuesday
 with two days still remaining in the month.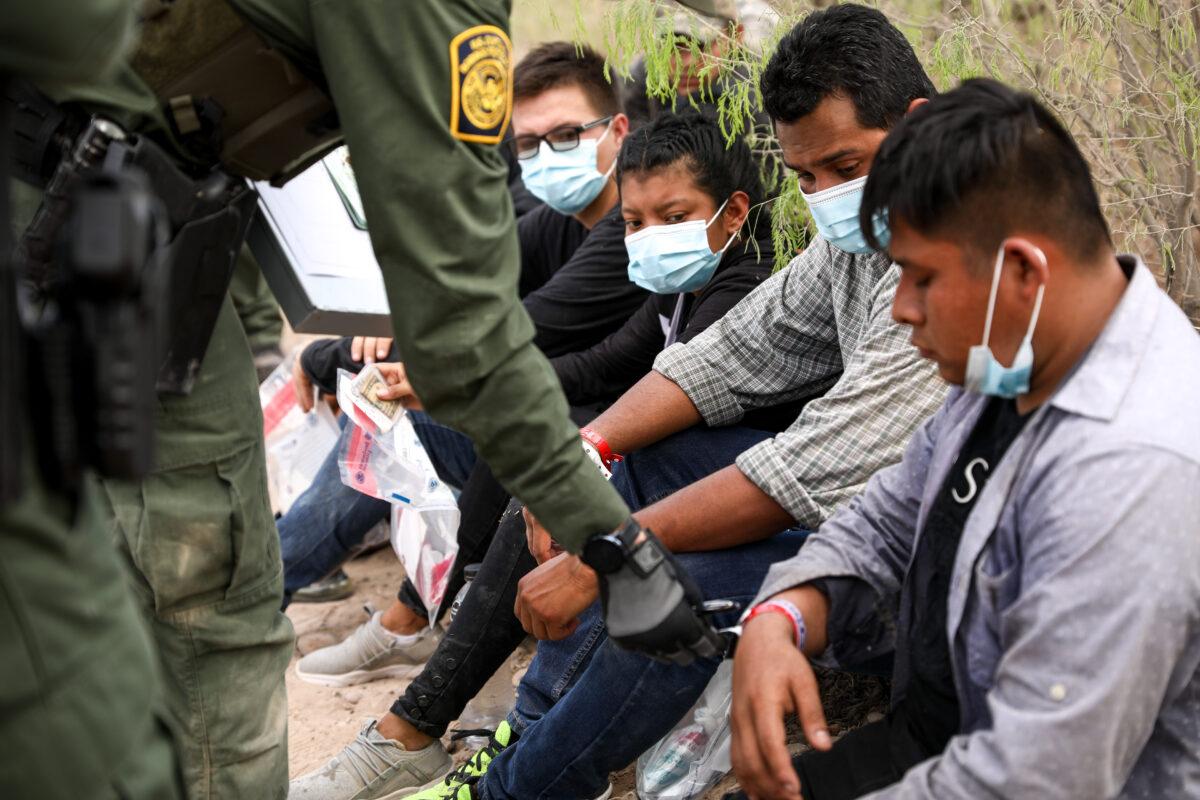 Border Patrol facilities are the first place illegal immigrants are taken to after being apprehended. After a period of time, which is supposed to be 72 hours at maximum, they're transferred to HHS facilities.
Photographs from Cuellar's office last week
showed
minors in a Border Patrol facility in Donna, Texas, packed together as agents are being forced to hold them for far longer than usual. Reporters were allowed into that facility on Tuesday,
finding
4,100 illegal immigrants jammed into a site only designed to hold 250.
"We would like to transfer unaccompanied children as quickly as we possibly can, within 72 hours, which is what we're mandated to do. Unfortunately, on any given day, we may have upwards of 9,000 people in custody, which has certainly put a strain on our resources," a senior border official told reporters on a call last week.
"This isn't just a Border Patrol issue. This is a whole government issue that what we're seeing along the southwest border," the official added.
Cuellar was shown file cabinets at one Border Patrol facility he visited on March 30. There were more files on illegal immigrants who were continuing to be held than those who were set to be taken by HHS.
"I say this with all due respect, they have the luxury of saying, 'No, we don't have space, don't send us any more.' Border Patrol doesn't have the luxury of doing that because people come in, they got to do something with it, so it's been very hard for the men and women," he said.
HHS didn't respond to a request for comment.
The HHS Office on Refugee Resettlement runs a network of over 200 programs and facilities in 22 states, and has opened at least eight new sites to try to better handle the surge in illegal immigrants, including converting three convention centers into emergency shelters for unaccompanied minors (children who arrive without adults).
HHS was holding 12,035 such minors as of March 29, while CBP was caring for 5,160.
The difficulty in handling the surge stems in part from the change in the demographics of those crossing the border. In the lower Rio Grande Valley, for instance, in October 2020, the number of single adults eclipsed that of family units and minors combined. The number of family units and minors in March, though, had significantly increased, with families alone coming in higher than single adults.
Family units jumped from 1,300 to 40,000-plus, according to Cuellar.
President Joe Biden has reversed or altered a number of key Trump-era policies and rules, including halting the use of Title 42 emergency powers to send unaccompanied minors back to their home countries and axing the "Remain in Mexico" program, which kept asylum seekers waiting in Mexico for their claims to be heard. The White House has described actions as part of moving to a "more humane" immigration system.
The administration also last month suspended and moved to terminate agreements with El Salvador, Honduras, and Guatemala that required migrants to seek asylum in one of those countries instead of the United States.
"The Biden administration believes there are more suitable ways to work with our partner governments to manage migration across the region," Secretary of State Antony Blinken said in a statement at the time.
Cuellar disagrees with some of the actions of the administration, including getting rid of those agreements. He said they could have repurposed the pacts into something that would fit Biden's philosophy. Other moves have little to do with dealing with the border surge, he argued, such as halting construction of the border wall.
Ways to deal with the surge in the short term include leaning on countries that immigrants cross through to enforce their borders, such as Guatemala and Mexico.
"The more we can work with our country's friends to the south, Mexico and of course the Central American countries, especially Guatemala. The more we can do with them, the less people will come across," he said.
Congress has appropriated more than $3.6 billion to countries where most immigrants come from between Fiscal Years 2016 and 2021. The assistance has contributed to improvements, such as an increase in real per capita gross domestic product in Northern Triangle countries. Homicides, meanwhile, have fallen. That's the primary method of impacting migration in the long term, according to Cuellar.
Charlotte Cuthbertson contributed to this report.