Supreme Court nominee Amy Coney Barrett said Tuesday the video of George Floyd being arrested in a chokehold in Minnesota had an impact on her family before saying she believes racism "persists in our country."
Barrett was speaking in Washington to the Senate Judiciary Committee as her seven children, including two adoptees from Haiti, were listening.
"As you might imagine, given that I have two black children, that was very, very personal for my family," Barrett said, recounting how her husband was with their sons on a camping trip in another state when the video emerged.
"I was there and my 17-year-old daughter, Vivian, who's adopted from Haiti, all of this was erupting. It was very difficult for her. We wept together in my room. It was also difficult for my daughter, Julia, who's 10. I had to explain this to them," Barrett, who lives in South Bend, Indiana, said.
"My children to this point in their lives have had the benefit of growing up in a cocoon where they have not experienced hatred or violence. For Vivian, to understand that there would be a risk to her brother or the son she might have one day of that kind of brutality has been an ongoing conversation. It has been difficult for us like it has been for Americans all over the country."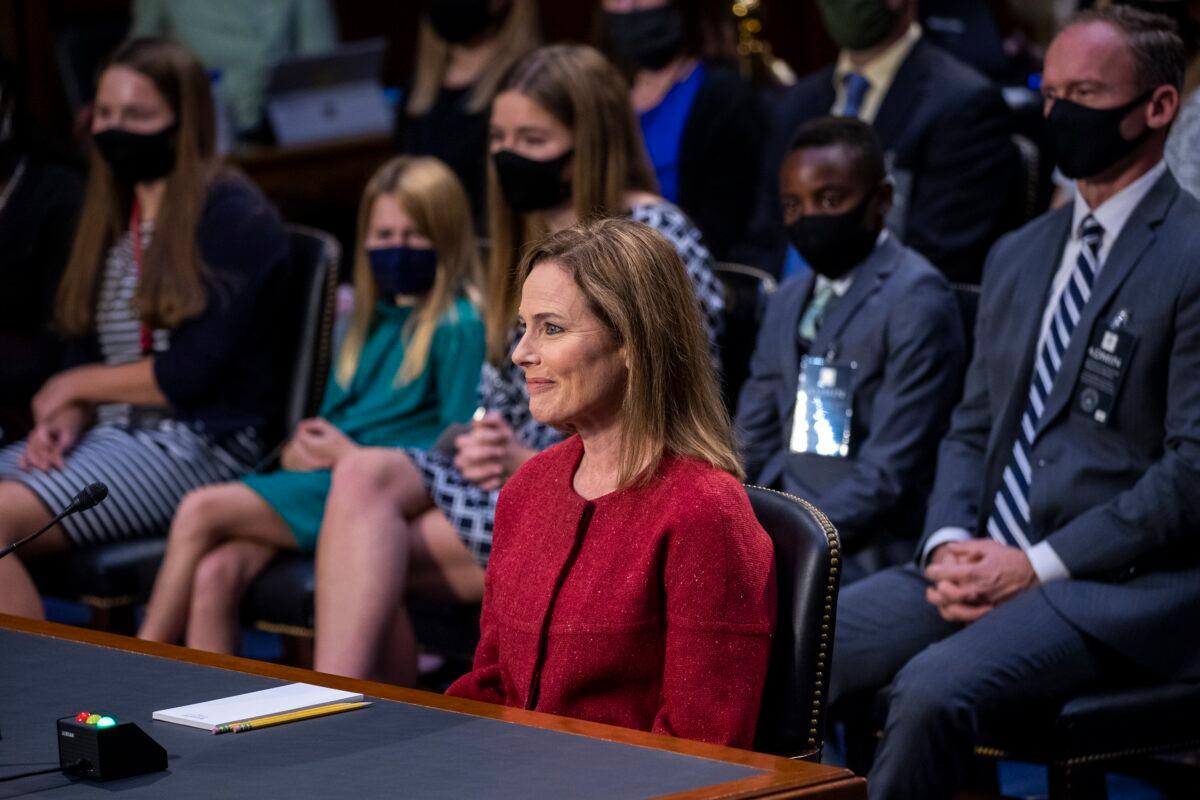 Floyd died in police custody on Labor Day in Minneapolis. The four police officers, now fired, face murder or aiding and abetting murder charges in the case.
Sen. Dick Durbin (D-Ill.) then asked how Barrett feels about the issue of race in the country and whether it is systemic.
"I think it is an entirely uncontroversial and obvious statement given, as we just talked about the George Floyd video, that racism persists in our country," the federal judge responded.
"As to putting my finger on the nature of the problem, whether as you say it's just outright or systemic racism, or how to tackle the issue of making it better, those things are policy questions. They're hotly contested policy questions that have been in the news and discussed all summer. So while I did share my personal experience, I'm very happy to discuss the reaction of the family to the George Floyd video, giving broader statements or making broader diagnoses about the problem of racism, is kind of beyond what I'm capable of doing as a judge."
During a different portion of the hearing, Barrett was questioned on Brown v. Board of Education, the 1954 Supreme Court ruling that found racial segregation laws in public schools unconstitutional.
Senate Judiciary Chairman Lindsey Graham (R-S.C.) noted that the judge has called the decision a "super precedent" and asked her what she meant.
"Super precedent is not a doctrinal term that comes from the Supreme Court," and the term may be used differently by different people, Barrett said, adding, "In my writing, I was using a framework that's been articulated by other scholars, and in that context, super precedent means precedent that is so really established that it would be unthinkable that it would ever be overruled."
Questioned later about a lower court ruling allegedly involving Brown, Barrett said she was not involved.
She was then asked about her personal views on racism.
"As a person, I have a general belief racism is abhorrent," she said.