As thousands of doctors gathered at the Anaheim Convention Center in Orange County, Calif., over the weekend, mounting tensions erupted outside between transgender rights groups and protesters opposed to the "transing" of children.
The American Academy of Pediatrics (AAP) held its convention Oct. 7–11 in Anaheim, while parental rights groups and a handful of dissenting AAP members have recently accused the organization of silencing debate on its "gender-affirming care" policies for children.
More than 150 peaceful protesters wearing purple T-shirts and carrying signs at the First Do No Harm Unity Rally on Oct. 8 crowded the sidewalk and nearby hotel parking lot to hear the stories of detransitioners—those who regret gender transitioning—and their supporters when trans rights activists crossed the street to disrupt the speeches.
That morning, as families sporting Mickey Mouse T-shirts and girls wearing fairy princess dresses arrived at nearby Disneyland, a counter-protester screaming profanities stepped in front of a van displaying digital billboard messages such as "Stop Transing Gay Youth, Support the fight to protect children" and "If they think children can consent to sex changes, what else do they think children can consent to?"
The counter-protester shouted at protestors and prevented the driver from circling the area for several minutes before security agents asked the individual to leave.
"Billboard Chris"—a Canadian father opposed to the idea that children can be born in the wrong body, who walks along sidewalks across North America wearing sandwich boards with slogans such as, "Children cannot consent to puberty blockers"—attended the protest and mingled with detransitioners.
At noon, the smoke and aroma from food vendors filled the air, as two masked trans activists, one wearing all black garb, pushed through a crowd of peaceful protesters lining the sidewalk. The duo shouted insults and mocked parents like Abigail Martinez as she tearfully shared the story of her daughter, Yaeli, who committed suicide after starting medical transition.
The incident escalated into a face-to-face yelling match between the two agitators and one of the protestors. No one was hurt in the otherwise peaceful event, and the agitators left after a few minutes. One of them, wearing a head garment and mask, refused to comment on the incident to The Epoch Times.
Rally Moves Indoors
Anticipating their message would be disrupted, the protesters led by Erin Friday of Our Duty, an international group that rejects transgender ideology, moved indoors to a conference room at the Clarion Hotel. Counter-protesters tried to enter the conference room, but were stopped by hotel security.

Once inside, Friday called for unity among all groups who oppose gender-affirming care for children and adults under 25. She urged them to put politics aside and children first.

Martinez told the rest of her story—how the courts removed Yaeli from her care because she refused to take the advice of a social worker to hold a "funeral" for her daughter and call her by a male name and pronouns.

Yaeli identified as transgender when she was about 16, was placed in foster care, and started taking testosterone. The experience was emotionally and physically painful for Yaeli, who at 19 laid down across train tracks to end her life.
Later,
Chloe Cole
, sobbing for a moment, told supporters she deeply regrets having both her breasts removed three years ago when she was 15.
"I was fast-tracked on a destructive path, including puberty blockers and testosterone at 13 years old," she said. "I come here today to represent fellow detransitioners and to sound the alarm on these abusive practices."
Detransitioners are "routinely harassed and browbeaten into silence for being an inconvenience" to popular narratives around gender, she said.
Cole denounced the AAP, American Medical Association, and Children's Hospital Association for endorsing a "gender-affirming care" model that prevents medical professionals from questioning a child's self-reported transgender identity and exploring other possible causes of their unease.
She also criticized these three groups for sending a
letter
 (
pdf
) to U.S. Attorney General Merrick Garland and the Department of Justice (DOJ) last week insisting that "disinformation" about transgender medical treatments must be blocked and people who spread it should be prosecuted.
Cole panned the groups for trying "to silence the reasonable voices of concerned critics calling for a more cautious approach to experimental medical practices impacting vulnerable children."
"We bear the literal scars of this medical violence. The medical safeguarding of children should not be a political issue," she said.
Cole told supporters she has formed a support group for detransitioners called Detrans United that wrote a
letter
to Garland in response to the three groups.
"We are writing as a group of individuals who formerly identified as transgender. Many of us were young teenagers when we decided on the direction of medical experts to pursue irreversible hormone treatments and surgeries to bring our bodies into closer alignment with what we thought was our true gender identity. Many of us had extensive history as a mental illness, many of us had experienced significant childhood trauma. But all of this was ignored because we uttered the word 'gender,'" the letter reads.
"This utterance placed us on a narrow medical pathway that led us to sacrifice our healthy bodies in future fertility and obeisance to the claim that our suffering was a result of having a gender identity that did not match our biological sex. In other words, we were born in the wrong body. We didn't know better, we were young, and we trusted our doctors. Our parents were also misled. They were told the common myth out if they did not affirm our new identities, which until fully approving our medical transition, then we would likely commit suicide," it states.
'We Do Not Want Children to Be Harmed'
Abel Garcia
recounted his male-to-female gender transition, and detransition back to male. Garcia claims he has suffered atrophy to his genitals from estrogen and "tucking." Even though he did not get "bottom surgery," Garcia got breast implants but then had the implants removed through chest reconstruction surgery.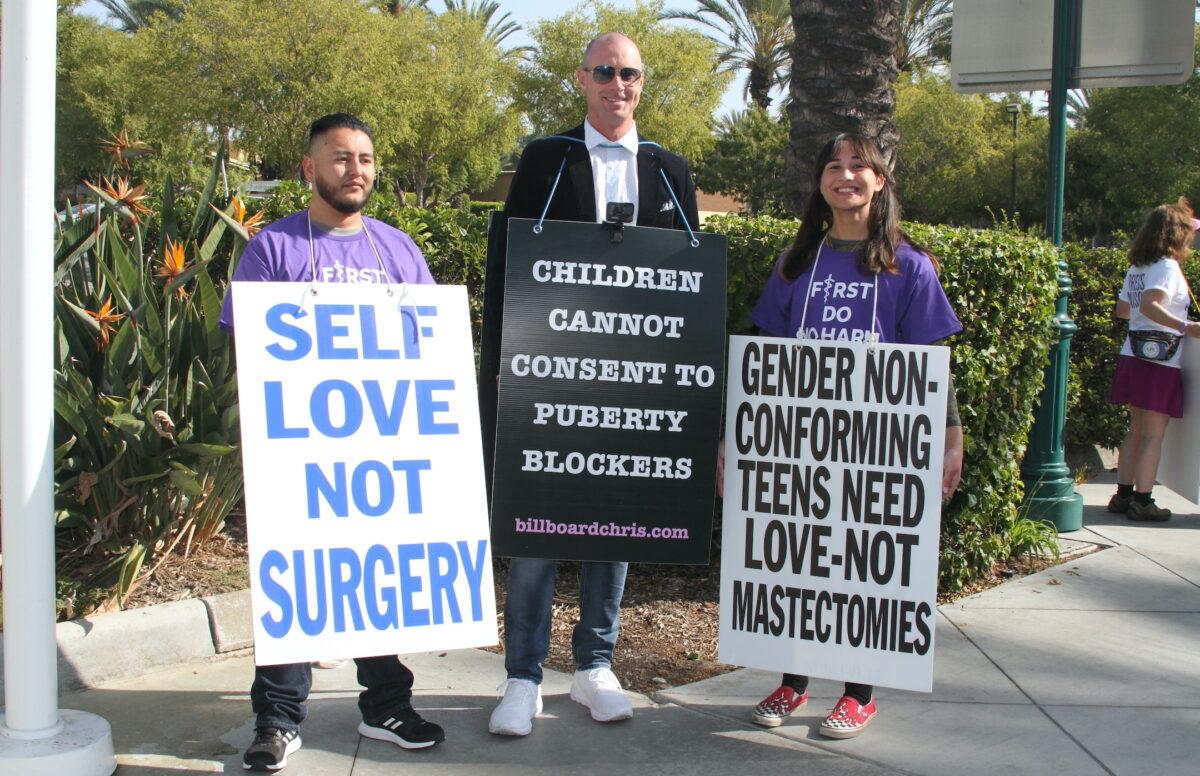 "I'm here asking the AAP ... to take a step back from the current model right now because the only model we have right now is to affirm and affirm, only we do not ask questions of why a child wants to transition," Garcia said.
Detransitioners and others who ask questions are accused by activists of being hateful or transphobic, "but we are not hateful," he said. "We do not want children to be harmed."
Cat Cattinson
, a singer, shared her story of regret for taking testosterone, which she said ruined her singing voice.
"While I still have to work through continuous vocal discomfort and pain, I survived adolescence and early adulthood with my body intact," she said. "I still have the option to have children, breastfeed, and have intimate relationships. But tragically, a rapidly growing number of detransitioners cannot say the same," she said.
Although more detransitioners have come forward to expose how they were "ushered down the trans path" and show they've suffered irreversible physical and psychological damage "our stories are just the beginning," Cattinson said.
"Today gender ideology is being taught in schools promoted on social media, and even featured in kids' TV shows," she said. "Children are being groomed to believe they could be in the wrong body and that it's perfectly acceptable to reject the biological reality of your sex and seek surgery to change it."
Scott Newgent, a woman who gained international notoriety after appearing in the documentary "What is a Woman," talked about how the idea of being trapped "in the wrong body" almost killed her. Once known as Kellie King, Newgent said she was convinced female-to-male gender transition treatments and surgery would make her happy, but ended up "destroying" her health.
"I am seven years post-trans, and just like the only long-term study predicted, I have regret. But, after nearly dying from transition surgeries, I cannot detransition. I cannot endure another knife into my skin or open myself up for more stares and questions. I accept my body today because I have to," Newgent said. "I'm a lesbian and I'm a trans man ... who underwent a massive amount of irreversible surgery and cross-sex hormones to create an illusion of a male ... but I am still a woman, and I will always be a woman."
As a mother who has given birth to three children, Newgent said she fell for "the relentless onslaught" of transgender propaganda, which she calls "glitter bombs and unicorn farts."
"I ask, beg, and plead that the American Academy of Pediatrics to reverse course today—not tomorrow, today ... Stop pushing puberty blockers, hormones, and surgeries on children and youth. Stop telling kids they were born in the wrong body," she said.
Children who describe themselves on social media as FTM (female to male) or MTF (male to female) or nonbinary are celebrated as "tens of thousands of strangers cheer them on" in Tik Tok videos of supposedly happy transition people "making double mastectomies" look like Disneyland, said Newgent, founder of TreVoices.org, a website that opposes medical transition for children.
Pediatrician Speaks Out
Dr. Julia Mason, a Portland-based pediatrician, urged the protesters to keep fighting for dissenting voices against the AAP's gender-affirming policies to be heard. The organization represents more than 67,000 pediatricians in the United States and Canada.

Mason, also a member of the nonprofit group Society for Evidence Based Gender Medicine, said in her speech that the AAP president told thousands of pediatricians not to engage with protesters outside the convention center and warned of the threats and danger to them and children's hospitals.
"All we can do is keep offering the information and see if we can get through because I really feel like most pediatricians are not on board with this. I don't think most pediatricians feel like the best solution to an unhappy 12-year-old is to block their puberty and put them into menopause," she said.
Following her speech, Mason told The Epoch Times she began to doubt the AAP leadership after she read Dr. James Cantor's paper (
pdf
) criticizing the AAP's 2018 statement touting gender-affirming care.
"I was alarmed that AAP did not fact-check what they published in their own journal," Mason said. "I just tried to reach out to rank-and-file pediatricians and let them know what the leadership is doing in their name, because I think they don't know."
The AAP has not responded to multiple Epoch Times inquiries.
Describing herself as a "lifelong liberal" who has been a supporter of the Democratic Party since she turned 18, Mason is perplexed about the party's support for "gender-affirming care" and the recently passed state law making California a
trans sanctuary state
.
"It does not seem liberal to shut down discussion and debate. It's really concerning. I don't know what's going on. I don't know where this is coming from," she said. "I feel politically homeless."
Mason was shocked to find out all the young patients with gender dysphoria—a feeling that one's gender identity doesn't match one's physical body—whom she referred to a gender clinic were "affirmed" without a thorough mental health care assessment.
"I realized that every single one of them was being transitioned without question. There was no evaluation. There was no gatekeeping," she said.
Mason dismissed the latest "standards of care" published mid-September by the World Professional Association for Transgender Health which abolished all age limits for gender transition surgeries.
"I do want to push back on the idea that those are guidelines, because there are rules about medical guidelines, and those don't meet any of them," she said.
Mason suspects money may be one of the biggest motivators of gender-affirming care.
Some unscrupulous surgeons follow the association's recommendations because it brings them more customers, she said.
"If you ask a surgeon what to do, they're going to recommend surgery. It's just who they are. It's what they do—to cut is to care," she said.