LONG BEACH, Calif.—Small business owners, workers, and supporters rallied in Long Beach on Dec. 2 to protest the Los Angeles County Public Health Department's dining restrictions in the midst of the COVID-19 pandemic.
"We've done everything they've asked us to … now here we are on the eleventh hour trying to figure out how to stay alive after all these years," Long Beach restaurateur Jeff Darling told The Epoch Times.
Darling was among about 500 demonstrators who gathered to march in opposition to Los Angeles County's banning of indoor and outdoor restaurant dining. The parade moved along East Second Street and the Pacific Coast Highway shopping center, and through the city's Naples and Belmont Shore neighborhoods.
The dining ban took effect on Nov. 25 and will continue until at least Dec. 16.
Darling owns two East Broadway restaurants: the Mineshaft Bar, which he has owned for 44 years, and the Brit Bar, which he's owned for 38. He said being closed for nine months put him $300,000 in debt and cost him $1.6 million in revenue.
"Our employees are at the end of their rope. They're living on $90 a week, and they're on food stamps, government assistance, and they don't have the ability to pay their rent," Darling said.
"All of our future retirement money is gone. Our businesses are on the verge of closing forever."
The march was organized by local business owners Ryan Choura and Trent Bryson, who rented a pickup truck to lead the way, while playing guitar instrumentals.
Protesters—who were wearing masks and remained peaceful—chanted "open up our businesses" and "reopen schools."
Bryson, a member of the Accountability Political Action Committee, told The Epoch Times the measures taken to shut down restaurants have been draconian.
"The outdoor dining seems to be working, and it's allowing them to not thrive, but at least survive, and you've got to allow them to survive," Bryson said.
"You can't just say you're listening to the health department on one thing, because the health department has no care about economics and part of leadership is taking the health department's input, the business community's input, and the families' input, and making it all into one–but they're just going one-sided."
Choura told The Epoch Times he wants to see politicians determine their actions based on "science, and for them to see how severe the impact has been on industry."
"The bottom line is that we have Second Street businesses, like restaurants and retail, being impacted by this," he said. "It's destroying communities."
Second Street is a large hub for bars and eateries in Long Beach.
Long Beach has its own health department independent from Los Angeles County, but decided to follow Los Angeles's guidelines.
Trying to 'Stay Alive'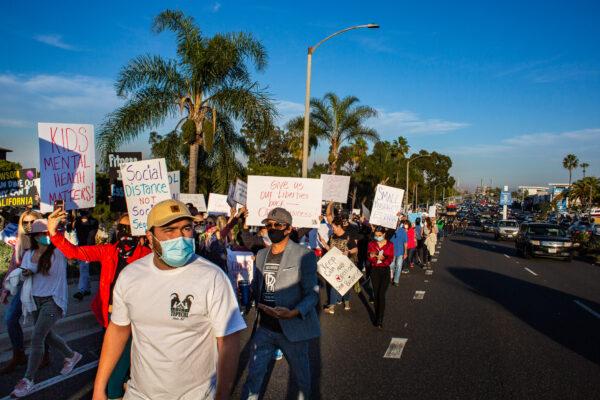 The manager of another Second Street restaurant said most of the local small businesses are owned by immigrants, who have spent their life's savings building them.
"It's all being ripped away from them very slowly and painfully," Elise, who did not give her last name, told The Epoch Times.
"I work for a small restaurant with 26 employees, and that's 26 families that are gonna be impacted by this if they can't make a paycheck, they can't feed their families, they can't get their health coverage," she said.
"The economic impacts, the familial impacts, are gonna last a lot longer than any of the other impacts. There's a lot of people who won't be able to have Christmas dinner, they won't be able to get their children any gifts."
Sara Sciamana, a server at Michael's on Naples St. for the past five years told The Epoch Times the restaurant she works at has been a safe haven for her. She relies on full-time job for income.
"I was laid off twice during our pandemic, just being let go of twice, having to do it two times over just the stress and everything added onto it is just kinda overwhelming now and the duration of it is starting to take its toll," she said.
She said she's all for safety guidelines, but at the same time, she wants to be part of the solution in helping employees get back to work.
According to the city's health officials, patient numbers in Long Beach hospitals increased by 366 percent since Nov. 1. As of Nov. 30, 59 percent of hospitals were occupied, with 64 percent of intensive-care units (ICU) at full capacity.
Help could soon be on the way. On Nov. 30, Long Beach Mayor Robert Garcia proposed a $5 million
relief fund
to help restaurants, breweries, and bars that were impacted by the restrictions.
The Long Beach City Council will review The Restaurant, Brewery and Bar Resiliency Fund on Dec. 8.