WASHINGTON, D.C.—Following a large pro-abortion march on Saturday, the protest on May 15 outside the Supreme Court was smaller but not short on sharp rhetoric.
"[Expletive] them kids," protesters chanted.
"It is not good for the large protests, but it is definitely funny as [expletive]," one protester said about the chant.
About 50 mostly female protesters gathered Sunday afternoon to oppose a recently-leaked Supreme Court draft opinion that suggests that conservative justices are considering the overturn of Roe v. Wade.
Pro-abortion group Pro Choice With Heart
organized
the protest alongside 80 similar events in cities nationwide.
The protest was originally planned to take place in front of the U.S. Capitol, but the building was fenced off for a Peace Officers Memorial Day event. The annual event commemorated police officers who have died or been injured in the line of duty.
"I feel like we should be allowed to be at some place of it," said Madeline Wilbunn, a pro-abortion protester.
She suggested that police had planned the day to prevent pro-abortion protesters from getting near the Capitol.
"I understand that they do have police officers, but this was obviously very intentional to keep us out," she said.
Wilbunn said that the Supreme Court overturning Roe v. Wade would take away the right to privacy for everyone.
"Everyone's gonna lose the right to privacy. Not just women, men too. They're gonna lose the medical right to privacy, they're gonna lose all different sorts of privacy that we have yet to be surprised by," she said.
At noon, a group of about 20 pro-abortion protesters walked around the Capitol in search of the planned protest.
As the protesters circled the Capitol without finding a way through the fencing or a larger crowd to join, the protest inadvertently turned into a march.
"I expected people, like, being mean to us because we're trying to fix it. I feel like it would be like, people trying to ruin it. I don't know why though," said Kate, a 13-year-old girl in the group.
She said that she was protesting because the government treated women like objects because of their gender.
"Can I curse in this?" she asked her mother, who gave her permission.
Kate said she understood abortion was a way to help pregnant teens.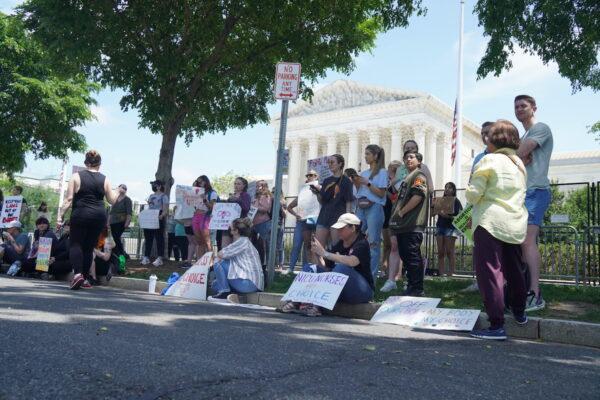 "Abortion is trying to get a way to help them live their lives. And some people are like, trying to ban that, because… I don't know why," she said.
Another protester, Chloe Spenser, said abortion is about bodily autonomy and that people don't understand abortion issues.
"I have had discussions with friends and family who didn't understand, that would speak about women having this choice of a late-term abortion which as far as I've understood is not true," she said.
Late-term abortion for any reason is
legal
in seven states, as well as in the District of Columbia.
In response to the leaked Supreme Court opinion, Senate Democrats
attempted
to pass a bill that stated abortion was a Constitutional right and removed virtually all abortion restrictions.
The bill was voted down by every Republican senator and Sen. Joe Manchin (D-W.V.)
After making a full circuit of the Capitol, the protesters found another equally-sized group of pro-abortion activists protesting outside the Supreme Court. The two groups joined together outside the Court's building.
Then, about six pro-life activists arrived. When the pro-life group appeared, the pro-abortion activists began to chant loudly.
"My body, my choice," the protesters shouted together. The chant lasted for some time.
Tyler, a pro-life activist, said the protests had been "great."
"We've already filed a police report. They're pretty aggressive, you know, so they have no arguments. They're pro-genocide, they can't change my mind," he said.
So far, Tyler said he has seen some violence from pro-abortion protesters in Washington. Yesterday at the large pro-abortion march, a protester stole his video camera, then smashed it.
The camera, which was recording while it was stolen, captured a masked man, who ran for a few seconds while carrying it. At the end of the video, the masked man swung the camera against the ground to smash it.
"He recorded himself actually running with our camera, and then went up to the cops after and confessed that he broke our camera. So he went to jail," said Tyler.
Tyler said that pro-abortion protesters usually weren't willing to debate, and instead spent their time chanting short slogans.
He then tried to debate with the crowd. A few protesters spoke with him. Then a section of the crowd started to shout "Don't engage!"
While his back was turned, a protester mimed kicking him hard in the leg. But she didn't do it.
"She won't let me be violent," the protester joked while pointing at a friend attending the protest with her.