A law enforcement agency found no evidence of criminal activity after California parents and teachers requested police to 
investigate
a controversial LGBT advocacy group and its affiliated online chatrooms that they claim put at-risk youth in peril and make them easy prey for sexual predators.
Celeste Fiehler, a parent in Coachella Valley, Calif., told The Epoch Times she filed a police complaint about The Trevor Project and its affiliated TrevorSpace chatrooms with the Riverside County Sheriff's Department in July and was referred to the Riverside County Anti-Human Trafficking Task Force.
Fiehler, head of the Moms For Liberty chapter in Riverside County, researched the site after learning the Desert Sands Unified School District was promoting it to elementary students on its website.
"I took a deep dive into the site, and my findings, I believe, are consistent with predators in chatrooms with minor children, which opens dangerous doors to child trafficking, children being exploited, grooming and missing children," she said.
The Trevor Project has not responded to requests for comment from The Epoch Times. However, the organization states that its purpose is to help struggling LBGT youth and provide counseling.
A link to the TrevorSpace site is prominently featured on The Trevor Project's homepage, stating: "Connect with an international community for LGBTQ young people ages 13–24. Sign up for free and start a conversation."
The Trevor Project is widely recognized for providing "confidential crisis intervention and suicide prevention services for lesbian, gay, bisexual, transgender, queer and questioning (LGBTQ) young people under 25," the organization states.
Sheriff's Department Investigates
Although Fiehler's complaint was assigned a case number, a public information officer for the Sheriff's Department told The Epoch Times via email on Oct. 14 "the case, however, has been closed."

Riverside County Sheriff Chad Bianco told The Epoch Times on Oct. 18 the anti-human trafficking team investigated the complaint but found no criminal behavior in the chatrooms.

"The men and women that we have doing this are top of the line," Bianco said. "They did their investigative work to get deeper into that space, and they found nothing."

However, he said the agents will continue to monitor the chatrooms and other sites reported for suspected criminal activity.

Bianco also warned that all social media is dangerous for children and that parents should pay closer attention to what their kids are doing online.

"Social media," he said, "is the breeding grounds for predators" whether they are sexual offenders or drug dealers.
While Bianco understands parents are outraged, he said law enforcement agencies can't base investigations or make arrests on moral grounds.
"These parents, of course, they're angry, and they should be angry," he said, "but law enforcement has absolutely nothing to do with this other than looking into it to make sure there's no criminal [activity]. There's absolutely nothing criminal about that website or even having the chatrooms. This is no different than Facebook or Snapchat."
Bianco suggested if voters don't like the state's laws or local policies, they should point the blame at lawmakers and school board members, not law enforcement.
"If people don't like it, then they better start electing people that will make it a crime. They're putting the wrong assembly members and senators in our state capitol, and they're putting the wrong people in our federal buildings. Stop electing these people if you want things to change," he said.
While he said he doesn't believe Desert Sands had any malicious criminal intent in its promotion of The Trevor Project, he said the idea of schools promoting chatrooms for 13-year-olds is "horrible."
"It's morally reprehensible," he said. "It's no different than our schools teaching sex ed to a kindergartener. It is absolutely ridiculous, but it's not criminal."
'Children Come First'
Fiehler said she is disappointed the police can't do more to warn parents about sites like TrevorSpace and "wave a red flag saying this is not safe for children."

"It's really disheartening," she said.

Nevertheless, she said, it won't stop her as a parent from bringing TrevorSpace and other sites to the attention of school boards and parents, and she will continue to pressure school boards, law enforcement, and other government agencies to investigate them.

"Your children come first, and that's it. We should be protecting them in any way that we can," she said. "We're desensitizing ourselves to sexualizing children to where we think this is not a big deal … or these chatrooms are therapy. ... We need to stick to our morals and protect our children."
A victim of sexual abuse as a child, Fiehler emphasized her complaint isn't an attack on the LGBT community but is based on her concern for the safety of children who are engaging with adult strangers in 30 or more TrevorSpace chatrooms focused on gender and sexuality.
To find out more about TrevorSpace, Fiehler created an account and posed as a 16-year-old to enter the chatrooms, where she says other adults could also easily identify as children.
"We don't know how old these people are," she said. "I lied about my age to create a fake account. Anybody could be joining these groups. There are adults joining in conversation with children regarding sex and dating without parental knowledge."
In one chatroom, adults were requesting to send private messages to minors who had posted suggestive photos of themselves, she said.
One chatroom called "Littles!" is "kink," Fiehler said. "Supposedly it's adult caregivers and adults who identify as children role-playing and all of this weird stuff, so it feels really creepy to go into these groups."
The chatroom, with 255 members, features a cover photo of a teddy bear and is listed as "a club for littles," or "people who age regress." The chatroom welcomes "DID littles"—referring to Dissociative Identity Disorder, a mental health condition previously known as multiple personality disorder—and their "caregivers," she said.
Another chatroom, billed as the "Gay Men Club," is advertised as "Gay Men Only. Let's talk about boys!" and claims to offer love, support, and friendship.
"Chosen Family" is another chatroom. It's billed as: "A place to find chosen family who loves and supports you. Meet people who are like siblings, parents, etc. to you."
An underage boy who stated in his profile he was looking for a boyfriend got a response from someone claiming to be 18+ who said he could be his boyfriend, according to Fiehler.
School District Removes Links
She has since urged all school districts to stop promoting The Trevor Project and asked parents to report suspicious online activity directly to law enforcement agencies designated to investigate human trafficking, sex crimes, and cases involving missing, exploited, and abused children.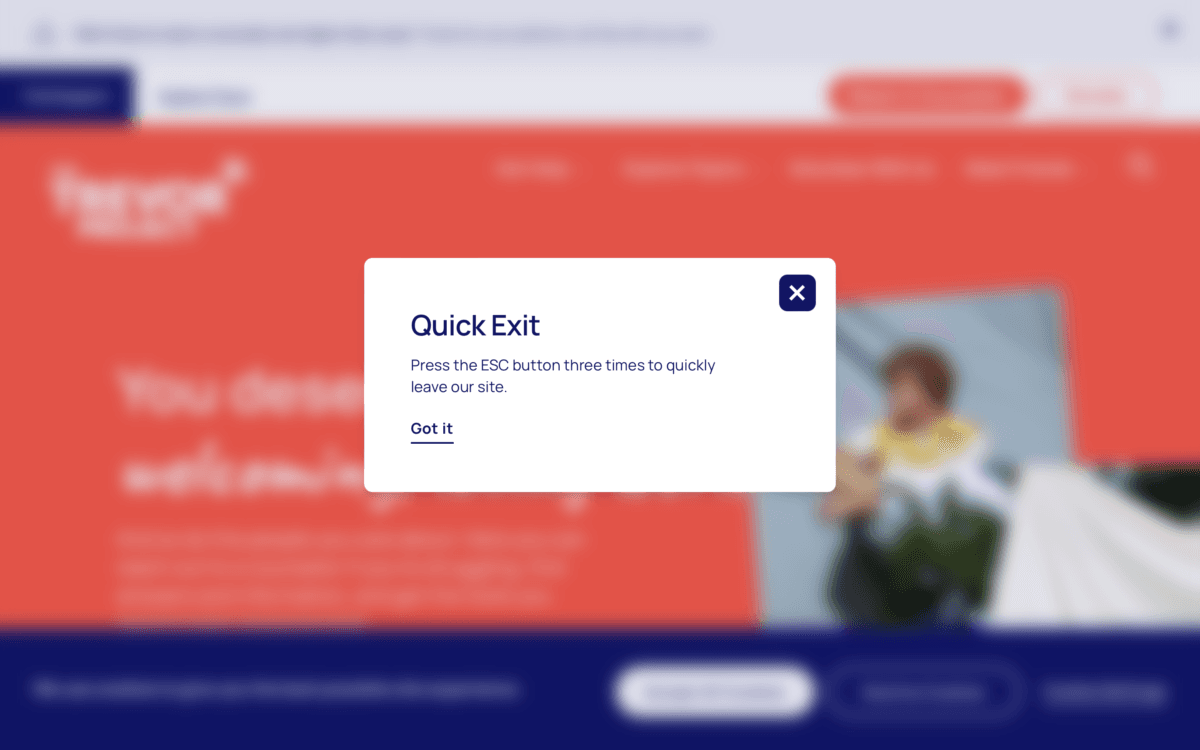 Fiehler also questioned the legitimacy of The Trevor Project's "trained counselors."
A disclaimer on The Trevor Project website states: "You don't need a degree or a license to become a trained Trevor counselor, but the role does require passion and commitment." It also says volunteer counselors must be at least 18, "have passion for supporting LGBTQ young people" and live in the United States. They must also have access to a private space, make a one-year commitment, and agree to work a three-hour shift once a week.
The Trevor Projects states that volunteer counselors receive "40 hours of virtual training over 10 weeks," covering topics such as "counseling skills, LGBTQ identity, our Support Model (the structure of a conversation on our crisis services), and relevant policies & procedures to prepare them to speak with young people in crisis."
After researching the sites, Fiehler and another parent met in July with school district officials to show them content they believed to be inappropriate, and the district subsequently agreed to remove all links to The Trevor Project from its website, she said.
"I'm going to continue to educate school districts on how dangerous this site is and how they are exploiting kids," she said.
Although teachers' unions, the U.S. Centers for Disease Control and Prevention (CDC), the California Department of Education, and local school districts endorse The Trevor Project, Fiehler urged these agencies and the corporations that fund it to take a closer look.
The Trevor Project lists more than 200 "corporate partners" on its website, including Google, Abercrombie & Fitch, Macy's, Puma, and Lululemon, which have each donated more than $1 million to the organization. Other big donors include the National Football League, Kohl's, Calvin Klein, Procter & Gamble, AT&T, Pinterest, TikTok, Coca Cola, General Motors, YouTube, State Farm, Goldman Sachs, United Airlines, the Professional Golf Association (PGA) Tour, and Wells Fargo, among others.
Kenny Snell, a Desert Sands high school teacher, told The Epoch Times that although the district has removed any links from its website to The Trevor Project, he is wary similar content could be promoted if nonprofit groups aren't properly vetted in the future.
Snell urged more teachers to speak out in the school districts where they live.
"I sure wish other teachers would take a stand to protect the children. Teachers need to find the courage to speak out about these kinds of things when they see them," he said.
Teacher Reports Suspicious Activities
Brenda Lebsack, a teacher in Orange County, Calif., told The Epoch Times she contacted the Santa Ana Police Department about a year ago asking for an investigation into The Trevor Project, and was assured detectives would "look into it."

As a teacher, Lebsack is a "mandated reporter" required by law to report any suspected child abuse, so she reported suspicious activities on The Trevor Project and its affiliated TrevorsSpace chatrooms to authorities.

Posters advertising the Project are displayed in the bathrooms and hallways at several schools in the Santa Ana Unified School District (SAUSD), she said.

Lebsack—posing as a child confused about her gender and worried about telling her parents—text messaged the National Suicide Hotline. She was referred to The Trevor Project and sent a survey about her gender identity, she told The Epoch Times.

The survey asks respondents to select from agender, boy/man, genderfluid, genderqueer, girl/woman, intersex, non-binary, trans, trans masculine, trans feminine, two spirit, prefer not to identify, or "Write in how you identify." It also asks about sexual orientation such as asexual, bisexual or pansexual, gay or lesbian, heterosexual or straight, questioning or unsure, or other.

As The Trevor Project celebrated "National Coming Out Day" on Oct. 11, Santa Ana community and faith leaders asked trustees at a school board meeting to investigate both the Project and TrevorSpace chatrooms.

Three days later, Santa Ana Unified School Superintendent Jerry Almendarez sent out a letter to all district staff supporting a Board of Education resolution recognizing Oct. 11 as National Coming Out Day and Nov. 20 as Transgender Day of Remembrance "to honor the many achievements and contributions of the LGBTQ+ community."

"SAUSD is committed to increasing its understanding of the diverse cultural, historical, ethnic/racial, and contemporary experiences of people across sexualities. Only when we succeed in protecting the rights of our LGBTQ+ community will we succeed in advancing our collective mission to prepare all students to compete globally," Almendarez wrote in the letter obtained by The Epoch Times.
'Predators' Playground'
Jon Uhler—a licensed professional counselor and a California native based in South Carolina, who has counseled sex offenders and sexual abuse victims—told The Epoch Times chatrooms such as TrevorSpace open the door to sexual predators who seek to harm vulnerable youth.

"You take kids that are suicidal—therefore probably sexually abused—[and] kids who have been sexualized because of the internet, and you're going to start discussing what with them?" Uhler asked. "It's a predators' playground."

Even if chatroom participants abide by the age group restrictions, Uhler said he has concerns about 24-year-olds potentially interacting with 13-year-olds—seventh-graders—about gender and sexuality, he said.

Uhler cautioned against chatrooms like "DID Littles," which, he said, are "luring" curious and vulnerable youth—some who may be sexual abuse victims—to meet online with "sexually deviant adults."

Chat groups such as "Chosen Family" also appear to use similar recruitment techniques as cults to separate recruits from their families, friends, and others who will protect them, he said.

"Every cult will come in between the initiand and their family and then will isolate and limit outside contact or outside information," Uhler said.

Cults often use euphemistic terms such as "community" and "family" to set themselves apart and start talking about outsiders in pejorative, derogatory, and dangerous ways to create an "us versus them" mentality, he said.

Parents, lawmakers, and school board members, or any "policy upholder" should be aware that opening the door to such chatrooms puts youth who are already at risk at even more risk, he said.

"The more you create a sexualized environment or sexualized thought process, or you focus on sex and sexuality that allows for the widest parameters, you are inviting … opening the door for and you are playing into the hands of sexual predators," he said.
'Very Little Moderation'
Another parent using the pseudonym Rachel Miller to protect the identity of her 16-year-old daughter who identifies as transgender, told The Epoch Times she explored TrevorSpace chatrooms and was appalled at what she found.
"I was shocked to see kids as young as 13 talking to adults … about sexual positions ... about pornographic imagery, [and] about how to hide things from parents," she said. "I saw kids begging for more moderation to keep them[selves] safe from harassment and trolls, and just very little moderation."
The Trevor Project is receiving millions of dollars from big corporations "that we know and trust," including pharmaceutical companies "that stand to benefit from the transitioning of our children," she said.
"I was just shocked and deeply concerned. I was so floored. I felt betrayed," Miller said. "It really feels like predatory medicine."
Miller urged corporations and individuals who donate to The Trevor Project to learn more about the organization and the message it is sending to children, and weigh the risks of the potential harm it could cause to them.
In the chatrooms, medical professionals advocating for therapy rather than gender-affirming care were often called "transphobic" and other approaches to therapy were condemned, she said.
The Trevor Project states that "so-called 'conversion therapy,' sometimes referred to as 'reparative therapy' or 'sexual orientation change efforts' (SOCE), are a range of dangerous and discredited practices aimed at changing one's sexual orientation or gender identity or expression." Such therapies are also banned in certain states, including New York and California.
Miller said she initially contacted The Trevor Project to find counseling for her daughter but was shunned when she asked about "detransitioners," a term used to describe people who have begun the process of medically transitioning to the opposite gender, but then changed their minds.
"I was looking to this place as a resource that could help me, and what I found was they were incredibly dismissive and rude and treated me as though I was bigoted for trying to help find these resources for my child," she said. "I was distressed by what I considered to be a complete breach of their role to help dysphoric children like mine."
On TrevorSpace, some participants "using handles like 'slutty little kitten'" taught minors how to buy chest binders without their parents' knowledge, she said. And, although her daughter has bound her breasts since she was 12 years old, Miller remains hopeful her daughter will recover from gender dysphoria and re-embrace her natural gender.
"She sometimes wears a binder. She used to wear one every day," Miller said.
The Trevor Project and other LGBT advocacy groups provide a wide range of resources for children to transition, but not to those who seek to detransition, she said.
"There is no off-ramp," Miller said. "There is a lot of encouragement to transition and to pursue medicalization, but there is absolutely no playbook for what is to happen when you feel uncomfortable with the idea of transition."
Kenney Enney, a newly appointed school trustee in the Paso Robles Joint Unified School District, told The Epoch Times he is calling for an external investigation of The Trevor Project by the San Luis Obispo County District Attorney's Office.
The district has since removed the link to the Project which was listed under "Student Resources" on its website.
"My biggest concern is basically the chat rooms. It was the height of irresponsibility to post that and the fact that nobody thought otherwise really concerns me," he said. "My gut tells me that it's standard bureaucratic failure, but I could also be convinced that it's something more nefarious."
Enney said he heard about the issue after members of Moms for Liberty, a nationwide parental rights group, alerted the school board about their concerns.
He and other critics claim that TrevorSpace chatrooms include a feature that allows users to instantly hide chats from their parents.
School districts should be more concerned about legal liability if a child is ever found to have been harmed as a result of using these chatrooms, he warned.
While the CDC warns against websites that could make children vulnerable to predators, it also promotes The Trevor Project, and hence TrevorSpace chatrooms, which could put them at risk, Enney said.
"If you've got vulnerable kids, why are you going to put them out into a predator environment?" he asked.
A previous version of this article misspelled the name of Kenney Enney, school trustee in the Paso Robles Joint Unified School District. The Epoch Times regrets the error.