House Speaker Nancy Pelosi (D-Calif.) on Friday invited President Joe Biden to deliver a State of the Union address on March 1.
Pelosi told Biden, a fellow Democrat, that his "bold vision and patriotic leadership" have "guided America out of crisis and into an era of great progress, as we not only recover from the pandemic but Build Back Better!"
Build Back Better is a term used to describe Biden's agenda for America.
"Indeed, this past year has been historic: with the life-saving American Rescue Plan, once-in-a-century Bipartisan Infrastructure Law and, soon, the truly transformational Build Back Better Act!" Pelosi wrote.
"In that spirit, I am writing to invite you to address a Joint Session of Congress on Tuesday, March 1, to share your vision of the State of the Union."
The White House did not immediately respond to a request for comment.
Biden spoke to a joint session of Congress in April 2021. In
his speech
, he promised to rebuild the nation and combat the COVID-19 pandemic. Attendance was scaled back because of the pandemic, and the speech was later in the year than those delivered by Biden's predecessors. Historically, State of the Union speeches have taken place in January or February.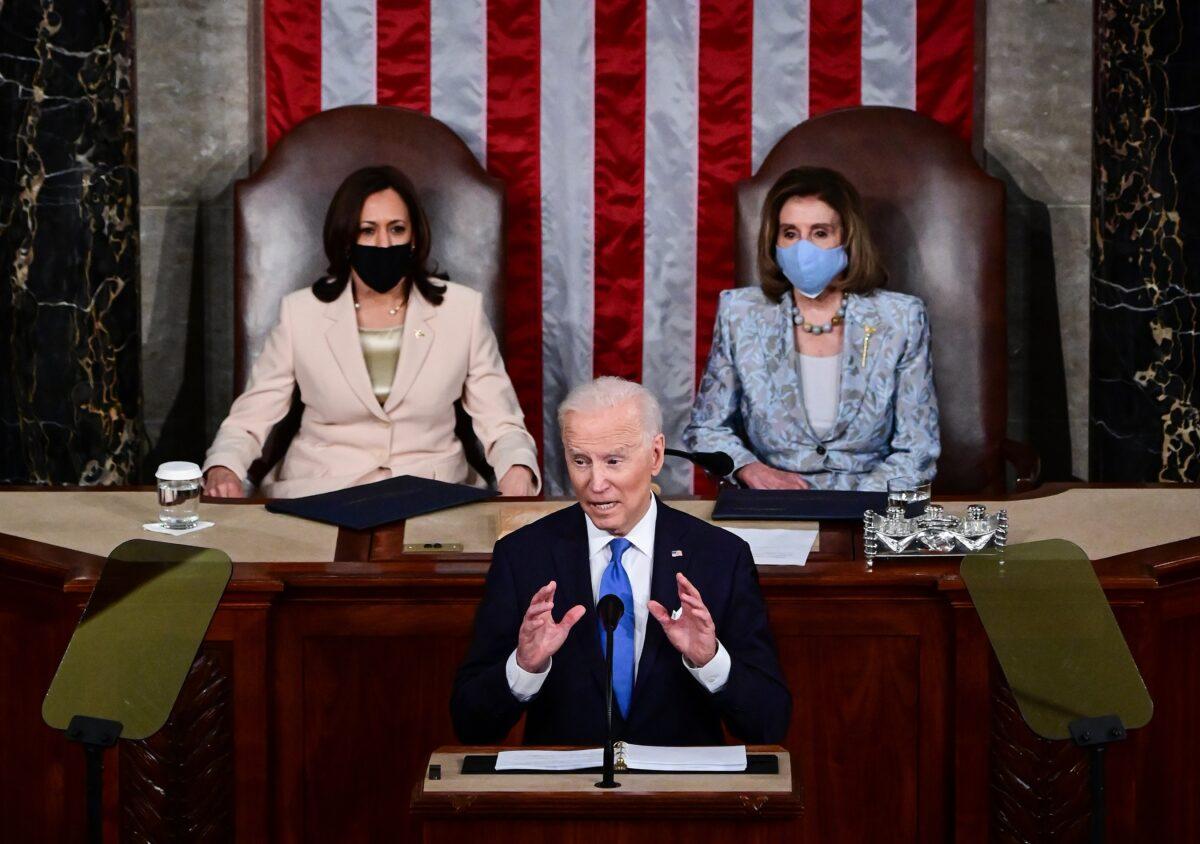 Fresh concerns about COVID-19 could end up pushing back the speech again. The United States has recorded a significant increase in COVID-19 cases as the Omicron variant of the 
CCP (Chinese Communist Party) virus
 became dominant, but most cases are asymptomatic or mild and hospitals have not been overwhelmed, at least so far.
Biden promised to beat COVID-19 on the campaign trail but he told reporters Friday that "having COVID, in the environment here and the world, is probably here to stay."
He championed how many schools are open, comparing it to last winter, when many were closed to in-person instruction.
The first-term president has seen large parts of his agenda get stalled in Congress. The 50-50 Senate has bedeviled him, with Sens. Joe Manchin (D-W.Va.) and Kyrsten Sinema (D-Ariz.) deeming many components of Build Back Better too radical.
Democrats rammed through the relief package using a set of rules that lowers the voting threshold in the upper chamber from 60 to 50. Democrats were able to get Republican support for the infrastructure bill.