SANTA ANA, Calif.—A grand opening ceremony was held June 28 for the newly renovated Pyott Center, which will provide up to 200 disabled individuals of all ages with opportunities to become active members of the community by learning work-related skills, and engaging in volunteer service projects.
"We're here for the disabled community and we're happy to be in Santa Ana and have great team members that love what they do," said Kathleen Kolenda, the vice president of Adult Day Services, which oversaw the development of the newly renovated Easterseals Pyott Center.
"I think we're ready to really give people a great experience here and I look forward to really putting this building to good use and having it be bustling with activity to see people have a community experience," she told The Epoch Times.
The facility features a multipurpose activity room, laundry machine, kitchen, lockers, computer lab, and gardening trays.
The Pyott Center building is operated by
Easterseals
, a non-profit organization providing services for disabled individuals.
The organization has worked for over 100 years in expanding access to local healthcare, education, and employment opportunities for the disabled community while currently providing support for more than 15,000 people per year of all ages in California.
The center was made possible by a $1.75 million grant from the David & Molly Pyott Foundation founded by Easterseals board member and former Chairperson Molly Pyott and her husband, philanthropist and former CEO of pharmaceutical company Allergan, David Pyott.
"It is our sincere appreciation to Molly and David Pyott for making this possible. Their passion for people with disabilities for this program is just remarkable," Easterseals President Mark Whitley said at the grand opening.
"With their support, the center will provide a tremendous impact in the community and really assure that people are 100 percent in power and 100 percent included in our community."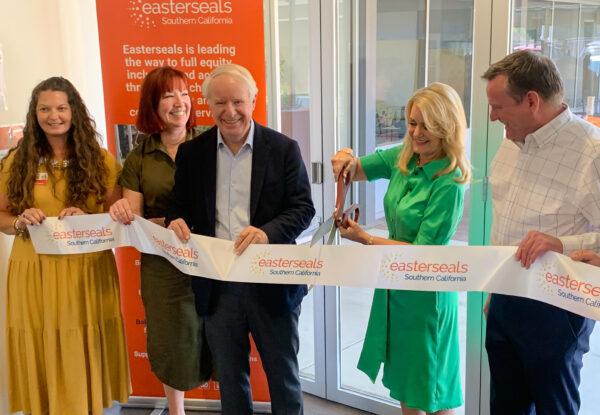 As long-time supporters of Easterseals, the Pyotts said they are confident in the impact of the team.
"This is an extremely well-run organization," David said. "For us, this was an easy decision."
The grant was utilized to pay off the mortgage and renovate the former Easterseals offices into a state-of-the-art facility that provides adult day services for individuals with physical and developmental disabilities.
"Molly and David's extraordinary generosity of both time and financial support are unprecedented in the history of Easterseals Southern California and will make an enormous difference to the adults with developmental disabilities who will be served at this new site," said Nancy Weintraub, Easterseals Chief Advancement Officer.
"We are incredibly thankful to them for helping us to expand our ability to serve more people at a new location in Orange County and Molly's continuing guidance as a member of our board."
More information on Easterseals can be 
found here
.