WESTMINSTER, Calif.—The Orange County Public Libraries organized back-to-school book drives this week to support children returning to school online this fall.
On Sept. 22, the Westminster Library set up its book drive outdoors. It was also the first day of
Grab & Go
services at public libraries across the county. That includes designated browsing areas, self-checkout stations, and limited use of internet stations.
With the county having moved into the red tier for COVID-19 risk, libraries were allowed to open with modifications at 50 percent capacity.
With distance-learning starting again for local students, having access to library resources is important. Parents and students lined up outside the library to receive free books, online learning materials, crafts and stickers, and infocards about upcoming virtual events.
"We do know that there are a lot of disadvantaged and low income [students]. We do deal with that around this area, specifically," Timothy Scott, the branch manager at the Westminster Library, told The Epoch Times. "[Those students] come do their homework, they use our computers to do it, they use the internet."
"We're happy to be back in any capacity, but that was the hardest part ... knowing there were people that wouldn't know where to get their materials."
Sandra Flores, a parent picking up resources with her children told The Epoch Times that accessing printed reading materials has been difficult since the library has been closed.
She said she's had to find other creative ways to engage her kids with distance learning, since she'd had trouble getting them to focus.
Anna, another parent and mother of three, echoed Flores's concerns and said she hopes to see the schools reopen when it is safe.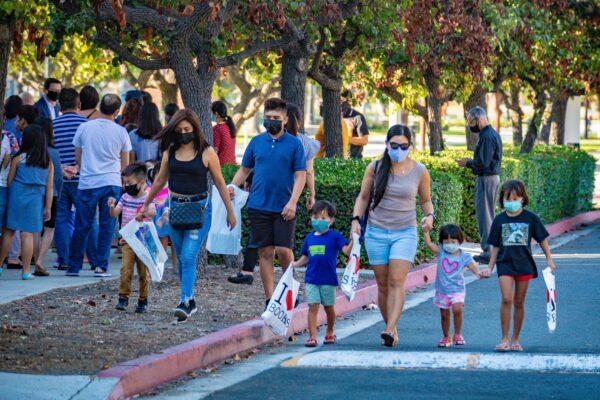 County Librarian Julie Quillman said she was "sad that we were not able to serve people" for some time, but that the book drive "is a little step in the right direction."
"We're thrilled that everybody came back today, and you know, we want to keep adding material, a lot of material, and expanding WiFi, getting the computers back, step by step," Quillman told The Epoch Times.
Westminster has a large Vietnamese population. "When they see that we have staff who are Vietnamese and can speak their language, that completely changes their demeanor," Scott said. "Sometimes they come in a little distrustful of government institutions. They walk in, they see somebody that can help them, and they relax."
Other libraries holding book drives in Orange County through Oct. 1 include La Palma, Stanton, Garden Grove, and La Habra.
Orange County Supervisor Andrew Do, who attended Westminster's book drive, said in a statement to The Epoch Times: "Access to technology can significantly promote student success and engagement, particularly for students who are most at risk or whose primary language is not English.
"Computer access combined with a strong internet connection and a safe space is critical to staying on track in school—remote or in-person."