Orange County Executive Steve Neuhaus has proposed to raise the county budget by 3 percent to $923 million in 2024 while keeping the property tax levy flat.
Mr. Neuhaus released his 2024 budget on Sept. 27 at a monthly meeting by the Orange County Association of Towns, Villages, and Cities, which he has done since being elected county executive 10 years ago.
He attributed the stable property tax levy—even as the county faces uncertainties such as inflation and growing state-mandated expenses—to the dual forces of economic development and tourism.
"It is a combination of a growing tax base and a very robust sales tax," he told The Epoch Times. "The two grow together and help us mitigate what we would have to take from property taxes."
Since 2014, when Mr. Neuhaus started his first term with his sights set on economic growth, the full market value of taxable properties in Orange County has grown by almost 80 percent.
That has partly enabled a years-long decrease in property tax rates (a percentage applied to one's taxable property values to arrive at the actual tax dollars), which are at historic lows today, he said.
Sales tax revenue has grown by almost half during the past 10 years and is budgeted to be about $390 million in 2024; annual hotel taxes have more than doubled to more than $6 million since 2014.
"Sales tax is generated by everybody that comes in here, not just the people that live here," Mr. Neuhaus said during the budget presentation. "If they are helping us pay our bills, rather than sacking every family by property taxes, that is the better way to do it."
Money In and Money Out
Sales and hotel taxes account for the largest chunk of county revenue in 2024, at 43 percent,
followed by state and federal aid at 21 percent and property taxes at 14 percent.
The largest expense function for the county, at 27 percent in 2024, is human services, which primarily covers assistance to vulnerable populations, including those who are poor, old, or disabled.
Much of that expenditure is covered by federal aid.
The second-most expensive county function is health services, including operating the county-run nursing home Valley View. The expense for that function is proposed to be about $166 million next year.
Those two are followed by public safety, public works, economic development, debt services, and others.
Major new budget initiatives are a new Information Technology department, a new multi-purpose pavilion at Orange County Arboretum, and a new Department of Motor Vehicles office in Port Jervis.
No money from the fund balance, commonly known as the rainy-day account, is used to balance the 2024 budget so that the county has strong backup in times of emergency, according to Mr. Neuhaus.
"It gives you financial stability and gives you some strength in cash flow management," he said. "If something happens, bad or negative, we know that we can recover."
Hedging Against State Mandates
One potential negative is new state mandates, which are programs initiated through state law and regulations with costs largely borne by local governments, Mr. Neuhaus said.

For example, the state expanded the eligibility standards of indigent defense years ago without providing matching funds to local governments to cover the growing caseload costs.

In 2024, the county's indigent defense costs are estimated to be more than $6 million.

The most expensive state mandate, though, is Medicaid, which is estimated to be about $72 million next year. It's partly bumped up by a recent state decision to withhold about $10 million in federal reimbursements in the coming year that was traditionally passed through to Orange County.

In 2022, local governments in the state covered nearly 10 percent, or $8 billion, of total Medicaid costs.
Other state-mandated programs include preschool education for disabled children, child welfare, safety net, early detention, and early intervention, which bring the total state mandate costs for the county in 2024 to more than $168 million, according to Mr. Neuhaus.
Moreover, he said that rising employee benefit costs, uncertain economic conditions, and dismal state fiscal situations create the uncertainties and risks that the county government faces.
"What do we need to do to overcome or at least meet these challenges? One of them is economic development," he said.
Economic Development and Open Space
He highlighted several developments that hopefully will spur new sales tax growth, including a new dinosaur park in Montgomery and the proposed expansion at Woodbury Common Premium Outlets.

The new park is estimated to welcome 300,000 visitors and create $1.6 million in sales tax revenue in its first year, and the Woodbury Common expansion is expected to

bring millions of new tax dollars

to the county government every year, according to a recent planning board presentation by the company.

Clothing stores are the No. 1 sales tax producer in Orange County, a break from nearby counties, where automobile sales often come at the top, and Woodbury Common plays no small part, Mr. Neuhaus said.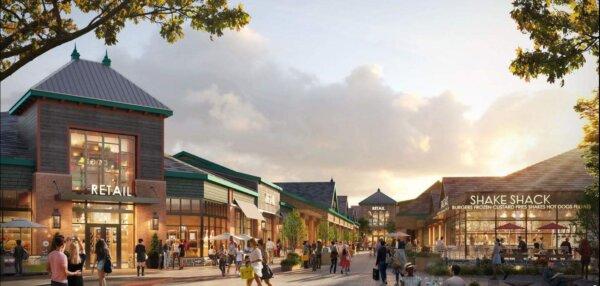 And 27 new hotels are in different planning and construction stages across the county.
But as important as economic development is, Mr. Neuhaus said it should be balanced with sensible land preservation to maintain the quality of life in Orange County.
The county recently committed $740,000 to a new trail in Warwick to link the Appalachian Trail to a county park, is working with Orange County Land Trust to preserve the Sugar Loaf Mountain in Chester and protect the watershed in the Port Jervis area, and is to build a 10-mile Schunnemunk Rail Trail to link Chester with Salisbury Mills train station.