Anaheim chef and humanitarian Bruno Serato is approaching a big milestone—serving 8 million meals to low-income children around Orange County. And he's helped find housing for hundreds of families and provided work training for thousands thanks to his charity, Caterina's Club.
Having grown up poor himself in his native Italy, Serato learned early on to help those in need through his grandfather, a shepherd who fed the hungry during World War II.
"Grandpa used to give cheese and milk to poor people. I give pasta to poor people," Serato told The Epoch Times. "Different food, but the same concept: helping people in need."
Although Serato came to the United States speaking no English, with just $200 in his pocket in 1980, he is now internationally known for his humanitarian efforts.
He is serving more than 5,000 meals daily through his charity, inspiring global leaders and even royalty to join his cause.
"It brings tears to my eyes when I see the kids happy and well-fed," he said. "It's all about the kids."
Founded in 2005, Caterina's Club, named in honor of Serato's mother, offers a trio of services to underserved residents, especially families with young children. In addition to free meals, the charity also offers free hospitality training for teenagers to help them get hired, and housing services to help struggling families.
Among many of those Serato helped with housing was a family of six who had been living in a single-room motel for 12 years.
Space was so limited, he said, that the four children did their homework using the toilet as a chair or desk.
"I could not believe it that [the kids] went to school all this time living in a motel," he said.
Having successfully funded the family with a deposit and other costs needed to secure an apartment, Serato extended these services to other "motel families" in need as well through the charity's program now called "Welcome Home."
Now he helps a new family find a home every two weeks, for a total of over 240 families housed.
Serato's philanthropy has resulted in many heart-warming experiences. Once a young girl approached him in tears years after he gave her the simple gift of socks.
"She was the sweetest little girl… so grateful just for a pair of socks," Serato said. "I will never forget that."
Others include three brothers from a low-income family aged 6 through 9, who had been fed for years thanks to Serato's meals. On one of their birthdays, they "begged" their parents to let them volunteer at Serato's kitchen so they could help other children in need, rather than celebrate with a party or other traditional festivities.
Serato also helped a young mother and her three young children after they were locked out of their motel one rainy night. The family was short by $120.
The chef secured them permanent housing through "Welcome Home."
"When I heard they were standing in the rain alone, it broke my heart," he said. "I'm glad my driver was delivering them the meals or else I would not have known."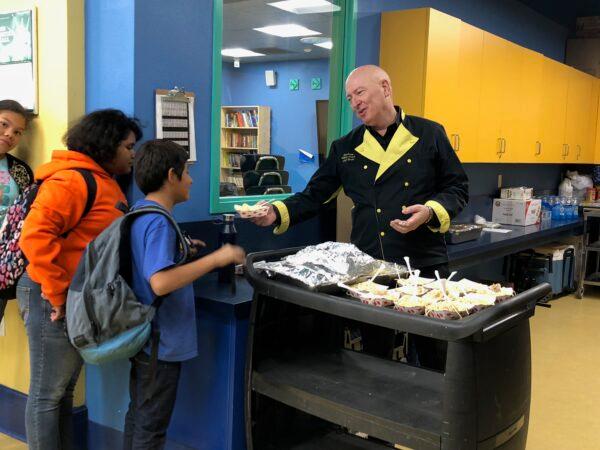 Looking to create a better future for low-income and at-risk youth, Serato has now also trained more than 800 teenagers in his free hospitality training program, with many graduates now working full-time in the field.
One has gone on to attend one of the most prestigious culinary programs in the country, the Culinary Institute of America, while three others now work at White House Italian Steak House, Serato's Anaheim restaurant.
Even the Catholic bishop of the Diocese of Orange stepped in to ensure Caterina Club's operations continued after an electrical fire burned the restaurant down in 2017.
Following the accident, Bishop Kevin Vann offered Serato the use of the kitchen at Christ Cathedral in Orange, allowing the organization not to miss a single day cooking meals for the children.
As more people received the help they needed, support for Caterina's Club soared across the globe—including from Emanuele Filiberto of Savoy, grandson and heir to Umberto II, the last king of Italy.
The prince has traveled to the United States for three years to help Serato raise money for the organization.
"He is one of our biggest supporters," Serato said.
Serato's work has also earned him knighthood from both the president of Italy and the prince.
Other high-profile supporters include KFI Radio, 640 AM, which Serato credits with over half of the donations to his charity through the station's annual "PastaThon."
"We would not be able to feed even half the people we do if it weren't for [KFI]," he said.
Last year alone, the station raised more than a million dollars, a record, along with more than 115,000 pounds of pasta and sauce for children's meals.
The Barilla brothers, owners of the world's largest pasta producer, also chip in thousands of pounds of pasta and sauce yearly.
Serato has given talks around the world—at the United Nations, the Vatican, in Africa, and elsewhere—on how to start Caterina's Club in other communities.
Hundreds of other individuals or groups have created their own Caterina's Clubs across the globe, including in the Philippines, South Africa, South America, and Europe.