Original story below.
A suspect is in custody after a person was shot dead on Saturday during a pro-President Donald Trump rally in Denver that had been disrupted by counter-demonstrators.
The shooting took place in the courtyard of the Denver Art Museum at approximately 3:37 p.m., Denver Police Investigations Division Chief Joe Montoya told reporters at a press conference.
A verbal altercation transpired just before the shooting.
The person who was struck by gunfire died, police officials said. The shooting is being investigated as a homicide.
A photograph
captured
by the Denver Post moments before the shooting showed one man spraying mace at another man, who was pointing a gun at him.
Montoya said officers are still trying to determine exactly what happened to lead to the shooting.
A canister of mace was recovered on the scene.
Two people were taken into custody. Both are white males. One is the man who allegedly fired the weapon. He was arrested at the scene immediately after the shooting occurred. The other arrest was related to another incident.
The shooting suspect "is a private security guard with no affiliation with Antifa" the Denver Police Department said in a statement after the press conference. At least one witness had said the shooter was with Antifa.
Antifa, or anti-facist, is a far-left, anarcho-communist network. Some members have openly espoused violence. Some have been arrested in recent years for allegedly engaging in looting, assault, and other crimes.
A self-described Antifa member shot a conservative dead in Portland, Ore., in late August. That man, Michael Reinoehl,
was killed
by law enforcement officers during an apprehension attempt.
A Denver broadcaster, 9News, said one of its employees, a producer, and one of its contractors were the two people taken into custody.
"A private security guard who was hired by 9NEWS is the suspect detained by DPD. It has been the practice of 9NEWS for a number of months to hire private security to accompany staff at protests," the broadcaster said in a statement, adding that the producer had been released.
Denver police officers were interviewing multiple witnesses and looking at video footage, including footage captured with cell phones, Montoya said.
The district attorney will determine whether the shooting was in self-defense, according to police officials.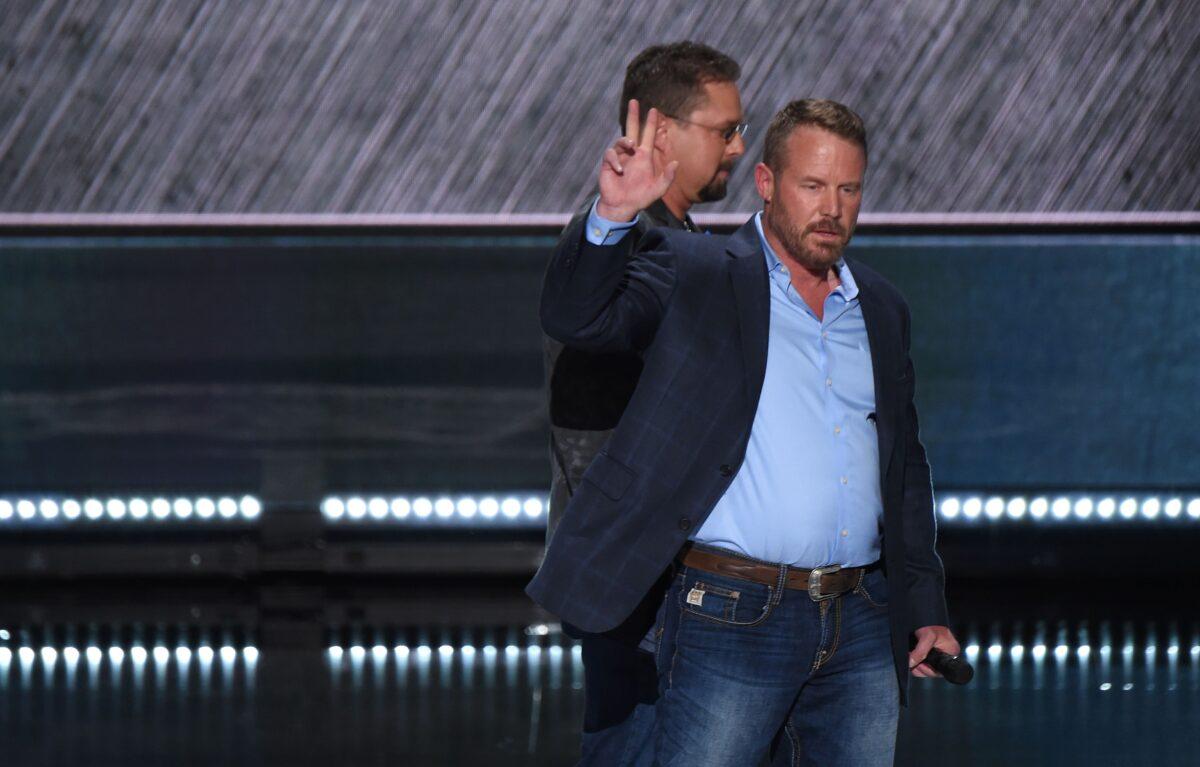 According to Weston Imer, a Trump campaign intern, the person who was shot was "one of ours."
"The person who was shot has died at Denver Health. Identity has not been released however he was part of a volunteer security group that was on site. The shooter is in custody and the shooter was from Antifa," Imer wrote on Facebook in a post he later deleted.
Imer didn't respond to a request for comment.
The Denver Post initially reported that a leftwing protester shot a rightwing protester who had maced him, but later updated its story and removed that portion, saying authorities "called into question the accuracy" of it.
Video footage
showed
a man opening fire before being surrounded by police officers in riot gear who had been standing nearby. That video is authentic, Montoya said.
The rally, dubbed Patriot Muster, was held by conservatives who support Trump.
Plans for that rally triggered a competing gathering held by the Denver Communists.
"We scheduled our action after learning that the militia-fascists had called a 'patriot muster' against the Black Lives Matter movement, anti-fascists, and Marxists," a spokesperson for the group confirmed to the Westword blog.
The communists dubbed their event the "BLM-Antifa Soup Drive."
BLM stands for Black Lives Matter, a so-called social justice movement that
has been linked to violence
at hundreds of rallies this year.
The Denver Communists said on their event page, "Our preferred strategy is to simply outnumber and outshine these fascists anytime they show their faces."
"Don't get within breathing distance of the KOVID Klux Klan! We'll stick together to keep our side safe from right-wing violence, the only language these clowns speak fluently," they added, referring to the conservatives as Nazis.
The event page for the Patriot Muster event was taken down. The event was organized by John Tiegen, a conservative who was formerly in the U.S. military.
"I'm not going in there to do violence, but I'm going to be prepared to do violence," Tiegen said during an interview with KNUS on Friday.
Violence erupted in downtown Denver in July after police officers
were ordered to withdraw
from Civic Center Park during a pro-police rally.
An internal investigation into what happened is ongoing. The Denver Police Department denied a public records request for information on that matter from The Epoch Times.
Editor's note: This story has been updated.