The Department of Justice (DOJ) on Oct. 21 released a report detailing its efforts to "disrupt, dismantle, and destroy MS-13," which showed that nearly three-quarters of alleged members of the violent gang prosecuted by the DOJ in the past four years were present in the United States illegally.
The report (
pdf
), which describes the DOJ's work to disrupt MS-13 both in the United States and abroad, shows that the department has, since 2016, prosecuted 749 members of the notorious gang.
"In 2017, the President directed the Department of Justice to go to war against MS-13, and we did just that," said Attorney General William Barr 
in a statement
. "In coordination with our partners at the Department of Homeland Security, the Justice Department's law enforcement components have successfully investigated, charged, and arrested command and control elements of MS-13 responsible for particularly heinous crimes against our communities."
The report detailed a number of criminal statutes charged in MS-13 cases in the past four years, including racketeering, murder in aid of racketeering, narco-terrorism conspiracy, human trafficking, illegal alien in possession of a firearm, and illegal reentry following deportation.
"While there is still work to be done, the Department of Justice remains steadfastly committed to protecting Americans from MS-13, and we will not rest until we have successfully eradicated this violent gang," Barr said.
The vast majority of prosecuted MS-13 defendants are foreign nationals, the DOJ stated in the report, adding that the gang was able to thrive and operate in the United States for decades by exploiting weak immigration enforcement policies.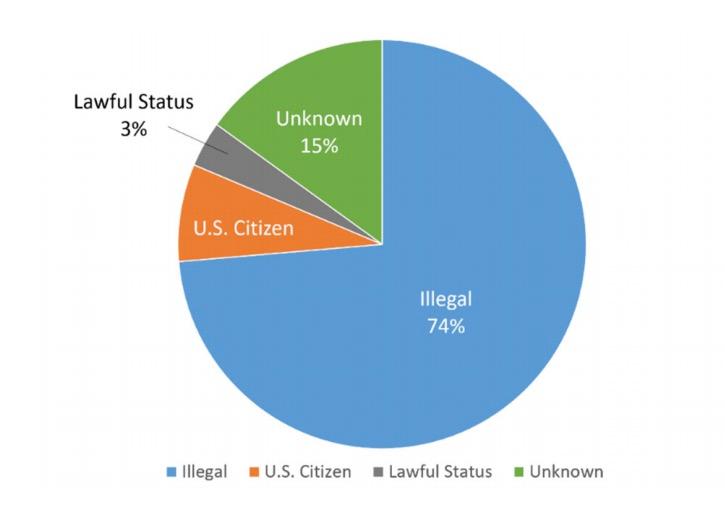 The data shows that more than 500 MS-13 gang members have been convicted, including 37 who received life sentences. For the first time ever, in July, an MS-13 leader was charged with national security offenses.
"Combating MS-13 has been a top priority for the Department of Justice," the DOJ stated in a press release. "On February 9, 2017, President Trump issued Executive Order 13773, directing the whole-of-government to develop and execute a comprehensive approach to dismantle Transnational Criminal Organizations (TCOs) such as MS-13 and restore safety for the American people."
The report also described DOJ efforts to combat MS-13 internationally by means of enhanced partnerships with law enforcement in Mexico and Central America. Thanks to closer international cooperation, hundreds of MS-13 gang members have been arrested abroad and more than 50 have been extradited to the United States to face charges.